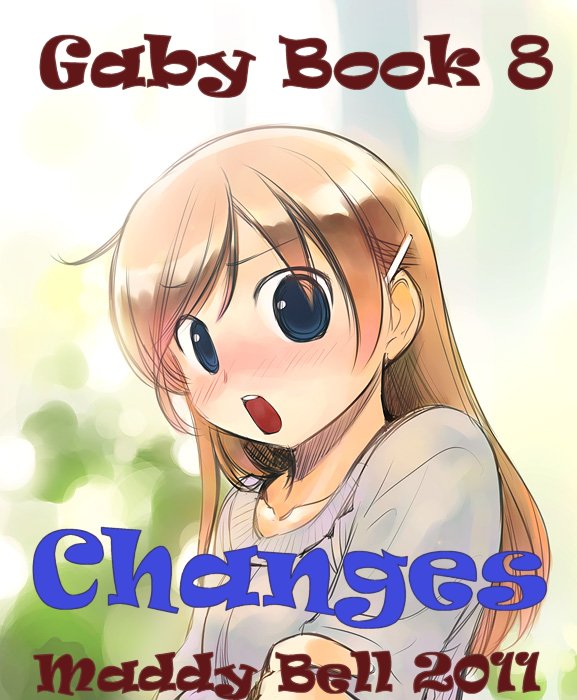 Chapter *8.10*
Tres Bonn!
"Gabeee!"
Talk about over dramatic! The girls almost smothered me as I got out of the car.
"See you later Dad."
"Not too late." He reminded me.
"Yes Dad."
"Have a nice time girls."
"Thanks Mr B."
"Bye Herr Bond."
"Bye Dad."
He slipped out into the traffic and we headed for the crossing.
"So spill Bond." Steff prodded.
"Why was your handy off?" Pia added.
"There's nothing to tell, honest."
"So what were you up to?" Con asked.
"Nothing," I'm not gonna tell you guys, "I had to do some stuff in Ahrweiler for Mum."
"It couldn't have waited till Monday?" Anna enquired.
"Had to be this morning."
"So where first?" Nena requested of us.
"Coffee?" I suggested.
"Good plan." Brid agreed.
"Galleria then." Steff stated.
Coffee and cake later we were soon browsing the racks of the lingerie department.
"Gabs, you never buy frilly stuff." Con noted as I perused the lacy offerings.
To be honest I thought I'd make a bit of an effort for next week seeing as Mom was stumping up heaven knows what for my dress and stuff.
"Just fancy a change."
"Hmm."
The other thing was that although I've been wearing bras and stuff for a while I don't really have much of a clue as I favour plain sports bras and matching underpants.
"I do, just no thongs!"
"Spoilsport." Steff mentioned dangling a minute piece of lace in front of me.
"Seriously guys, practical but a bit more girly."
Give them a quest and they were nothing but thorough. Over the next hour I had my chest measured (a full B cup now) and I think I tried on every possible style in the shop. Padded, under wired, demi, uplift, you name it I had it on! In the end I bought three new bras and a weeks worth of knickers in a variety of colours and degrees of laciness. Somehow a garter belt and two pairs of silk stockings found their way into my bag too – well if I'm being girly?
The thing with these expeditions is that they can easily take on a life of their own. When I spotted where Pia was leading us next I had to call a halt.
"Whoa!"
"But they have some lovely stuff Gab."
"They might but I've already spent over a hundred euros, another day eh?"
"Spoilsport!"
"Tell you what, you guys go look at underwear, I'll look in the toy shop."
"You and those models." Anna grinned.
"It's a hobby." I replied by way of defence.
"Whatever." Steff added.
"Meet at Orsay?" Brid suggested.
"'Kay," I agreed, "thirty minutes?"
"Sounds enough." Con allowed.
Orsay is only just up the street from the Spielwaren so I might manage a little longer. We went our separate directions and I was soon perusing the cabinets of model cars and railwayana on the third floor. If we ever move back to the UK this is something I shall really miss, real model and toyshops, not those awful sheds that are all that's left at home.
I haven't added to my collection lately so I'd allowed myself a generous budget – its not like I can't afford it, my allowance, wages from Thesing's and Dad lets me spend fifty percent of any cash prizes I win too. I get quite a glow when I check my bank balance, my savings are over €5000 and my working account generally has over five hundred so today's little spending spree is no hardship.
I took my time selecting various models, five cars, a bus, two trucks and an ambulance if you must know as well as a few scenics that caught my eye – I have another modelling project I'm planning for Dad for Christmas. I'd only just paid for everything when my handy started making noises.
"Hello?"
"Gabs its me." Don't you hate that? "Max."
"Oh hi Max, what's up?"
"Can you come up tomorrow?"
"No chance, I've got a race, what for?"
"Gran wants to see you, 'bout sparklies I expect."
" No Gran, she's got a race…I'll ask her …what about dinner on Monday?"
"I've got training but I guess I could do dinner." I offered, not that I was that enthused at the idea.
"Kewl, hang on… yes Gran, no after Radfahren training…seven? Okay I'll ask , you get that Gabs?"
"Seven o'clock, okay I guess."
"Great… no Gran, I'm not asking her that!… look Gab's I'll see you at school right."
"'Kay."
"Bye."
"Tschuss."
I wonder what else his Gran wanted to know?
My handy went again before I could move or give that question further thought.
"Gabs, where are you girl?" Steff asked.
"Two minutes."
I hurried down the stairs and out into the street, I could actually see the girls outside Orsay from here.
"Geez Gab, how much did you spend?" Pia enquired after peeking into my bag.
"Erm, enough."
She rolled her eyes."
"Come on you lot, I want to try that silver dress in the window." Nena cajoled.
Having already had my fill of clothes changing today I managed to avoid the aggressive pack changing room assaults instead spending the time trying to merge with the walls! Of course I was there to offer my opinion on all the try-ons without getting directly involved. This went on for some time until I spotted the shop clock.
"Hey guys, its nearly five."
"Already?" Anna sighed.
"Well we didn't get up here till late." Steff allowed.
"If we get a move on we can grab some Maccy d's on the way to the station." Bridget suggested.
"Tell you what, me an' Con can go get food while the rest of you get sorted, meet you on the platform yeah?" I suggested.
"She's not just pretty, brains too!" Pia put in.
I'd suggested Con, as she wasn't gripping an armful of hangers so I guessed she wouldn't be buying anything.
"Come on then Gabs." I'm sure Con winked at the others before pulling me out into the street.
We made the five thirty south bound Rhein Express which was, as is usual on a Saturday afternoon, pretty busy which meant we ended up sat all over the place. To be honest that suited me fine as it gave me a chance to relax, at least for a few minutes.
"Come on Gab, the Express is already in." Anna called to me as the train pulled into Remagen.
No time for the lav then! A lot of people use the connection and if we wanted seats together at least some of us needed to get to gleis 3 quickly. Being small does sometimes have its advantages, I managed to slip through the crowds and rather than go down the crowded steps I took the longer detour via the slope and found myself one of the first to reach the two car Ahrtal Express where I spotted the friendly personage of Myleen.
"Hi Gaby, the others coming?"
"On their way Myleen."
"Buy anything nice?"
"Just some knickers."
"Ooooh."
I'd lain claim to a double set of facing seats, with practised ease Pia and Anna took those on the other side much to Myleen's amusement. The rest of our group followed along at a more leisurely pace, we were hardly comfortable before our conductress was blowing the whistle to set us off on the final leg home.
"Whew, that was close." Brid suggested.
"We were a bit late leaving Bonn." I noted.
"Fahrkarte." Myleen called out.
We might know her but she always checked our tickets.
"You need to renew soon Gaby."
"Already?" I checked my student pass; yup it runs out next month.
"No Bernie?"
"She had to go home to England Myleen." Steff supplied.
"That's a pity, well I hope she's well."
"I'll let her know you asked after her." I mentioned.
"I'd better check the rest of the car, see you girls later."
The railcar chugged into the Ahr valley turning away from the Rhein.
"You do it." Nena hissed at Anna.
"Why me?"
"It was your idea." Pia put in.
"Alright then, Gabs?"
"Wassup?"
"Erm, we er got you something."
"What for?"
"Do we need a reason?" Con asked.
I shrugged, "guess not."
"Get on with it Anna." Brid cajoled.
"I am, look here you go, I, we thought that as you were being a bit more girly you'd like this."
She thrust a La Senza bag into my hands. I looked inside; well you have to don't you.
"Guys!"
to be continued....
Maddy Bell 29.04.11 © 2011