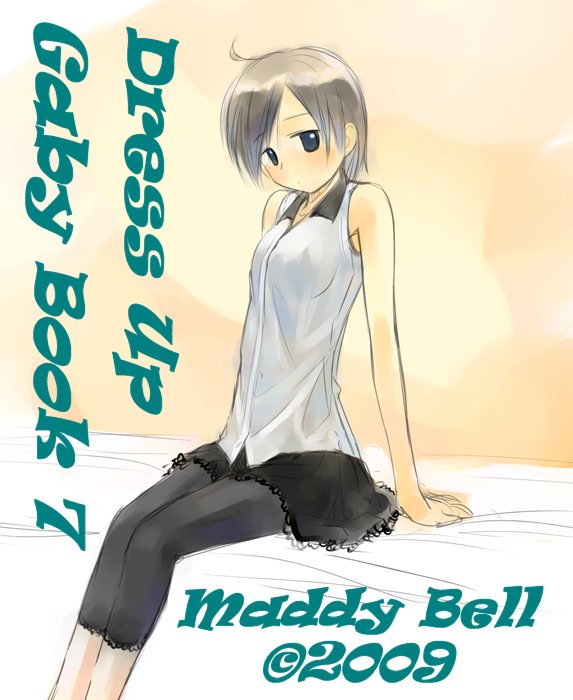 Chapter *7.39*
A Part-ee
I made haste with my own preparations, although the outfit looks very fussy – and it is on one level, there's not actually that much to it. I needed to do everything in order though, there's no way to put some of the stuff on – and get it on right later. However I held off on putting the actual dress on, I don't want to get make-up on it after all.
"This better? Oh sorry, I thought you were dressed." He went to leave.
"Whoa, I am dressed."
"You going in underwear?"
"Don't be daft, I'll put the top layer on when we've finished you."
"Oh right."
"Let's get on with it then." I suggested.
I won't go into stuff in any detail; I mean why would you want to know anyhow? I thought he was going to do a runner at one point and I was on the point of conceding on the subject of knickers. When I pointed out that cute Japanese vampires don't wear boxers – well he finished up wearing the control pants and the cute teddy bear knickers!
"So, there we go, one cute vampire ready to roll." I announced.
"Are you sure about this?" he motioned to his outfit.
"Entirely, oh one more thing, here you'll need these." I gave him a set of joke shop fangs. "Um do you think you can help me with my dress when I've done my makeup?"
"Er sure – um where can I put my wallet?"
"Same place as every other girl does, in your, oh bum!"
Well I'm not infallible am I?
"Maybe you're mum has one we could borrow for you?"
"She's with my aunt in Monaco."
Must be nice.
"Your Gran?"
"I guess you could ask."
"Hang on, why me?"
"Well she likes you."
I hadn't been idle during the exchange; my Anju makeup is pretty simple, eyeliner and some pink lip-gloss mostly. My talons are still in place but I covered the fancy design with some deep pink varnish, not quite to character but it'll have to do.
"Give me a hand with this then, I suppose I can do the deed for you."
It took ten minutes to get my frock sorted to my satisfaction then with a far too practiced hand I did my hair and looked in the mirror. Hmm, the little bat studs Anna gave me look, well cute.
"Gran?"
"I'm watching Open House. "
"Erm, Gaby's here."
"Hi Frau Strechau."
"Well why didn't you say so, hello my dear, so we didn't frighten you off last week then."
"Er no."
"Nice dress by the way girl, kids today never want to dress nicely, bit fussy for my taste, and Max just why are you wearing the Rock and such a silly hairstyle?"
"The school dance, I did tell you Gran."
"You never said you were wearing Mädchen's clothes to it."
"Its fancy dress."
"Doesn't look very fancy to me. Turn, let me look."
He sighed then did as he was bid.
"And what exactly is it you go as?"
"It's a um character from a Japanese comic?"
"Gaby did the makeup I guess?"
"She did everything Gran."
"A good job with such unpromising material, so what do you want?"
"We were um wondering if you have a Handtasche Max could borrow, I never thought about it."
"Hmm, yes I think I have something, wait here."
"Can you hurry please Gran, Dad'll want to leave in a few minutes."
"First the boy wants to borrow stuff then I have to hurry!"
"Please Frau Strechau." I simpered. Yeuk!
We were in the Cayenne on the way down before it occurred to me how this might look. Too late to do anything about it now, its other peoples problem if they want to make something of it.
At school Herr Strechau had to help me out of the car, the combination of my outfit, a 4wd and my erm lack of stature conspired against any kind of elegant departure from my ride.
"Thanks."
"No problem Gaby, your father is picking you up?"
"Yes."
"Okay, thank you again for helping my son, or is it daughter." He chuckled.
"Its okay."
"Oh don't forget your parasol."
He passed me the lacy sunshade.
"Max, behave for once eh? And remember how you're dressed."
"Sure, I'll ring when its time."
"Have fun kids."
I opened the parasol and settled my doll in the crook of my arm.
"Time I guess." I suggested.
With best part of a couple of hundred teens in attendance, all in some sort of Cosplay outfit I had hoped for some anonymity.
"Gabeee!!" Frau Dürst screeched, "you look fantastic and who's this young lady?"
"Max von Strechau Miss." He whispered.
"Max?" she looked a bit closer, "mein Gott, someone has done a number on you!"
"Gaby." He allowed.
"Well I can see our Weinkönigin is multitalented."
I blushed – I seem to do a lot of that lately.
Most people had made a reasonable effort, a few of the boys were in 'civvies' but just all of the fairer sex were in costume. From our class I had the most complex outfit especially by the time I'd got the parasol and Boogie Kun! The only other 'fancy' outfit was our Tachibana player who had picked out the uniform from the restaurant where the character works with Max's draw. I could've made Max into a waitress but that would be really cruel!
The whole thing turned out a huge success. Our registration group didn't come anywhere in the overall group contest, for some reason the Tokyo Mew group won. Must've been the tails I guess. On the other hand Max placed in the boys competition and I won the girls, ironic eh?
Con's catering team did us proud, not that I got much chance to sample stuff, as I seemed to be in quite some demand on the dance floor. Each class managed to do a skit based on their manga after which we had to pose for pictures – it was pretty much like a real con except there were no sales stands.
All in all it was a raging success, it felt pretty good to have been partly responsible.
"You okay Bern?"
"Fine, just a bit tired."
She looked more than a 'bit' tired to me.
"Dad'll be here soon."
"Don't you have to help with the clean up?"
"One of the perks of organising, getting someone else to do stuff!"
"Max was a hit." She mentioned.
"Not bad though I do say so myself."
"How did you get him to wear those knickers?"
"I played on his sense of fair play, I had to wear these frilly drawers after all."
"You are so bad Gaby Bond."
Dad had been busy whilst we were out enjoying ourselves. With all the visitors due there was a certain amount of bed moving and space making required, just shows what a man can do!
"Beep, beep, beep"
Urgh! I grappled with the alarm to shut the annoying noise off before cracking an eye to look at the time. Six flippin' thirty, why me. I dragged myself out from the covers and padded to my bathroom just in time to empty my bladder. I know, too much information, I secretly thanked anyone who was listening that I didn't need to do the deed as often as Bernie has to at the moment.
I made do with a quick wash; after all I'll be in the shower after my ride anyway won't I? I let rip with a huge yawn, I don't think I'll be doing much on the bike this morning, I'm kernackered!
A quick bike check and I turned my wheels up the valley and after five minutes of feeling sorry for myself was in the groove and humming 'Bicycle Race' to myself. I chuckled to myself when I passed the Strechau families' home, bum; I need to repatriate my bike sometime.
The weather was a bit overcast but I decided to go with the schedule and do my Nurburg circuit so I stayed on the main road at Altenahr and concentrated on my cadence. You can get computers to count for you but I prefer to do it in my head and judge it myself. Its not rocket science, as they say and you soon get a feel for what you're doing.
There were a few spots of dampness as I passed through Adenau which thankfully held off from full-blown downpour, it was wet enough last Sunday to last me a lifetime! I've taken you round this circuit before so I won't bore you too much with the pedal stroke detail but I reached the top under a minute from my best previous effort.
Even at this daft time of the morning the sound of cars on the race circuit intermittently broke the quiet of the morning. Some day I wouldn't mind going round the circuit hey maybe I can get Dad to take the Saab on when they have a public day?
I released the cable and was soon spinning alongside the circuit at a nice forty kph. The damp road fed a cool spray onto my feet; I could almost wish I had mudguards on days like this. A tractor pulled across in front of me when I joined the 412 and I cursed as it then settled at that same forty k speed. The big problem was of course that if I pass it I need to ride much harder to stay there, behind and I'm not riding hard enough. Bleh!
My quandary was resolved when I reached my turn just over a kilometre later, the noisy field engine kept going and I slipped across the carriageway to head towards Mart's place. Wheee! I really enjoy this descent, I got into a low tuck and soon my computer was pushing 60kph.
The corners flowed and I moved around on the bike to counteract the lumps and bumps. You generally get to a point where you are pedalled out down here and today was no exception, freewheeling at these speeds can be a bit nervy but it gives me quite a buzz. The last bit back to Ahrbrück from Kesseling is flatter so my pedal rotation started to once more have some affect.
If you are on form, and don't get any hold ups, you can just beat the Ahrtal Express down to our little town from here. The double header passed the bottom junction as I got there which was all the incentive I needed. Putting my head down I started my chase.
The level crossing re-opened just as I reached it and when I reached the Bahnhof the train was still stopped. It was early enough that there were no hold ups through Altenahr so that I reached the tunnel at the same time as the now moving train. Here is where I get some advantage; the road drops quite steeply whilst the train takes a longer less steeply graded route down to Mayschoß. It was still behind me when I passed Rech; I punched the air in victory when I reached the Dernau sign fifty metres ahead of my iron horse adversary!
to be continued....
Maddy Bell 19.09.09 © 2009