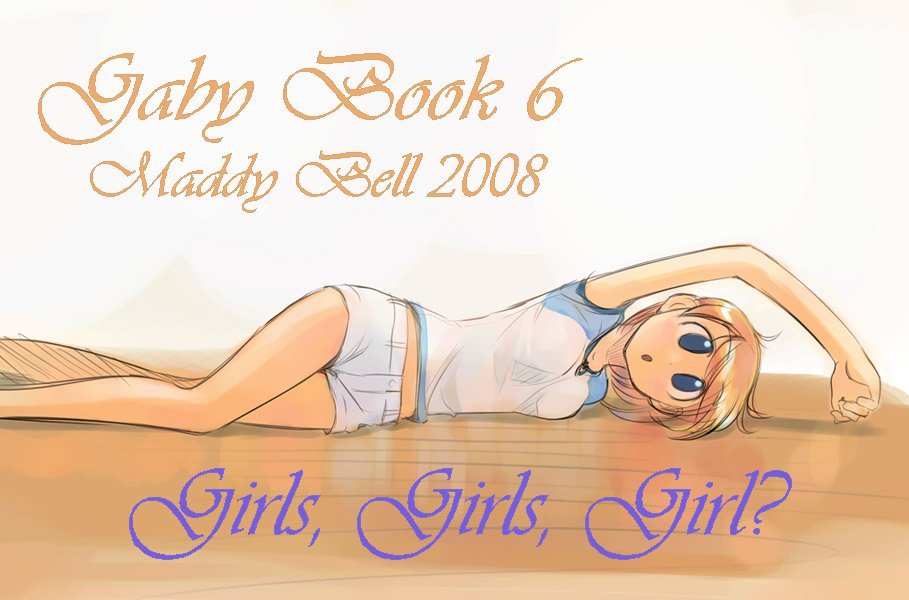 Chapter *6.38*
Tatort!
"What do you mean it's not there?"
"What I said, I can't see it, what's in it that's so important anyhow?" Roni enquired.
"My jeans."
"Is that all, I can lend you mine?" She offered.
If you'd seen her jeans you'd know why I declined.
"Er cheers, thanks for the offer but its nothing major."
Nothing major, no I'm just stuck in a skirt again, grrr!
"You two okay back there?" Dad enquired.
There were only the three of us in the Vito at the moment; Roni's mum was riding with the others in Frau Luchow's Sharan.
"Yeah, you know where my bag is?"
"Which?"
"My ruckie."
"I put it in the floor hatch out of the way, what did you need out of it? Your wallets up here in the dash."
"Nuthin'" I sighed.
The flippin floor hatch, there's only like two bikes, four turbo's, a marquee, tool box – well you get the idea, I'm not getting in the hatch very quickly.
"I hope we run out of this snow."
"Yeah."
"It looks pretty from in here."
"You weren't saying that a couple of hours ago."
I settled into my seat with a sigh.
"That looks okay." Dad suggested pointing out a restaurant type place before swinging into the car park.
It did look okay, well it looked like so many of these places – not that that's bad just predictable. The others pulled in beside us and I shivered as I joined everyone outside, the damned skirt is quite short and there's snow on the ground.
"Lets get inside before we all freeze to death." Dad chortled.
"So he crossed the line in the air." Dad concluded.
"You don't half get in some pickles." Greta noted.
"I guess."
"You are quite pretty you know." Thalia added.
"That's not a bad thing," Roni mentioned, "it worked to your advantage today."
Joy, but she's right about that too, I'm sure if I was a six foot bike monster they wouldn't have let me 'n Ron escape in the first place, let alone fall for it a second time.
"So what's everyone having?" Dad interrupted.
We all settled on variations on basic eating out, I had the Wiener schnitzel with those croquette things. Dad ate with one eye on the weather outside; it was still snowing off and on even if it wasn't really settling.
"Well much as I hate to break things up I think we should make a move." Dad suggested as I once more recounted the last few kilometres.
"Yes, we all have long trips yet." Frau Luchow agreed.
Indeed I'd not really thought about it, Thalia has to get back to Hamburg and the Luchow's have a good couple of hours drive east. Given that it's a good three hour drive back to NRW, me and Dad won't be home very early either.
We collected our stuff and made our farewells in the restaurant rather than freeze doing it in the snow.
"Take care, we'll see you in a couple of weeks." Dad stated.
"I'll phone when we are home Dave." Sonja advised.
"Gut fahre!"
"Wiedersehn!"
"Okay everyone? Right lets rock 'n roll."
We swung out of the car park and started the long drive west.
It wasn't the most fun. While the roads were passable it continued to snow slowing our progress somewhat. We eventually reached the autobahn where we got up to about sixty, kph that is. I found Roni snuggling into me, sound asleep and it wasn't long before I joined her in slumber mode.
"Roni, Drew, wake up we're home." Frau Grönberg's voice broke into my dream.
"Hmm, home?"
"Mettmann."
"Come on Drew," Dad encouraged as I untangled myself from Roni, "we'll have a cuppa before we leave."
"Right." I stretched the kinks out, nearly punching Ron in the head.
"Soz."
"'S'alright, what time is it?"
"Half seven." Her mum advised.
There wasn't any snow here, goodness knows where we ran out of it but seven thirty sounded quite reasonable. With four of us on the case we soon had the Grönberg's kit in the house and I joined Ron in the lounge where the heating was belting out. The TV was soon on and I realised I was going to miss Tatort.
"Bum."
"What? You still cold?"
"Nah," I subconsciously rubbed my hose covered thighs, "I'm gonna miss Tatort, it's the second half of a two parter."
"You could see it here?" she suggested.
"Dad'll not want to."
"What won't Dad want to do?"
"Stay to watch Tatort Herr Bond." Roni advised my Dad as he joined us followed by Ron's mum.
"You can stay if you want Dave."
"Thanks Angela, but I wouldn't want to subject you to my sons viewing habits."
"We watch it anyway, well I do so you're more than welcome."
"Dad?"
"Well I wouldn't mind a break from that van seat, go on then but we need to get straight off afterwards."
"Thanks Dad." I nearly bounced.
It wouldn't interest you; Tatort that is but of course there was a good resolution to the kidnapping. It was all a bit close to disaster, it was only solved by a chance vehicle check then the helicopter had to dash to the rescue, oh right you're not that bothered.
"Come on kiddo, let's get you home."
"Take care guys." Roni instructed as we reversed out of their driveway.
"Bye, see you next weekend."
We waved to each other and we set off on the last leg of our journey.
"Sod, coulda done without this." Dad wasn't too happy.
"What?"
"They've closed the motorway by the looks."
We hadn't got back to the autobahn before we ran back into snow and now we were only at Leverkusen north of Köln and it looks like our journey is just about to get a whole lot longer.
The little traffic that was about soon backed up as we were directed off the motorway that was already white over where no traffic was clearing it. We made steady if slow progress towards Köln, from the radio reports it was a crash that had closed the autobahn. We eventually got back onto a decent road but being after ten now there was little traffic about and our progress remained slow on the now snow covered carriageway.
If anyone had asked me yesterday what I thought of snow I woulda told them that it was great. After today though I've sort of had my fill and I'm sure Dad would rather never see another flake either. From Köln to home usually takes a bit under an hour, it took us nearly three tonight.
It wasn't so bad on the motorway down to Bonn, slow but doable. Once we crossed the Rhein though things started to get a bit sketchy as we hit quieter roads. Its not like there were metres of snow but we got stuck twice, both because someone else had come a cropper and dumped their cars all over the road. Do you know what its like to try pushing a van in a shortish skirt with only trainers on your feet, oh and at the same time freezing anything not covered in fifteen layers of thermals?
Mind you we were lucky the second time.
"I'll give you a tow." The driver of the Unimog offered.
"Cheers, we'll be okay once we're back on the road." Dad told our rescuer.
Trying to get past an abandoned car we'd slipped just off the tarmac and that was that, no traction and soft surface, we were stuck.
"Get in the bus young lady, you'll freeze out here, I'll sort this."
"Thanks." I allowed between chattering teeth.
The big four-wheel drive didn't have any trouble in pulling us free.
"Drive carefully, try to stay on the road eh!"
"Thanks again, you sure you don't want something?" Dad enquired again.
"Nah, glad I could help you and your lovely daughter out, I'll shift this daft bugger and get home meself."
I somehow managed to break out into a heavy blush.
"Thanks again." Dad waved and started us forward again.
Luckily the Straßenweg guys were out with the snow ploughs and grit when we got down towards Remagen so although the road wasn't clear it was much easier going and we rolled into the house a little before one.
"We were worried, why didn't you ring?" Jules advised by way of greeting.
"Sorry love, we were concentrating on getting here."
"Well you're here now, Sonja and that girl from up north both called."
"They get home okay?"
"Yeah, I'm gonna go to bed now, night."
"Night."
"Night Jools."
"You two want a drink?" Bern offered.
"Please Bernie."
"So like why are you wearing a skirt?"
"Erm."
"Its not been exactly the weather, we've been watching on the telly. How did the race go by the way?"
"It was snowing over there too, I won and Roni was fourth."
"So why the skirt? You didn't hurt yourself like you did the other year?"
"Nah nothing like that. I er packed the wrong stuff on Friday and the stuff I went in got like packed away so I couldn't get to it."
"You coulda worn your trackies."
"All my bike kit got soaked, thermals, everything."
She shook her head.
"Sometimes Drew." She left the sentence unfinished.
It was only when I undressed a few minutes later that I realised that my tights were soaked and really just how cold my feet were. I don't usually wear a great deal in bed but I dug out a pair of 'Gaby' over knee socks which I pulled on before I put my pj's on. I snuggled under the duvet and was soon asleep.
Maddy Bell 22.02.09 © 2009