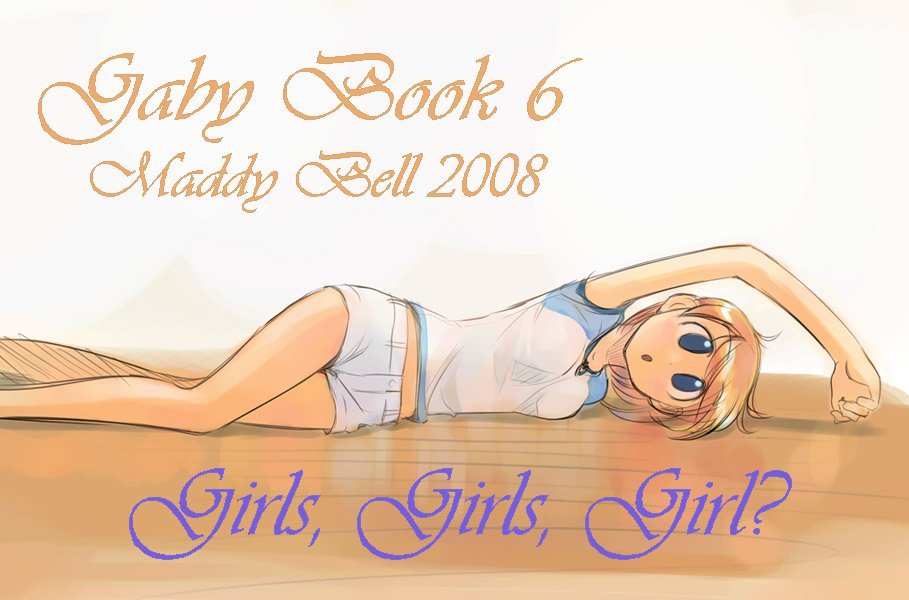 Chapter *6.12*
Yubisaki
"So what do you think?"
"I dunno."
"Well have a think about it and let me and your Dad know."
"Er yeah, okay."
"Well I need to get ready, don't get into mischief."
Mum left me alone in the kitchen.
We'd been talking about Bernie and the gang for a while but she'd surprised me at the last. Out of nowhere she'd suggested Bernie come to stay with us for a while. I dunno where she got the notion, maybe Auntie C, it sounds great but would it be a good idea?
I needed to get ready myself, a bunch of us are going up to Bonn this afternoon.
NEEEENAAAH, NEEEENAAAH, NEEEENAAAH, NEEEENAAAH!
The police car sped past us.
"Gott! Its so busy here." Brid exclaimed.
"It's quieter than Köln." I noted as we made our way over the pedestrian crossing.
"So where are we going?" Nena enquired.
"Schuh Strasse." Anna suggested.
"As good a starting place as any." Steffi noted.
"There are some nice boutiques there." Pia agreed.
Joy.
I followed along in my friends wake, not quite sure why I was here after all I don't want stuff in the boutiques.
"So what do you think Drew, the red or the green?"
How should I know? I looked at the togs Anna was holding up.
"Green?"
"Hmm I think so too."
Well why ask me then? Girls!
With my mind elsewhere – specifically the Bernie question, I didn't take too much notice of who was trying what. When they had exhausted the possibilities in one store we moved to the next.
"Hold this Drew."
I absentmindedly held the hanger in front of me.
"I think the other Steff."
"Yeah, we'll go with that." Pia agreed.
I still hadn't come to a conclusion over Bernie. I mean I think it's a cool idea, but is it a sensible idea? On the one hand I get to hang with Bern, she'd be away from all the nasty stuff in her life and she'd have a chance to get her act together. But on the other hand she might feel a bit isolated and she'd be away from like her rents and the other girls. And of course there was the issue of whether the authorities would allow her to come even. Maybe I need to talk more with Mum and Dad.
"Are you listening Gabs, I asked if you like fried potato cakes?"
"Erm soz Con, they're ok I guess. We getting some?" food was starting to appeal.
"Like where from dumbo? Do you see any vendors?"
"Sorree, I was only saying, my stomachs rumbling."
"I'm hungry too." Nena added, "Lets go eat in the Dinea."
"Sounds good to me." I agreed.
"Okay then." Con sighed.
It was only a short walk to the Karstadt then a switchback route through the building to the rooftop restaurant. I'm sure I've mentioned these places before; I really enjoy eating in them, although you can end up spending a fair bit if you aren't careful. I settled on a plate of salad stuff, Zweibelsuppe and a slice of apple torte – maybe my rumbling tum will be sated with that.
The girls seemed to have accumulated a few bags of stuff that unusually didn't get re-examined around the table.
"So what now?"
"More shops!" Pia enthused.
"We do still need some stuff for you know what." Anna mentioned.
"Not more clothes."
"Well you don't have to come." Nena pointed out.
"Maybe I wont."
"You could meet us later if you wanna go do stuff." Steffi offered.
Hmm, maybe I could go to König's.
"Okay then, where'd you wanna meet?"
"Say four at the Bahnhof?" Steff suggested.
I checked my watch, two thirty.
"Okay, I'll see you on the platform."
"Laters!" Pia called as they left me outside the Dinea.
König's is on the way to the station and once inside the toy store I made a beeline for the third floor maze where I could indulge my passion for model cars. These shops still amaze me, back in England there's nothing quite like them. And the stuff. I set to, browsing the cabinets of HO cars and trucks; I could treat myself to a couple but what?
I settled on a couple of models, a new Veedub beetle and a coach in the colours of Graf Reisen from up in Essen. I also picked up the latest edition of MAZ, it's a magazine devoted to collecting the HO's, maybe I can get a subscription?
Anyway, money spent I made my way down through the shop.
"Are you okay Fräulein?" a shop girl enquired.
"Ay um er yes thanks, danke."
My attention returned to the real world as I realised I was not only surveying the infant toys but also worrying a stuffed toys' ear!
"Um, can I get this please?"
"Sure, you want it gift wrapping?"
Hmm, there's an idea.
"Yes please."
I waited, still in a world of my own; as the girl boxed and wrapped the piebald bunny I had been annoying.
"Zwolf Euro bitte."
"Sure." I passed over the dosh then, transaction completed, left the store.
I hugged the parcel to my chest; yep Bernie's sprog will like that.
I checked the time, bum it's nearly four! At least it's not far to the station.
"There you are, we thought you were lost." Con greeted me.
"Well I'm here now."
"Looks like our train now." Anna hinted as the Rhein Express entered the station.
"So what do you think?"
Bern hesitated a bit before answering.
"Well I wouldn't mind, if I'm allowed."
"Kewl, it wouldn't be straight away, maybe a fortnight?"
"Thank your rents Drew, I seem to be causing all kinds of problems at the moment."
"Its usually me, maybe you are over compensating for a boring life." I snorted.
"You could say that!" at least there was a bit of a smile in her voice.
"Well I'd best get off the phone, I'll email you when I know more about you coming over."
"Thanks again Drew."
"No problemo, tschuss!"
"Bye"
I ended the call; Mum insisted I invite Bern myself, in person – well in voice over the phone at least. Of course there's all sorts of stuff to sort out and organise, the 'rents have got Aunt Carol recruited to the cause too, I'm confident that between them they'll get it organised.
I stood in front of the bathroom mirror and studied the person in the reflection. It's me of course and I guess this is what other people see – of course it is! I'm certain I don't look like a girl, so yeah I should get a hair cut and I don't have to shave yet but does that make me a girl. Bum, my breasts are leaking again, Mum reckons they'll dry up in a couple of days but still… I hope that the Doc can suggest something to kick-start my hormones when I see him next week. Maybe then these chest encumbrances will go into reverse, I certainly hope so.
After last weeks disaster of a training ride I checked the weather forecast before setting off this morning. It looked like it could be wet up in the hills so I settled on a slightly longer but flatter ride – down to the Rhein then up to Bonn, over the river and back down to Linz, across the ferry and back home. It was darn cold when I set off and it hasn't really warmed up as I've come down the Ahrtal.
I turned onto the lane that bikes are supposed to take down to Sinzig, geez that was a bit slippery! The sun tried to push through the clouds that left a rather weird light over everything. I've been this way a few times before – well quite a few really, and I used a short cut to get to the path alongside the Rhein. The muddy waters gurgled and churned northwards, much higher than usual, in fact they weren't far off the height of the path!
Not that that was my main concern, as I passed the ferry slip I found a bit of black ice, well dodgy. Geez if I slip on a patch of ice I could end up in the water, not a nice thought. I took it easy along to the Remagen Bridge then as the path was drying turned up the power a bit. After Remagen the path has a really nice surface and a few other bikes, walkers and skaters joined me. I settled into a nice cadence, eating the kilometres comfortably.
Up through Bansdorf and Rolandseck I joined the road traffic then in Bad Godesberg I picked up the riverside path again to take me up to the Königswinter ferry. I like these little ferries but today it was a bit disconcerting with the rushing river pitching the floating bridge about a bit more than I felt comfortable with. Still the crossing only takes a couple of minutes and I was soon heading down the eastern bank towards Bad Honnef. I decided to stick to the road and was soon cruising along at a steady 40kph (25mph).
At Unkel the road rejoins the riverbank and there was a noticeable drop in temperature. Back past Remagen and soon Linz appeared just a couple of kilometres further along. Luck was with me, the ferry was just about ready to depart when I swung onto the slip but I was waved on so with a carefully executed bunny hop I was on board.
This side of the river was distinctly cooler so I kept an eye out for ice as I retraced my outward route back home to Dernau. Nearly two hours after setting off I parked my bike back in the garage and headed for the shower.
"That you Drew?"
"Yes Dad."
"Good ride?"
"Apart from the cold. The river's well high."
"Connie rang for you, can you give her a call before you go to work."
"Sure."
I decided to call her before my shower.
"What's up Con?"
"Dad's got some photographer bloke coming today to take some pictures for advertising."
"Is that all?"
"Well I just thought I'd give you the heads up in case it's a bit weird when you get here."
"Okay, thanks. I'll get showered and I'll come a bit earlier if you like."
"Good idea."
"See you in about half an hour then."
"Okay, Tschuss!"
"Tschuss."
Maddy Bell 16.12.08 © 2008
Back to Chapter 6.11 On to Chapter 6.13 Back to The Library