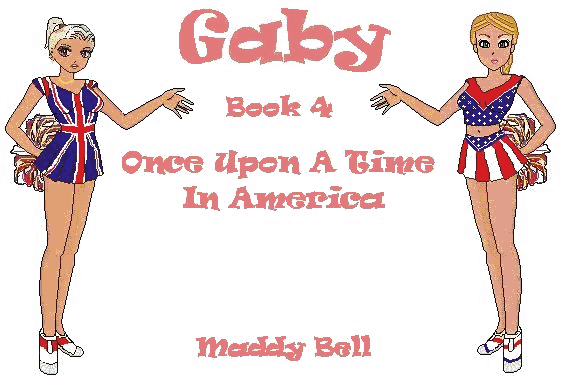 Chapter 35

Mum's Decision
"I hope you've got everything." Mum warned as I lugged my kit bag into the back of the car.
So do I. My racing kit's all in there as well as pretty much all of my spare and training kit. I even remembered to pack spare shoes and gloves. Yup I think I have pretty much everything.
"Yes Mummm."
"Well I don't want you showing me up this week, I wish all this had been in place when I was your age."
"Yes Mum." I sighed.
She ignored that, concentrating instead on making sure that the bikes were secure on the roof rack, her winter bike along with both my training bike and best race bike. It's a pity I had to give the Biggs back, that was just so cool.
There had of course been a change to the advertised programme. The Liquorice Toffees version of Eric Clapton was invited to stay with Charlie and Mum reluctantly agreed especially when she was reminded about the potential for misery caused by the Goth Girl joining us in Cheshire. So it was just me and Mum going to Gran's.
I can't remember if I told you exactly what we are doing this week or not so here's a quick sort of synopsis. Tomorrow, Thursday that is, is the first junior squad session and according to Caro we'll all be assessed and tested so the coaches can see where everyone is at. Apparently while I was in the States everyone else was individually assessed and given training schedules, I escaped by virtue of my personal trainer, Mum! So that's tomorrow, then on Friday we get some on the bike coaching including some time on the track, that was great last time I had a go. We have a shorter session on Saturday and we get to join the crowd for the track racing in the afternoon / evening. Sunday will be well cool though. As I'm under sixteen normally I only get to ride up to 25 mile massed starts on closed circuits but we've got dispensation to ride the Junior Tour of the Peak, a full sixty-mile job around Glossop somewhere. I think it's mostly to see how we cope, I've dropped a few extra miles into my training and my experience in Atlanta won't go amiss either.
We got to Gran's just in time for lunch, which was unusually just a baked spud with tuna mayo, then I discovered why, Mum was taking me out for a ride this afternoon! I dragged my bags up to my temporary abode and got changed, it's still not warm enough for shorts really so my slightly ragged winter tights got another airing, Mum however laid down the law about my top. The whole Apollinaris thing has for me at least, been a bit remote but maybe it was the tatty state of my Notts kit but Mum insisted I wear my Apollinaris trackie. I grimaced at the ' Gaby Bond '' embroidered on the left breast, I hope Dad's sorted that out, still, who's gonna see it while we're riding?
Mum had us out for nearly three hours! Not that we were riding the whole time, Mum had a puncture and we used that as an excuse to stop for a cuppa at the garden centre we were handily outside of.
"Just remember kiddo, they'll all be out to get you tomorrow."
"I suppose so," I agreed, "I am the national champion."
"There's more than that Drew, they'll want to put one over you because of me too so just be careful eh? No showing off or heroics, do what Caro and the other coaches tell you, you mucked up last weekend because you were showing off."
"Yes Mum." I allowed.
I wonder who else will be there?
"SPRINT!"
I took another deep gulp of air and picked my line off the banking. The sheer speed and rush of the velodrome is incredible and in addition I could show off just a liddle bit! Yesterday was a bit of a drag really, a fifty mile training ride in the morning then after lunch we went through all the prodding and poking stuff, the highlight was being issued with an international permit, this really is happening! The other thing of course was meeting the other squad members. I knew some of the names from the Comic but the only ones I actually knew were Josh and Kristen. I was quite surprised really, I thought everyone would be about my age but I'm the youngest of the lot even Kristen and Josh are getting on for a year older than me. I never realised it quite so much before but compared to everyone else I'm short, Josh towers over me and Kristen is a bit taller than me too – I could get a complex!
I sat up and just let the momentum carry me around bend one after once again crossing the line first, the whistle sounded and Graham beckoned us down to the pit area.
"Well done Drew."
I nodded a bit breathlessly as I leant against my borrowed steed.
"Okay people, that was a good session, much better than this morning. What did we learn there? Anyone? … Marcus."
"The shrimp can kill us all in a sprint?"
"Knew that already." Josh supplied.
Shrimp!
"Okay, so we know that young Bond can sprint. What about positioning? Jeremy, you're a fair bit bigger and stronger than Drew so how come you were beaten?"
"Um, I was too low?"
"Partly. In a scratch event whether it's on the road or track if you are there at the finish you've got a chance. To maximize that chance you need to position yourself to give you every advantage, young Bond was using the track to position himself, the extra height more than compensated for the couple of metres he was giving Jeremy and Josh, in extra speed. So yes Drew is fast but he wasn't relying on that. Go get yourselves showered up and meet Caroline in the lecture room in half an hour."
Whilst the riding and stuff was okay, some other aspects were less fun. The showers of course are communal and it's always a bit embarrassing even when you know everyone. When most of the others there you don't know from Adam and they are older and bigger it can get a bit intimidating, sports showers are just about the only place you get to see other people naked. I was very conscious of my chest, not that anyone else was taking any notice of me. Now then, not that I was looking but it did bring home to me just how small I am, Josh is like six inches taller and quite hairy and erm his erm you know, bits are um quite um manly. I hope the Doc can get my hormone things sorted soon.
The embarrassment didn't end there though, oh no. Caro's session continued on the tactical theme illustrated by race footage. I squirmed through footage of the National Champs and there was more, Caro included several chunks of Mums heroics. The worst bit was when the footage showed the podium in Paris, remember that? Kristen gave me a funny look then but I escaped the unasked questions with the end of the day's activities.
Of course things couldn't go on quite as smoothly could they?
"We're going out to eat tonight so I hope you've brought something decent to wear." Mum mentioned as we picked our way out to the M56 through the Friday rush hour.
"Um yeah, of course I have." Sugar! Have I got anything with me? Don't even kid yourself Drew, you know you haven't got anything other than your jeans and trainers. Mum's gonna go ballistic!
The traffic really was horrendous, the fifty miles took us nearly an hour and a half, I'm glad we don't live in Manchester. I helped Mum unload before going to 'change'.
"Drew Bond, you really are the limit!"
"Leave the lad alone Jen, its not his fault." Gran stated.
"He's always doing it Mum, I dread to think how many times he's done this sort of thing in the last year alone, it's like having a five year old all the time, he's going to have to be more responsible."
Mum doesn't often get vexed but tonight she was well p'd, I thought she was over reacting a bit, I mean we're only going out into Nantwich.
"I think the kids left some stuff in old wardrobe at Christmas, I forgot all about it when you were up the other week, perhaps there's something in there." Gran threw me a lifeline that I grabbed with both hands.
"I'll go look!" and I took off to Mum's mumblings.
"I'm sure he doesn't do it on purpose love."
"It seems like it sometimes Mum."
"He's just a bit forgetful."
"Maybe."
I unlocked the wardrobe and my hopes sank. There were the fancy dress costumes on one side and a bundle of clearly Jules stuff, why couldn't I have left anything? A bit of a poke through lifted my spirits no further, nothing resembling Drew wear at all. Dejectedly I shut the doors and trooped back downstairs.
"…And so we are talking June really."
" What's happening in June?"
"I'll tell you later, did you find anything?"
"It's all Jules', dresses and stuff."
"Well they'll have to do, you are not showing me up in jeans tonight!"
"Jen!"
"Sorry Mum, he needs to realise that things have consequences then maybe we won't get any more repeats."
"But Mum…Gran?"
"Drew, its your mothers call and I must agree to some extent, you do need to concentrate on a bit more than the latest carbon doo da."
Well there's no winning this one I guess.
"Come on then, lets see what there is." Gran encouraged.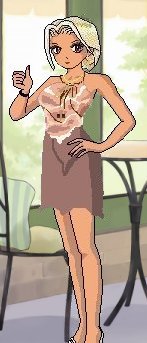 I was not best bit chuffed with my outfit; it showed far too much flesh and shouted 'GIRL'. So okay I looked alright but the fact that it was all me filling out the top didn't endear it to me any better. I know what you are thinking, 'but he wears a bra and knickers ' but mark my words; I do not enjoy all this cross-dressing stuff.
"Gaby? Are you going to order?" Mum prompted.
I returned my gaze to the menu, we had ended up in a canal side pub / restaurant and were sat in a large bay window.
Nothing really appealed, my appetite was somewhat depressed by how I was dressed. What's worse is that I can remember thinking this outfit looked good on my sister.
"The penne ricotta please."
Well it looked quite good and a bit of carbo-loading won't go amiss.
It was a fine, bright evening and I sat watching the activity on the canal while Mum and Gran talked.
"So Gab, what do you think?"
"Eh?"
"Wool gathering again." Gran chortled.
"Sometimes young lady." Mum shook her head.
"Your Mum wants to know if she should give up her place on the national squad." Gran filled me in.
"No way! You've done so much to get picked and you want to just give it up?"
"Whoa, slow down kiddo. Whilst you've been swanning around the last couple of days I've been working too."
Do you know I hadn't really given much thought to what Mum has done while I've been with the squad? I mean I've seen her watching us at the track a couple of times but I just assumed she was doing 'stuff'.
"Your mother's been doing tests and stuff kiddo, to see how she's progressing."
"So what's that got to do with dropping off the squad?"
"Well they think it will be at least June before I'm properly fit."
"So they want to drop you? You're the world champion." My voice was getting louder in anger.
"Calm down. No they don't, it's my idea, it's not really fair using team resources when I can't compete."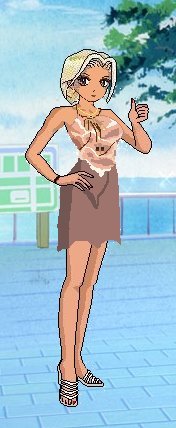 Gran nodded.
"But what about defending your title?"
"Well if and at the moment it's a big if, I'm fit enough and have the form I'd love to go to Japan but that's nearly six months away. I don't need all the facilities, I'm a professional and that's my team's responsibility. If I drop off the full squad someone else can get the benefits even if I do end up riding the Worlds."
I could only really see it as meaning she was giving up, giving up being one of the worlds top women athletes.
"Well it's your decision but I think you should stay." Well that was how I felt but I guess it's Mum's decision.
We were interrupted by our food arriving before we could discuss things further.
After we had eaten, and I managed to squeeze a portion of sticky toffee pudding in behind the pasta, Mum suggested we have a bit of a walk before heading back to Gran's. Although the sun was still up and about my bare shoulders had me shivering as we walked along to the lock and back, and these sandals make my feet sore!
"Now remember that tomorrow you will be riding in teams against each other as well as the rest of the field so I want to see you all working as teams. I know some of you have some experience but a lot of you don't, before we finish today we'll have the sort of briefing the professional teams have to discuss tactics. You've already got your squad programmes for the first half of the season, if you've got issues, transport, illness, exams, let me know as soon as possible so we can resolve things." John concluded.
"Okay people," Caro called our attention, "back here at one for the briefing, Jenny Bond will be helping out, I'm sure she'll answer a few questions too. So one o'clock."
"Wait up Drew!"
I turned to see Kristen jogging after me.
"Hey."
"Wassup?"
"Nothing just thought I'd join you to eat."
"Sure."
"So're you ready for tomorrow?"
"I hope so, you?"
"Not really, I mean I've been doing all the training and stuff but it's different really doing it isn't it?"
"I guess, but you've done really well this week." I pushed the canteen door open for us.
"Thanks. I meant to ask before, how is your cousin, she still riding?"
"She's okay I guess but she's not really into riding at the minute, she's on a cheerleading team at school now." Like me.
"Pity, she was doing really well I thought."
"Yeah." I agreed.
"Thought you'd be hanging around with Josh?"
"Me too but I've hardly seen him."
"Is it true you are moving to Germany?"
"How'd you know about that?"
"There was something in Pro Cycling this month."
"I didn't see that."
"So? Is it true?"
"Er yeah, in the summer hols."
"Cool."
Maybe.
We were in four man teams for the race, mine consisted of me, Kristen, a lad from London called David Bailey and a kid from Wales called Stuart Lacey. Just as we were told, we delegated jobs according to our strengths, I was designated sprinter and Kristen was the unanimous choice as team captain. The briefing was interesting, Caro hadn't left anything to chance, there were pictures and maps of the course as well as details of the climbs and stuff. Caro gave each team a task for the race, winning would be nice but realistically just getting to the finish would be good, our team was tasked with collecting the climbers prize.
By the time we finished the crowd was already filling the velodrome for the racing so we joined them to watch someone else hurting!
"Okay son?"
"Yes thanks Gran"
"Where's your mother?"
"Talking to Kristen I think."
"Well you take care you hear, I'd forgotten what it was like when me and your Gramps used to take your mother to events. Come here."
I closed the gap between us and she gave me a hug.
"Ooh!"
"What's up?"
"My, um things are a bit sore this morning."
"Your mother said you were having some problems."
"Its alright if I can wear a bra but you can't for racing really."
"Here you go Drew" Caro stated coming up behind Gran.
"Great colour" I grimaced as she handed me a bright pink jersey.
"It looks better than the bright green your mate Josh has got." Caro grinned. "See you later and good luck."
"Cheers Caro."
"What's up Gran?"
"Is that your friend Kristen over there?" I looked to where she was pointing.
"Yup."
"Hmm, I think I've got an idea which will make you more comfortable and maybe give your team some edge."
So that's where Mum gets it from not from Grandpa Peters.
"What do you think?" Gran asked.
"Isn't it cheating Mrs. Peters?" Kristen asked ten minutes later.
"Its tactical and practical Kris, that's not cheating."
"Okay then, I'm game."
"Drew?"
I hope we don't get in trouble for this.
"Okay."
We had to include Dave and Stu in our little ruse, they both thought it was ace but there again they weren't the ones having their Gran braid their hair.
I felt a bit self-conscious as I lined up with the rest of the field but apart from one or two bemused looks from lads in the 'real' race. A hooter signaled the start of the short roll out to the start proper and the game was on!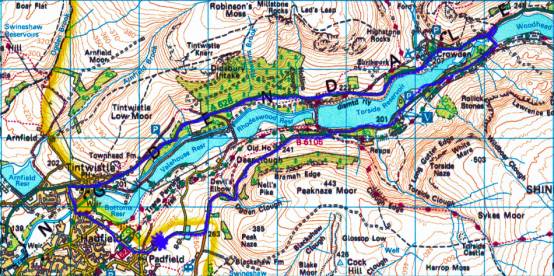 The course is just over 15km long and we do five full laps, this is gonna be hard. The Union Jack was waved and hostilities could begin in my first official road race. Team Pink as we called ourselves was all together as we headed towards Woodhead for the first time. It sure felt weird with my pigtails slapping my neck and my borrowed sports bra felt a bit tight across my chest although I knew that it was obvious what I was wearing. The fact that Kristen had insisted on doing my eyes and me putting in my sleepers just made me look more like a girl. Our team leader on the other hand looked more an, androgness, oh you know what I mean, not one thing or the other, with her hair just tied back, and devoid of makeup and jewellery although if you were paying attention her nails are painted pale pink!
We had revised our plans a bit to make use of this slight subterfuge which meant that while we needed to stay in contact a more discrete peleton position was called for. The others just rode normally but I hammed it up a bit, feigning nervousness. One or two riders tried their chance on the early ups and downs but as we turned onto the A628 we were all together still. Although it twists and turns a bit this leg is quite fast and it was exhilarating speeding along in the big bunch.
The sign for Tintwistle gave warning of the next turn and the first ascent of the 'finish' climb. I used the old out braking tactic to move up the field, a nervous girly got a lot of road cleared quickly! I didn't use the brakes at all as we turned onto the climb and my pigtails danced about my face as I gave my all to gain a few metres on the bunch. The finish line is just over half way up the climb, about a kilometer I guess and I surprised myself by getting there several lengths clear of the next rider. The tactic was to get the points, or as many as possible on the first three laps then just hang in to the finish.
Points taken I eased off so that by the time we turned towards Woodhead again I was well back in the bunch.
"Get 'em?" Stu asked.
"Yup, ten down, twenty to go." I grinned.
"Part two then." He returned my smile.
"What are you up to?" Josh asked drawing alongside.
"Nothing." I replied airily.
"And what's with the hair and makeup?"
"Later."
He shook his head and pulled away. I smiled to myself, most of the field had no idea who got the points and Kristen was already finding herself with some shadows from the other squad riders, easy mistake to make I suppose! After all the girl with pigtails was obviously not a threat whereas that show off Bond with his ponytail…
The thing we didn't want was a breakaway and Dave and Stu found themselves in league and against other squad members in trying to control things on the undulating ride up to the Woodhead. I was keeping out of trouble as much as possible while keeping an eye on the boss. We were holding station in the front half of the field which is just as well as there was a fall which when I checked on the main road, had left a good chunk of the field spread out over at least a kilometer of tarmac.
Kristen isn't as strong as me but as we planned she managed to force herself forward, the girly on her team slipping in a couple of lengths behind. As we once again swung down to the foot of the climb the boys had managed to prevent any escape, I could see the lead car speed up for the climb and inwardly chuckled as a cacophony of gear changing heralded the start of the climb.
I eased myself to the outside of the pack and started picking off those in front. Once up the steepest section a couple of heroes tried their luck and gained a few metres, I quickly upped my pace so I was close but not too close. One of them blew and the other one faltered as he realised he was alone – almost.
"Pick it up!"
"Allez, allez!"
"Come on Drew!"
I needed to get max points and rather than waste energy sprinting I just upped my pace very slightly.
"Sugar, that's hard." I gasped.
"Yeah," he agreed, "three more times to go."
We crossed the line with him looking at me rather than where he was going, and me half wheeling him - take two!
The plan was going well so far, a quick glance back revealed another pink jersey, Dave, at the front of the 'chasers', he must've grabbed a few points as well – less for anyone else to get. The pair of us still had a slim lead as we started lap three and I entered unknown territory.
We cleared the Devils Elbow, I risked a glance back, we were actually pulling away although I wasn't really giving much assistance – this wasn't in the game plan. We were only just approaching the half way point and even in my head I knew that this wasn't going to happen for me today. The question was what should I do? I could drop back now but this might just let my companion get away or I could sit in and hope to slow him enough that it comes back together. I'm sure team Pink's subterfuge has been seen through by more than just Josh by now, bum what to do?
I decided on plan B and settled in to see what would transpire. I took a couple of short turns at the front just for appearances and I realised that Graham was right the other day, most juniors are tactically poor relying on chance and rarely chasing stuff down. We were only maybe twenty seconds up but the drop back to Tintwistle gave little chance to see what was happening behind, a combination of high walls and bends.
My companion was starting to look a bit nervy as we turned onto the Hadfield road and I realised why as we started the climb. Instead of getting out of the saddle he was sitting back to keep the pressure off of a softening front tyre. Hmm, a chance to return to plan! With plaits a swinging I stepped up my pace and easily went around him on the steepest section, quickly opening a gap. I sat myself back down as it leveled a bit and twirled the pedals towards the end of the lap.
There was a bigger crowd in the finish area this time and I could see Mum, Caro, Gran and John watching my approach.
"Come on Drew!"
"Well done lad"
"Pace yourself!"
"Keep it going lass"
"Up, up, up!"
I crossed the line, 30 points in the bag; 45km covered and out on my own. I was feeling pretty good, not necessarily thirty k's good, but another lap at any rate. This is the thing with bike racing, there are so many variables I'm not supposed to be out here alone but here I am. Well what the heck – I turned onto the Woodhead road again and assumed a time trialling crouch, my Brain was showing 50kph as I descended the Elbow again then as the road leveled I held a steady 40ish. The lead car was like a rabbit to chase after and I felt good. There were a lot of club riders doing the circuit, I've done it myself, there were a few cheers of encouragement and I felt on top of the world.
The turn onto the main road gave a chance of a quick status check, the main bunch were there, perhaps half a minute behind and suddenly I felt a bit exposed. I clicked up a sprocket, if I can get the points this time its mission accomplished so lets go for it. A few clouds started to roll in from the west, I hope it doesn't rain. I swung off the '625 and planned my climb, yes I can do this!
It started well but like a thorn in a tyre about halfway up my legs turned to rubber – shite! Pace yourself Drew, pace yourself. I took a long slug of my bottle and picked it up again, the line hove into view and I dragged myself towards it. Something else entered my consciousness at that point, the sound of heavy breathing and clanging gears approaching from behind, bum.
They caught me right on the line, I couldn't tell you if I got the points or not as I was concentrating on just keeping going. I'm sure my supporters club was yelling at me but I had shut down to survival mode now. I ground up the remaining incline with more riders slipping past; it felt like I was going backwards, but finally I was there. Only another fifteen kilometres, I can do it, not win obviously but get to the finish.
The rest of team Pink caught me up as we descended Devils Elbow for the last time.
"We thought you'd gone." Stu mentioned.
"You get the points?" Kristen asked.
"Think so, but I'm blown, no strength."
"Have a couple of these." Dave passed a slightly damp box of dextrose tablets over.
"Cheers." I slipped a couple out, instant energy!
In front the race was now spread off into the distance, we weren't last but the following car wasn't that far behind. But that doesn't matter, we're all still here and hopefully we've succeeded in our task. The guys towed me along, Kristen has really come on from last year, she's much stronger, and soon we were on the undulating Woodhead Pass for the last time. Five miles, no problemo!
There was a cloud burst as we approached Tintwistle but I think we were all too tired to care, over three hours of riding gets you like that. Despite Dave's pick me up's my legs turned to jelly as soon as we started the climb so I resorted to desperation gearing and climbed slowly beside Kristen, the lads leaving us behind as it got steeper. Then it was there, the finish, I seemed to float up to the line but finally it was over.
"Drew? Come on luv, wake up." The voice pushed through my thoughts, vague as they were. Mum.
Maddy Bell 15.11.06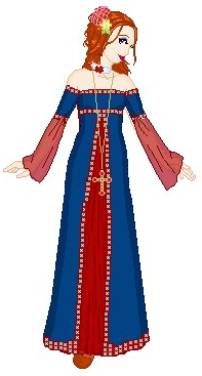 © 2006
Back to Chapter 4.34 On To Chapter 4.36 Back to The Library