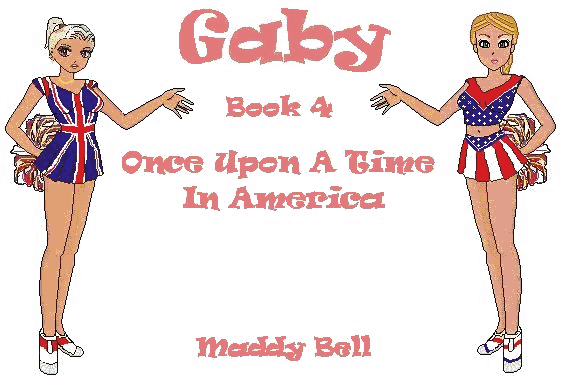 Chapter 29

The New Girl
Somewhere a car door slammed, a noise loud enough to wake me from my slumber. I glanced at the clock, five past seven, another few minutes before I need to get up. As if to emphasise the point the shower started, the bathroom would be off limits for a while yet. Hang on, it's Wednesday today, which means … it's my Birthday! Suddenly a few more minutes in bed were less attractive and hey, I'm fourteen!
"Happy Birthday!" Mum greeted me with a hug and kiss when I got to the kitchen.
"Happy Birthday son." Dad added.
"Thanks."
"Your cards are on the table." Mum advised.
I joined Dad at the table and picked up a pretty impressive pile of envelopes, I usually have a fair few cards but this lot was more than usual. At the top of the pile were the usual close family greetings, Mum, Dad, Jules and Gran, most of the rest were from various relatives that we don't see very often, Uncle Sam and Aunt Kate and of course Granny and Gramps Bond. Of course these envelopes can be quite lucrative, the postmarks identified each before I opened them, I scooped ten pounds each from Dad's siblings and twenty from my grandparents, not that I'm short but hey every little helps. I'll have to do some thank you notes; I'll get no peace from Mum until I do.
The others were a mixed bag, one from Caro with a record token for ten pounds, then there was one from Cat down near Dunstable, she'd made the card herself with a picture of the Tour de France on it. Then there was one from Kristen and the last card I opened was from Brit and Debs Walters in Grottoes. Eleven cards so far, my haul will increase when I get to school I'm sure – not that I'm counting.
"Now remember, straight home after school, I want you showered and changed by five o'clock."
"Yes Mum."
"You washing this morning?" she hinted as my sister joined us.
"Er yeah." I finished my tea and headed off to do my ablutions.
At school I did get some additional cards but only from the gang, I thought it was weird not getting any from the Foresters but of course it then clicked, why would they give me, Drew, cards? That realization was a bit disconcerting. At least I managed to avoid the 'bumps'; Mr. Woods banned that tradition last year after one of the first years ended up with a broken arm. The day itself was just about the same as any other school day – except for the class that Mum took. That was just plain weird, it was difficult to not call her Mum, and Mrs. Bond just sounds so odd. It didn't help when she introduced herself as 'Mrs. Bond, licensed to teach', talk about a lead balloon! Going to school on your birthday sucks.
"So are you ready yet?" Mum enquired.
"Just about." I'd gone for the smart casual look, a pair of grey chinos and a denim blue heavy cotton shirt. I slicked my hair back and put it into a low ponytail, maybe I'll get it cut at the weekend, I hadn't realised quite how long it's getting. Looking in the mirror I thought I looked pretty dapper and sophisticated.
It must 've been okay because I at least avoided the hard stare that Jules got for her Goth Princess look, she had at least been sparing with the makeup but the all black ensemble more than made up for that. Mum had made an effort with a nice frock and last to arrive, Dad had gone for a similar casual look to me, chino's and shirt but with the addition of a tie and jacket. Dad's can never really pull off cool can they?
We all piled into the car about half past five, as it's my party I need to get there if not first, that'll be Mad of course, at least early.
Everyone was present by six fifteen, everyone except Helen that is. Aunt C had the meal scheduled for half past so we were killing time with a game of twister. I was already out and was sat watching, I wonder why Helen didn't come? Mind you I nearly died when Em turned up, I was sure that Clive and Paul would tumble when there was no Rhod here. Not that you would think that Em was anything but all girl, it's not a word I use but lets just say that it begins with C and ends with E and that was Em tonight! I was right when I told Helen that the girls would dress up, none of them looked less than about seventeen.
Across the road, Helen watched the shadows on the curtains of Maddy Peters front room. She'd actually been here since five to six but bottled it when it came to ringing the bell. Somehow it was just a step too far to ring this stranger's doorbell, but on the other hand she really did want to go to Drew's party, which is why she was still here. She'd go back to Gran's in a few minutes; I will go ring that bell, well maybe.
"There's somebody sat on the wall over by the Jenkins." Mad mentioned twitching the curtain.
"Where?" I'm nosey enough to be interested.
She made space for me to have a squint; at first I didn't notice the body, whoever it was sat in shadow. Nah, it can't be, hmm maybe it is.
"You don't think it's a burglar Drew?"
"I don't think so, I'm gonna see who it is."
"Drew?"
I slipped out of the lounge and then used the back door to slip out of Castle Peters. It's not that I was being sneaky, if it was who I thought it was I didn't want to frighten them off. I carefully made my way around to the front; from here I could see the figure much better as she hugged herself on the wall. I made it as far as the road before my presence was detected.
"Helen? Is that you?"
She was ready to do a runner but she would have to come past where I was stood.
"Drew?"
"Yeah it's me, what are you doing out here?"
"Um."
"You must be freezing." I mentioned shivering myself.
"I er…"
"Come on, Aunt Carol is nearly ready to dish up." By this time I was within a couple of feet of her.
"Well I should like be going home."
"Dur – the party is here." I found myself almost bullying her towards the house.
"Er okay then. How did you know I was there?"
"Mad saw you."
"Oh. I don't think she likes me."
"How can she not like you, she hardly knows you."
By this time we were at the door that sprang open with Mad at the handle.
"Oh it's you. You'd best come in, Mum's just called us to eat." Hmm maybe Helen's right, Mad does seem a bit off-ish.
Once inside I played host, hanging my guest's coat up before heading us both towards the noise of the dining room.
"I um got you these." Helen indicated the bag she was still carrying.
"Thanks, bring it in, I get to do presents and stuff after we eat."
Well okay it's a birthday party, the exchange of gifts is traditional but even I wouldn't expect someone I've known three days to get me anything, maybe a card I suppose. I think we were both equally embarrassed by the exchange.
"There you are Drew, and I guess this is Helen, right luv?" Aunt C greeted our arrival.
"Um yes." She replied.
"Well come and sit down, you know this lot from school, that's Mad's Mum," I started the introductions, "that's my Mum and Dad, Mad's Dad and Goth girl is my sister Juliette." I pointed to each in turn. There was a kick to my ankle, Rhod! Oh right, "I don't think you know Mfanwy here, she um does cheerleading with the girls."
Aunt C was back with a huge dish of spaghetti, time to eat!
"Come on dig in, there's spaghetti, penne pasta and there's Bolognese and cheese sauce in the silver dishes and meatballs in the tureen."
"Carol you shouldn't have done all this." Mum stated.
"Don't be daft Jen, it's easier than sandwiches and stuff."
By the look Mum gave me, I need to do big 'thank you' stuff after this!
Well this is so much better than sandwiches and crisps, much more sophisticated, the girls, with the exception of my sister, were all poshed up, even Clive was dressed up, well as far as it goes. By the time we'd finished the ice cream it was nearly eight o'clock and even Helen was joining in with things.
"I think someone is itching to open his presents." Dad mentioned.
"Not many!" I agreed.
"Well you kids go through, we'll be there in a couple of minutes after we've cleared up a bit." Aunt C suggested.
"Do you want some help?" Helen enquired.
"Um yeah, like many hands." Paul added.
"We're only clearing the table, you can help later if you want."
Damn, I should've done that; it is my party after all.
"Me, me, me!" Bern demanded.
"Oh!" Paul sighed, "I wanted to give him mine next."
Geez! My friends are fighting over who gives me a present now. So far Clive has presented me with a copy of the ' Under Arrest' film on DVD, and Rhod, er Em gave me a German/English dictionary, not one of those little things but a proper big one.
Bern passed me her offering, which after a scrabble with the wrapping turned out to be one of those sort of ski fleeces. Paul gave me a gift voucher for the Space Centre, Ally added one of those sports wallets to the Pile and Helen's addition was a box of posh continental chocolates. Mad's present looked a bit disappointing, sorry but you know what I mean, just an envelope, which means vouchers. However rather than shop gift tokens it turned out to be a pair of tickets for the Chili Peppers concert later in the year – well cool. The family prezzies were last up, Jules gave me a book about the Tdf and the olds supplied a new pair of cycling shoes, real cool ones that I've had my eye on for a while.
After that Mad put the stereo on and the lounge was transformed to a disco. With Paul manning the CD player we were soon immersed in the festivities even Dad and Uncle John had a go at one point. However the rents pretty much left us to it and I saw Dad sneaking a wine bottle outside as they retired to the relative peace of the patio. We had been bopping away for a while when I realised Helen was missing, had she left already? I sort of felt responsible so I slipped out to go and look for her, her coat was still here so she hadn't left, seeing the kitchen door ajar I guessed where she was and headed outside myself.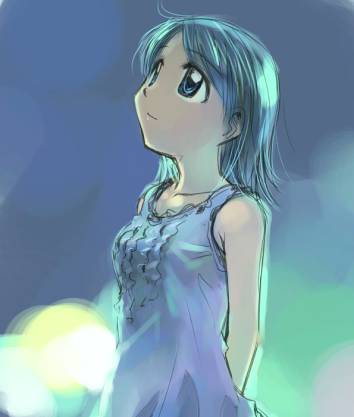 Helen was staring off into space.

"Wotcha."

"Do you ever wonder if there is really a heaven?"

"Dunno, I know I prayed to god a lot for Mum to get better, I don't think I ever got as far as heaven." I admitted.

"I do. When I look up there I can sense Dad keeping an eye on me and Mum."

We stood in silence for what seemed like ages but I guess was really just a few minutes.

"Thanks Drew."

"What for?"

"For inviting me tonight. When Dad died all the happiness was drained from our house and I never thought that I'd ever get any back. Tonight with your folks and friends it's made me realise that I can be happy again … and still think about Dad."

I felt my face flush in the cool evening air, the heater spat and hissed at the other end of the patio and the laughter and music from the party inside wafted out to where we stood. Somehow I felt something about this girl that I hadn't before even with Mad.

"Come on its getting cold out here." I suggested.

I was a bit groggy next morning; we got home about eleven after Mum had done the taxi business for Helen, Clive and Ally. Sylv collected Em and took Bernie home but only after stopping off for a coffee!

School was it's usual boring self; at least we didn't have Mum today. What I, we did have was cheer practice, I agreed to stick with it till we move so here I am once again changing into leotard and tights.

"Gaby – you should've said before." Flo demanded.

"What?"

"Your Birthday stupid." Vicky put in.

"I um. How did you find out?"

"Em told us on Monday." Flo informed me.

Big mouth Rhod.

"So sorry they're late." Karen grinned before thrusting a card and parcel in my hand, the first of a deluge from the girls. Talk about embarrassing, I really should've invited them to last night – no I couldn't could I that was me, Drew's party, it was bad enough Em being there, it would've be way to weird too – Hentai!

"Um thanks everyone."

"Come on ladies, pair up for warm ups." Miss C sort of rescued me.

I felt another pang of guilt and embarrassment at the end of practice as I packed my new booty into my bag.

"Why the long face?" Mad asked as we started the walk back ton Peters Mansions where I will transform myself back to me. It's not that Mum and dad don't know but I don't want the neighbours to see Gaby too often, they might put two and two together.

"I should've invited the girls to the party"

"Well dur! Gabee wake up, they'd find out that your not a girl dumbo."

"Well it doesn't feel right them giving me prezzies and stuff and I didn't even bring any cake."

"Well there you go then, problem solved. Just get a cake and bring it on Monday."

That's what I like about Mad, she sees past the problems to the solution. We arrived at Mad's just as it started to rain, the wind gusting up my skirt - now that's one bit of being Gaby I will not miss!

"Hi kids!"

"Hi Mum"

"Hi Auntie, um thanks for last night it was well pukka."

"No problem, are you eating with us tonight?"

"Um, best not I've got to go on the turbo when I get home"

"Okay then, off you go and get changed."

We trooped upstairs and while I got changed Mad showered. And before you say anything I would've showered but I'm going straight home to get all stinky again so there's not really any point.

Mad returned drying her hair and wearing just a bathrobe.

"So?"

""So what?"

"So what did you get?"

"Oh, I dunno I've not looked."

"Well come on then!"

Did I ever mention how bossy Mad can be?

I retrieved the carefully wrapped packages and started unwrapping. Well apart from the fact I wasn't expecting anything these were in a different class - girlfriends class! I'm sorry but I can't get too excited about nail varnish, cheap scent and skimpy knickers, well not in that way anyhow. Not when they are for me.

Friday was just a bit weird. My appointment wasn't until ten so we left just before nine – at least we'd miss most of the rush hour traffic. I was a bit nervous to say the least, I mean Dr Johnston is okay, it's not that but what will she say? Am I really a girl? Or even one of those cross dressers? At least my nipples haven't been so itchy this week, must be that cream. We managed to park a bit easier this week so we were actually early for the appointment.

"Nervous?" Mum enquired after we settled down in the waiting room.

"Sort of" I admitted.

"Look we'll get you sorted out okay, I'm sure it's nothing too serious."

"But what if I'm really a girl?"

"Well no one died from being a girl as far as I know."

"That's not what I mean."

"I know kiddo. Lets not worry about anything we can't do anything about, but if that's the case well it's not the end of the world is it, and you do make a cute girl you know."

Not exactly what any red-blooded male wants to hear from their mother.

My musing was disturbed by the receptionist, "drew Bond? You can go through now."

We walked the short way to the office we visited last week, the door was open but Mum still knocked on the door.

"Ah Drew, Jenny, come in, take a seat." She got up and closed the door while we found seats.

"So how have you been since last week?"

"Um, fine thanks, my chest isn't so sore."

"No fainting?"

"No doctor."

"Slip off your top, lets take a look at you."

I slipped my jumper and t-shirt off, it was a bit embarrassing revealing my cami top but I'll live.

"Can you pop your vest off too."

I slipped my arms out and pulled it down to reveal my chest.

"Hmm, interesting," the Doc started to examine me, "this hurt?"

"No"

"Hmm. Well I think we have some good news at least. The swelling seems to be decreasing, certainly your nipples are back to normal if slightly sensitive so I don't think you are developing gynoclaestia . I think you developed a bit of an allergy to the fixing agent you were using and combined with the weight of the breast forms over an extended period of wear – I have seen something similar once before."

She sat herself back behind the desk.

"You can dress again Drew. I think to be on the safe side, if you continue with the cream for a couple of weeks and stay with the 'vests', if I'm right the swelling will have gone completely next time I see you."

So this was going to be an ongoing thing, coming to Queens.

"What about the er other stuff?" Mum queried.

"Well, as you know, we took a very good look at your son's blood and urine. We have eliminated some possibilities and the results are directing us in a specific direction. What I can tell you is that Drew isn't intersexed, the results came out clear enough on that matter. To some extent that threw our expectations out a bit so we looked very carefully at your scans and we think we may have the answer but not the how or why."

"Is it serious? Can it be treated?" Mum's concerned voice echoed my own thoughts.

"I'm not going to say it's not and yes it can be treated. Essentially Drew, most boys start to mature between ten and twelve, the testes drop, you start growing body hair, your voice breaks and you start to bulk out. This is all caused by hormones produced by a small gland called the Bulbourethral or Cowpers gland. This in turn kick starts the production of testosterone, which triggers the other elements that lead to sexual maturity. In your case Drew, although your testes have dropped nothing else has happened." She paused.

"So I can take some hormones or something to fix it?"

"Well that is a possibility. Sometimes a course of hormones can kick start things"

"Testosterone?" Mum asked.

"A cocktail actually but yes testo would be included."

"Drew races bikes at a high level, he's on the national squad and has a semi pro contract, testosterone is on the banned list. Is there any alternative, we'd have to take him out of competition and he lives for riding."

"Dr Sanwari already mentioned that, we are still waiting for one or two results to come through so we don't need to make an immediate decision. Depending on those results I would recommend the hormone therapy, it has a very good success rate with limited side effects. The alternative is to continue the 'wait and see' approach but sooner or later we will almost certainly need to intervene. But lets not get ahead of ourselves, Drew is in good health and his father was a late developer so things may well sort themselves out."

"What about the fainting?" Mum put in.

"I think we have that pretty much under control, I've consulted with some of my colleagues and we are pretty certain it's not connected, we just need to get this young man to eat his greens!"

"He'll grow out of it?"

"We think so, for now we'll supplement his natural ferric intake and review things in a couple of months. Now then, lets see… if I put you down for a fortnight today, the twelfth of March? The final results will be in and we can look more closely at our options."

If like me you only understood half of that Mum summarised things on the walk back to the car.

"So young man, any happier?"

"Kinda. Will I really have to stop racing if I have to take those hormones?"

"It's a possibility that we'll cross if we have to, at your age we may be able to negotiate dispensation. But we do know you are definitely a boy and that you aren't growing breasts, they are both positives aren't they?"

"I guess so."

"Well don't sound so happy about it."

Was I happy about all this? I can do without being a girl but I was getting quite attached to my little chest protuberances in a sort of weird way. And I'm not certain that I really want all that hair and stuff that that gland is supposed to start growing, my bods quite buff as it is!

"Just a bit worried still."

Mum gave me a hug and somehow I did feel a bit better.

It was only just after twelve when we got home so Mum insisted I go to school for the afternoon worst luck. The rest of the day was almost as bad with stuff Gabywise, I'd see Flo or one of the other cheerleaders and I wanted to at least go through the motions of thanking them for their birthday offerings but obviously that would open a can of worms that I don't want to do.

The big news of the day was the announcement about the school Easter dance that Mr. Wood made in the assembly I missed this morning. To say that I've got mixed feelings about that particular event would be putting it mildly! That one event last year was the catalyst (we were doing about them in science yesterday) for so much of what has happened since. In fact the more I think about it the more I realise just how much that was responsible for. The others were well up for a repeat performance but I don't exactly relish the idea - still its weeks away yet plenty of time to get out of it.

It's funny but with being away and stuff it's difficult to get back into the routine of things. Like Saturday for instance, we usually all go shopping to Mansfield or Worksop or somewhere like that. But this weekend Em is at her Dad's with Ally, Bern is at her Gran's which leaves me and Mad.

"So you got any ideas?" Mad enquired.

"Not really, I should go out on my bike for a couple of hours."

"I could come with you?"

Well it would sort of kill two birds with one stone, it might not be quite such a hard session but maybe I can make it a bit longer.

"Okay but I was thinking of going to Beckingham."

"Where's that?"

"Out near Gainsborough."

I could see the cogs going round as she mentally worked it out.

"Okay as long as you promise not to leave me."

"Well dur!" if there is one thing that Mum, and Dad for that matter, has drummed into me it's that you never leave anyone behind. There's time for that when you are racing so it doesn't hurt to slow things down a bit sometimes. "As if?"

"I was just saying."

"Nine at ours then."

"Okay."

We had arrived at Mad's turn so we said our farewells and I started the last leg home, lost in thought.

"Night Drew!"

"Wha?" I glanced up to see Helen riding past. "Er night, see you Monday."

"Laters." She gave a little wave as she hauled her big Dutch iron along the road.

Hmm, I wonder what she's doing this weekend?

I was surprised at how well Mad kept up on the way out to the café, I've been riding all winter but Mad has hardly turned a pedal for months. She did look the part, the stuff that Caro donated fit her well and she had the sense to put enough on to combat the late February chill.

"Will you be able to go to the dance do you think?"

"I guess."

"Kewl."

"But I'm not dressing up this time." I added.

"Humph! Spoilsport!"

"Whatever." Meanly I turned up the pace a notch which effectively put a stop to Mad's chatter.

We stopped for beans on toast at the café; I joined Mad in a giggle as the woman serving did a double take when we got to the counter. Saturday morning tends to get a more mixed clientele in the café; it was a bit unnerving some of the looks that the grubby looking bikers gave us as we grabbed a table.

"Wow Drew, you're on the wall – and your mum!"

"Shush! You don't have to tell everyone."

"Sorry."

" Forty seven! "

"That's us." I waved my arm and our 'breakfast' arrived.

"I'll never eat all this."

"You will if you want to get home." I pointed out.

Well she found space somewhere and twenty minutes later we set off home at a more sedate pace. We were going in the opposite direction to when I last came with Mum, which should've meant an easier ride back but there was a stiff breeze that soon had Mad slipping back. I hadn't planned on it but I turned us off to avoid the undulations towards Retford which also meant we weren't going directly into the wind.

"You okay?"

"Uh huh. What do you make of Helen?"

"She's okay."

"I thought she was a bit standoffish."

"She was alright at my party." I countered.

"'Spose."

"I think she's just lonely, she hasn't really got any friends here."

"Hmmm."

"Hey maybe she could come shopping with us next time?"

"Maybe."

We dropped down to the canal and turned left to head across to Retford, the wind now on our opposite shoulders. I took the initiative and got Mad into my shelter, it seemed like an eternity before we changed direction again. When we finally got to Retford Mad was on her last legs, there was just no way she'd get home on the bike. I hate doing it but I rang the home delivery service and Dad was dispatched to pick us up. Mad kept telling me to go on but like I said before, the Bond's don't leave anyone behind! I did leave her while I went back to the petrol station to get some instant energy for us, there's no way Mad was moving!

Once back home, we dropped Mad off first, I showered and then spent the afternoon writing thank yous. I did check on Mad at teatime, apparently she spent the afternoon asleep on the sofa.

"Hey Drew, can I borrow your suitcase?"

"Sure Dad." Mum was taking Dad to East Midlands later and he was only packing now! Not that I can talk.

"My case is too small so I need something a bit bigger."

"I'll bring it through in a bit."

"Cheers son."

After yesterday's ride with Mad, this morning I went out with Mum. We did an hour and she seemed much better than last time we went out but I guess it'll be a while before she is really firing on all cylinders again.

I stopped polishing my best wheels and retrieved my case from the wardrobe top. Best check that there's nothing embarrassing left in it. It's just as well I did, I recovered a bra two pairs of knickers and a lippy which had all escaped my previous attention. I was just about to close it back up when I realised that there was something or things in the lid compartment. I frowned, I'm sure I gave everyone their prezzies. Ah well, I unzipped the pocket and reached inside. Bum! I forgot all about these. Not prezzies for other people but for me!

My thoughts returned to that last meeting with Erin and co.

Ding Dong, Erin rang the bell.

The door opened, a little too quickly.

"Hi Erin, Gaby glad you could come. Come on in."

It was dark inside but we were barely inside when the light came on.

"HAPPY BIRTHDAY GABY!"

It was all the Express gang; even Hooch and Manda were here. I stood in stunned silence.

"We know your birthday isn't till next week but you won't be around then," Diane told me.

"Um" I am a blonde of few words!

I was quite made up; that people I barely knew would do this had me almost in tears. I can honestly say that I never expected anything like this; in fact I hadn't expected to see them all again even. My pre birthday party was basically what I think you call a dinner party, at least we all sat at Frank's amazing expanding table for a great meal of fried chicken and salad and stuff prepared by Mrs. Frank, Ellie. It was great; we talked about Atlanta, Warsop, the Express, Lance – well pretty much anything.

It reminded me of cycling club events back home, it doesn't matter about your age or sex, and everyone gets on with everyone talking about what we love to do.

I put the small pile of loot on my bed and took the case through to Dad.

"Cheers Drew."

"Yeah."

I returned to my bedroom and sat down to investigate these bonus birthday offerings. I tackled the cards first, it was a bit embarrassing to read the sentiments and see the girly cards. Even hooch had sent me one with a very girly ballerina theme – I can't show anyone these! There were only actually three presents, one from Erin, one from Frank and one that was collectively from the 'Express'. I opened that one first, it was well packed, I thought it was a book at first but it revealed itself as an ornate picture frame with a picture of everyone taken at Atlanta. I gazed at the photo, was it really just three weeks ago?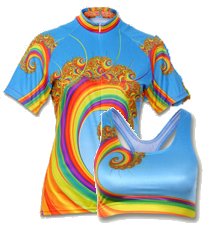 Frank's offering was clothing of some sort, further investigation revealed two garments, a proper jersey and a sort of I guess you'd call it a bra top, both in a sort of swirly rainbow design. The design was actually quite kewl and even if I'm not gonna wear the bra top the jersey is at least fairly much unisex.
The last packet was from Erin. In all the madness of Grottoes Erin pretty much lent an element of sanity to my dressing up as Gaby, somehow she spotted me as a boy virtually straight away but she kept it to herself for which I was very grateful. It should've been me giving out prezzies not the other way round! I opened the paper to find a baseball cap; I shook it open to see what was on the black hat. Well cool! On the front it was customized in stitching to read 'Drew Bond, Grottoes, 2004' and there was a bit of what Dad calls fried egg on the peak too. Thanks Erin.
More thank you letters I guess.
I knew there was something going on, Dad had made several long call to Mum from Germany over the last few days, the contents of which were dismissed as 'work stuff' by Mum. So it was no real surprise that a family meeting was convened after dinner on Thursday night.
"So what is it this time?" Jules started in, "we joining a monastery now?"
"Don't be so daft Jules, it's a nunnery, now let you're Dad talk." Mum butted into the newborn tirade.
"Okay then, there's a couple of things, some good news, some maybe not so good."
"I knew it." Jules huffed.
"So what's the bad news Dad?" I enquired.
"Well we won't be moving out at Easter as planned,"
"Right on!" Jules put in.
"Well not all of us." Dad finished. "I've been trying to find us a house but we just can't do things quick enough to get it all sorted in time so rather than rent somewhere and end up moving twice your mother and me have agreed on a different plan. In short you three will. Stay here until the summer, you're Mum will concentrate on getting back to fitness and stay teaching. I'll be based in Germany but I should be back home about every ten days or so.
Doing it this way I can find a house, you two stay in school until the end of the year and your mother gets to prepare slowly for her return to racing."
There was a lot to take in there. It would sort of reverse last years arrangement but somehow that didn't seem so bad, I'll miss Dad but I miss Mum more. Jules was a bit taken aback, despite her actions a fortnight ago I think she had sort of come round to the idea.
"What your Dad hasn't mentioned is that before he goes to Germany we are going to have a family holiday in South Wales. So what do you think?" Mum queried.
Well on one hand I was disappointed, on the other, well I get to hang with the gang for an extra three months. And the holiday to Wales, well I bet the olds will try to make it memorable, as we won't really be together for a while afterwards.
"So just when are we supposed to be going to Wales?" Jules enquired.
"Well I'm waiting for a phone call but it should be in three weeks." Mum told us.
My sister didn't say anything but there was something going on by the look she gave before she shrugged her shoulders. "So we're staying here till the summer?"
"That's the plan." Dad agreed.
"Yesss!"
Well that was expected I guess.
Of course I had to let everyone know when I got to school next morning, I even sought out Helen and told her. Somehow it was like a switch was closed, from the excitement and emotion of the last several weeks things almost returned to 'normal'! Saturday all the gang was around for a trip into Mansfield, I must admit that I forgot to ask Helen along but there's always next time. We fell into a pattern similar to that which we used to do over the next weeks – tea with the gang Monday, cheer practice Tuesday, for now at least, big training session on Wednesday, cheering again on Thursday, home on Friday, shopping Saturday and for me at least another big bike session on Sunday.
Of course there were still some flies in the ointment, the others wanted to repeat last years costume extravaganza for the dance, so far I was holding out, I do not want to turn up in a frock again! And Dad, Dad was starting to be a right slave driver. He never told me I had to do my training rides but he made me feel so bad that I'd even contemplate dipping out that after the second time I gave in, it was easier to get on the rollers than have Dad give me that look!
The three weeks until our Welsh trip seemed to fly by, I was starting to look forward to the racing season; Dad had divided the season up with specific targets in each bit. The best thing was that Mum would be the chauffeur most of the time. My first events would be over Easter so I was determined to kick back at least some of the time we're in Wales – the bikes are going of course, did you ever think they wouldn't?
The next appointment with Dr. Johnston was a quickie compared to before but I think you'd lynch me if I kept it to myself.
"Well that's as I hoped, I don't think you need the cream now but if there is any return of the swelling or soreness contact me straight away." The Doc advised.
"What about the tests?" Mum asked.
"I wish I could give you a straight answer. Without taking a look inside and doing a biopsy we can't be 100% sure but it looks like I was right about the Cowpers Gland. None of the triggers we normally expect to see turned up in the samples but as I said before it might just be late development."
"Do you think the biopsy is necessary?" Mum asked the question I would've.
"It's not an immediate necessity, nature usually comes through in the end. When I mentioned to one of my colleagues that you were a dedicated sportsman he did suggest that that could be a contributory factor. I've done some checking and certainly elite gymnasts often don't mature properly until they retire at around twenty. I don't think it's quite the same in your case Drew but lets keep an open mind until we know different."
I think I actually read something like that myself but I thought it was like those little girls that do that bar stuff, thinking about it there's a girl at school into gymnastics and she doesn't have much in the way of boobs and she's in the lower sixth now.
Maddy Bell 15.09.06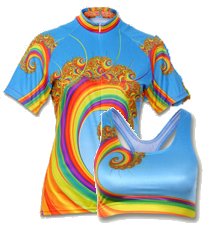 © 2006
Want to Comment? Click here

to Email me