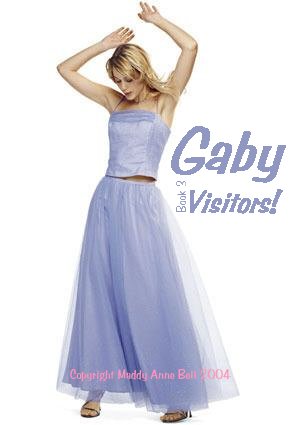 Part 107

Autumns Here
"Well girls, it looks like there are plenty of potential cheerleaders," Miss Cowlishaw stated as we got ready.
"Can we see?" Mad enthused
"Don't see why not," she said passing it over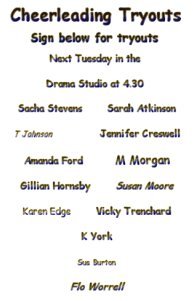 "Sasha Stevens, Sarah Atkinson, Tara Johnson, Jennifer Creswell" Maddy intoned
"She must be a second year," Al mentioned
"These others must be too," Mad stated
"Susan Moore is Joanne's sister" Bernie told us
"They're nearly all second years," Mad pointed out
"Lets hope no ones superstitious, there's thirteen here" Ally advised as she passed it back to Miss C.
"And we only need eight girls remember" Coach Cowlishaw reminded us. "You're quiet Gaby"
"Yes Miss"
"Boy trouble Miss" Bernie put in stifling a laugh
"Well come on, we've got a lot to do before we finish tonight" Miss C instructed
By the time we left for home we had honed our primary routine some and worked out some moves for the tryouts next week. We were a bit late and Pongo (Mr Porteous, the caretaker), rushed us out so I ended up walking back to Mad's place in the badminton kit, it was all right for the others, they could just pull their uniform skirts on over!
"Saw your cousin last night" Clive mentioned at registration
"Mad?"
"No dummy, Gaby. She was wearing a real short skirt, those legs! Ooh!"
"That's me-y cousin you're talking about"
"Sorry Drew but you must admit she's a right babe"
"Never really thought about it, where's Paul"
"Dentist I think. Gaby's got perfect teeth" he sighed
Rhod was right; he does have a Gaby fixation!
Big thing for me today is Mum's time trial at the Worlds, I hope she wins.
"I am not gonna end up going home in that badminton skirt again!" I huffed as we walked back to Mad's.
"Well that's easily solved"
"Yeah I stop this cheering lark, I never wanted to do it in the first place"
"You've got to Drew. For me? The tryouts are next week and we need you." Mad fluttered her eyelashes at me
"Just next week then I'm out" so there! Somewhere there the subject of me in the badminton skirt was sidestepped.
"So you watching your Mums race at mine, mums doing Tagliatelle Carbonara"
Now that is tempting
"I'd best check with Dad first"
"Come on Mum, you're up on Vinelli!" I cheered the telly some time later. As there was quite a time difference with Mexico we were watching it almost live. Mum had drawn a late start as a high seed and was going like billy-oh! Sheesh was it only last week that I was riding with her, the speedo on the screen was showing 50km, and she was flying! We got glimpses of other riders finishing, Maria finished in provisional third but there were still a few riders out on the course including Mum.
Aunt Carol stuck a glass of D & B in my hand, my eyes never moved from the screen in case I missed anything. Duffer was getting wound up and excited, Paul Sherwen was doing his best to remain calm as Mum went through the last time check ten seconds down on the Italian who is the defending champion. The riders behind were now effectively out of contention, only Mum could lift the crown from the big Italian. I know that countless thousands of British cyclists and sports fans would be cheering her on.
The kilometres went by along with the seconds, the coverage was concentrating on Mum as the last title contender and the tension in the Peters living room as well as the commentary box was intense. It was going to be close, they had Vinelli's ride up on the screen for comparison now, they were riding just about second identical, Mum spinning a slightly lower gear as the uphill finish started taking it's toll. Then 'BANG!' it was all over. With under a kilometre to go Mums rear tyre exploded.
"Oh no it's all over Jenny Bond, so near but so far" Duffer intoned
"She won't give up though David, she's still going" Mr Sherwen pointed out
I was almost in tears as I watched Mum with grim determination struggle to keep the bike upright around the last corner. The crowd were going bananas!
"She can still take the silver," Paul told us as we watched the final metres.
The clock counted down and finally it was all over. Mum scraped second by 2 seconds, 35 seconds down on the now jubilant Vinelli.
"Well that was quite something Paul. Have you seen anything like that before?"
"It's the sort of ride we've come to expect of Jenny"
The screen was showing a distraught Mum being consoled by British officials; it was pretty emotional in Mexico and Church Warsop! Of course the director kept repeating Mums blow-out at which point Aunt C turned the TV off.
"Enough, lets get you home Drew"
"Yeah"
"It was just luck Drew" Mad consoled as I collected my school bag
"I guess so"
"There's always Saturday"
Aunt Carol drove me the short way home to where the Bond household was still tuned to Eurosport. Not the best night for the Bond family but at least Mum was okay and she did still get the silver!
"I know, you need a boyfriend," Ally stated
"I do not!"
"Well not you obviously, Gaby" she clarified
"Al's right Drew. If Clive thinks you've got a boyfriend he'll back off," Bernie explained
"I've never heard such a harebrained idea. And just where do I get this 'boyfriend'? Date is Us?"
"That's the beauty of it." Ally went on, "we only have to tell him, I mean you're supposed to live in Creswell so he'll never find out the truth"
"I think Gaby still needs to show him up" Mad put in
Urgh!
"Keep me out of this" Rhod told us
"Hey, what about Halloween?" Mad suggested
"What about it?" I had to ask
"Yeah, Gaby can go to the dance, we let Clive know she's going then when he comes on, wham!" Ally enthused
"There won't be any Gaby by then" I stated
The girls exchanged looks.
"Yeah right!" Bernie mentioned
The weather has already started to turn autumnal; the winds are coming from the northwest and getting stronger. Not like over in the Caribbean, they've had a hurricane this week, I'll stick to what we've got! Dad's had me out doing some specific training for this weekend, there aren't any proper steep hills near us so I've been sprinting up and down the lanes with a rucksack full of tinned food on my back! After the disappointment of Mums time trial on Wednesday, this weekend has high expectations for our household. Thursday and Friday were both uneventful, life for Drew Bond has been as normal as it gets these days.
Dad and me set off for the Yorkshire Wolds mid morning, no supporters club today, the gang all had stuff to do.
"We will be back for Mum won't we?"
"For the twentieth time, yes" Dad was getting a bit fed up now. "It's not on until seven o'clock, we'll be back well before then."
I won't bore you with a blow-by-blow account but my 'special' training seems to have worked. The first climb was near Market Weighton and I romped up the 1134 metres in 3.14.18 only 5 seconds behind the winner and good enough for third place. Then everyone moved a couple of miles south for the second, longer climb. I dropped a couple of places to fifth with my 5.23.41, they go to 1/100th's on hill climbs, but I retained my third overall for the two climbs. I could get to like this.
"The girls coming tomorrow?" Dad asked as we joined the M18.
"Only Mad and Bernie"
"We'll use the car then, the lanes are a bit narrow for the camper. You want to ring and order a pizza, we'll collect it on the way home, about six"
"Triple cheese?"
"Whatever you fancy but get a small Hawaiian for Jules"
We were a bit later than planned due to an accident on the A1 (M) near Blythe but we were all sat waiting for the Eurosport coverage to begin at five to seven.
"You join us on lap three of ten of the Women's Elite road race. I can tell you that all the main players are sat in the bunch including unlucky Jenny Bond whose puncture cost her Gold in Wednesdays time trial"
It cut to an interview with Mum
"I heard it go obviously and I just thought 'girl there's no time to change bikes, just go for it', so I did"
"So close though?" Paul Sherwen noted
"I could see my time and Vinelli's over the line and watched it just slip away"
"You think you'd have done it without the puncture?"
"I do, it would have been close, maybe five seconds but I went from 50k's to barely 40"
"We saw you struggle on the corner," he noted
"That was a bit scary, I thought I'd lost it there"
"Do you know what caused it?"
"A thorn Paul, when we checked the front tyre there were two in that as well"
"Thanks Jenny"
It cut back to today's race.
"There's been a terrible pile up on the descent of the Olpas, I can confirm that all the Brits are back on their bikes and are chasing the leaders who all missed the crash"
We watched in silence as Mum and the other girls valiantly tried to get back to the front group. It was clear however that the others weren't in the same league as Mum and were tiring fast. Only Tina riding for Germany was giving much help. As they completed lap five the gap was two minutes, I spotted Maria up the front, Vinelli was there too and it looked all over for Mum.
"Another puncture Paul"
"Yes, there seem to be a lot of thorns out there and thorns respect no one"
We watched as Maria stopped and waited for a wheel from an overworked neutral service, Mums group were nearly on her by the time she got going again.
"That's three members of the German Appollinaris squad in there now, not a good day for them."
"They've had a terrific season, Bond's Tour Feminin was obviously the high spot but they are clear winners of this years Gerolstein Cup with over 40 wins"
"But not today Paul"
"Don't write them off yet David"
As if on queue Mum and the two Germans made their getaway and started to chase down the leaders. Where twenty were making no impression, three certainly seemed to be. It was a case of team over nation as the three of them worked smoothly together and the gap started to drop. A Worlds medal would be good for the squad, any colour and any rider, it doesn't matter, and so they plugged on.
"Two to go Paul and the chasers are only thirty seconds down"
"The leaders seem a bit reluctant to react, Vinelli looks comfortable there, three more Italians in there with her."
"And no Longo now"
"No she climbed off at the bottom of the climb so there's no one to really trouble the Italian at the moment"
"What's this Paul?"
"Looks like the Appollinaris girls have done it David, there might be a race here yet"
"And renewed British interest. If you've just joined us the good news is that Jenny Bond has just rejoined the leaders after she was involved in a huge crash a few laps ago."
The Mexican heat was obviously taking its toll and it was pleasing to see Vinelli surprised as Mum and the girls came through. At least they were in with a chance now, however slim! You could cut the tension in our lounge with a knife as the race went into the final stages. Then the unexpected, it started to rain!
"Will this change things Paul?"
"I think it will David, the north European riders are used to the wet, it doesn't rain that much in Italy and Spain."
"Vinelli already looks unhappy"
"As well she might"
The pace clearly dropped, as riders were unwilling to take chances at this stage. Only 'our' riders looked happy, Tina was obviously pretty tired but Mum and Maria seemed pretty fresh. From here on it's every woman for herself.
"This could be quite a finish"
"They're into the last kilo and one of the Italians has made an attack, I can't, it's Vinelli herself!"
"That's the German, Porsche chasing her, where's Bond?"
"Biding her time David, Vinelli's a spent force. "They're going from a long way out Paul"
I was beating seven shades out of a cushion as the remaining Italians led the sprint that soon engulfed Tina and Vinelli. One of the Italians skidded slightly on the greasy road which unnerved some of those behind, not Maria or Mum though. Two hundred to go and there were still five riders in with a chance, Mum was number five! Everything seemed to go into slow motion. Mum was searching for a way past as time was running out, a gap opened as one of the remaining Italians peeled off right and the missile that was Mum shot forward.
"She's done it Paul"
"I'll wait for the photo I think David"
"Well it was certainly close, one things for sure, Bond has a second medal, is it Gold or Silver?"
"It's Gold David, the judges have put it at a tyre"
"Mum won the cup, Mum won the cup, ee I ally o, Mum won the cup!" I sang as all three of us danced around the room.
"Shush! They're doing an interview" Jules hushed us
"And here she is, the new Women's Elite World Champion, Jenny Bond. Jenny, first well done"
"Thanks Paul"
"Did you expect this?"
"After the trial I was really fired up but I thought it was all over with that crash."
"Any idea what happened there?"
"There was a touch of wheels and some inexperienced riders"
"That's always a danger here" Paul agreed, "We saw you trying to get a chase going"
"Well you have to try right? I think we were holding the break but there was too much dead wood to be effective"
"And then your Appollinaris team mate punctured"
"Yeah we caught Maria, I got the other Brits to block and we took off"
"Team orders?"
"No just mutual interest Paul"
"And the finish?"
"I got boxed by the two Italians so it was a bit last minute"
"A tyre was the verdict"
"Maria will be pissed, oops sorry"
"You're the first rider to take Tour and Worlds since Longo in '95"
"Not bad for an oldie eh?"
"Anything to say to your fans?"
"Thank you all for your support this year, obviously my sponsors, Appollinaris, British Cycling, thanks John and of course my family back in the UK. Give 'em what for tomorrow Drew!"
"Your cycling offspring?"
"Yeah, Drew's riding the Matlock hill climbs in the morning"
"Thanks Jenny. Now back to the studio."
There was a brief glimpse of someone coming and giving Mum a good hug, it looked a bit like Eric Zabel.
"You're racing up that?" Bernie enquired
"Yeah"
"But it's just so steep"
"That's the whole point"
In truth I wasn't too keen myself. Two hairpins and over 14% all the way up, Riber Hill, a classic course. And being Sunday there were already a good number of spectators claiming their spots on the ascent. It also attracted a good field, over 80, a lot of the serious hill climbers ride today's duo of events. On Dad's advice I walked the hill rather than rode it before hand, you could hardly stand upright on most of it! There was a bit of damp on the tarmac and a few soggy piles of early leaf fall would need to be avoided.
I watched a few riders claw their way up and realised this was going to be hard with a capital H!
"And in second place with a time of 2.36.23, D Bond"
"Go Drewbie!"
I went to receive my prize to a polite round of applause, how different to the other week when Mum was home. No TV crews, just a couple of amateur photographers.
Then just like yesterday, the whole circus moved a few miles up the road for the Rowsley Bar event. Although it has got a steep section this is more to my liking, a roadies climb. After my success earlier my confidence was high and I grinned as I overheard more than one group discussing the events in Mexico.
I was certainly glad that I was on gears not fixed like the purists. There was a strong tail wind that I was able to take advantage of on the lower section before hitting the steep middle section where the crowds were gathered. I pumped the pedals purposely and actually caught my minute man just before the finish.
Dad caught me at the top and I gasped air with a vengeance.
"Second again Drew" Mad beamed as she and Bern joined us
The guys in first and third at Riber had swapped places so by a quirk I only took third for the two hills but there were barely five seconds between the three of us. For the time and effort involved, hill climbs are quite lucrative; I cleared over ten pounds a minute in prize money, seventy-five quid!
"I should have entered you for more" Dad mentioned as we returned to the car
"Is that it then?"
"No you've got Monsal Head next Sunday"
"Only one?"
"You were complaining yesterday"
"That was before"
"Is he always like this girls?"
"Always" Mad replied
"Anyone in a rush to go home?" Dad asked
"Not really Mr B" Bernie answered
"Maddy?"
"Nope"
"Well how about we go get some lunch at Monyash and I'll take you to Arbor Low this afternoon"
"I like the lunch bit" I chipped in
"Sounds okay, what's Arbor Low?
"You'll see" Dad advised.
"Last time I was here the pub was called The Hobbit" Dad mentioned as we walked from the car park to the hostelry.
"I suppose Monyash sounds like it should be in one of the books," Mad agreed
The Bull was a bit of a let down inside, I was expecting wooden beams and a cosy atmosphere; instead the dining room was pretty ordinary, verging on Berni. Most of the other diners were 'up for the weekend' from down south somewhere, you know, too much money and too many kids who swarm uncontrolled by their parents. The good thing was the food, well it was okay and in ample supply, Bernie only wanted an omelette but I had bangers and cheesy mash, Dad went for the Sunday roast and Mad settled on liver and onions.
It was well gone two when we returned to the car for, as Dad put it, some culture. We drove up out of the village.
"So what is this Arbor Low thing Mr B" Bernie tried again
"Derbyshire's answer to Stonehenge"
"Like big rocks?" Mad enquired
"You'll love it"
"We went to Stonehenge on holiday last year." Bernie told us
Dad and his archaeology!
We turned into a farm lane and joined a couple of other cars in the tiny car park. We put our jackets on, the wind was cool up here and a few grey clouds were threatening some liquid sunshine. Whatever we were expecting we didn't get. I was thinking visitor centre and tearoom, what you get is a farmyard and a bucket to pay!
Dad led the way past the cowsheds and manure and across the fields to the quiet henge enclosure.
"Is this it?" I asked, "I thought you said it was like Stonehenge"
A handful of standing stones at one end and more laid flat on the ground in no way compared to England's most famous archaeological site.