I've no idea when it was organised but we all descended on Aunt Carols for dinner, and when I say all I mean all, Eric and the lads, all the girls, George, Mike and of course the cousins Bond! And she did us proud, roast lamb, Yorkshire pud, roast tatties and all the trimmings with a good helping of bread and butter pudding to follow. I was in heaven and by the appreciative looks around the table, I wasn't the only one! In fact it turned into a bit of a party, Bernie came over and joined Mad in embarrassing me even further in front of Kat. Thankfully Jules pyjamas weren't mentioned and I intend to keep it that way, particularly in front of Mad.
"So when do you go home Kat?" Bernie asked
"We have the Fähre, you say ferry boat?"
"Ferry" Mad confirmed
"Yes ferry, it is tomorrow evening, we arrive in Niederlande Tuesday"
"So what do you think of England?" Bernie enquired
"It is my first time here, it is nice" either she was a very good actress or she was being truthful.
"Is it anything like where you live?" Mad put in
"It is very different, we have the Weinberg and the hills"
"We've got hills," Bernie mentioned
"It's more like sort of Peak District hills where Kat lives except they have all these vineyards on them," I told the girls
"Cool" Mad noted, "better than our coal tips"
About three everyone loaded into the cars and we headed to Nottingham. Well not quite everyone, the Telekom boys were going back to the hotel and then off for a training ride. Remember I said they were doing some publicity stuff for Appollinaris? Well this afternoon was a photo session. The afternoon had turned into one of those bright late summer days and Nottingham was still fairly busy with Sunday shoppers and people just out enjoying the sunshine.
We all went up to the castle, Dad and John Peters arranged for us to take the vehicles up, so the riders and their entourage, bikes and all were quickly at the rather nasty building that Nottingham's burghers erected to replace the medieval castle. Kat was looking wistfully down at the town and Dad must have spotted this.
"Drew, why don't you and the girls go and explore, there are enough people here and this could get a bit tedious. Just be back by six eh? If we are done before we'll ring you okay?"
Kat's eyes lit up
"Yeah okay"
"Here" he thrust a tenner in my hand, "get some ice cream or something"
"Cheers Dad"
This time it was Bernie's face which showed interest!
"Let me get my camera" Kat told us as she dashed to the minibus. We spent a few minutes exploring the castle grounds then we headed outside.
"What's down there?" Kat asked pointing to where a few people were sat on the grass."
"Dunno" I admitted, "we only go to the shops when we come"
"Looks like some statues" Bernie told us as we walked round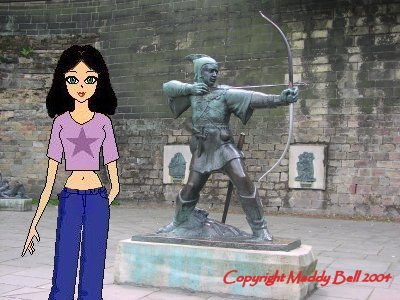 "It's Robin Hood" Mad mentioned
"Those must be the Merry Men over there then"
"What? is this Robin Hood?" Kat asked pointing to the statue of the folk legend.
So between us we gave the five-minute version of the story.
"You take my picture Drew?"
"Sure"
I squinted through the viewfinder and lined Kat and the Hood up. Click! One photo of Kat and the outlaw.
"Come on, let's see what else is down here" Bernie enthused setting off down the hill.
There were quite a few people at the bottom and when we reached them we discovered the reason, 'Ye Olde Trip To Jerusalem' which claims to be the oldest pub in England, it said 1189AD on the wall but I'm pretty sure the buildings not that old, well it doesn't look 800 years old!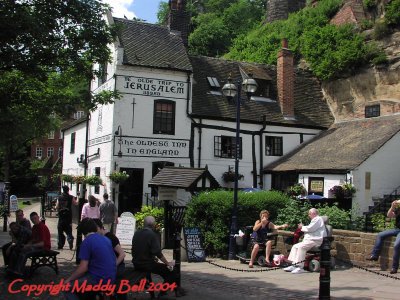 Kat snapped a few more pictures and after a visit to the tourist info place next door we spotted an ice cream van. It was pretty neat sitting under the trees watching the world go by. We were each lost in our own world as we devoured Mr Whippy's finest. I mused on the day's events, Sunday Dinner at the Peters was well cool and riding the tandem with Mum again was good, and we were fastest! All in all a good day and now this here in Nottingham, hmmm. I smiled to myself as the late afternoon sun warmed my face, mind you I still have to clear up the bed business with Mum, she was well pissed this morning and I didn't even do anything!
My phone started it's musical alert and I slipped it out of my pocket.
"Hello"
"Drew?"
"Who else Dad?"
"Yeah right. We've just about done so start heading back okay?"
"Roger, on our way"
I ended the call, "time to go ladies"
"Hark at her" Bernie smirked
"What?"
By the time that we had walked back up to the castle everything was packed away and without further ado we set off to return to the wastes of north Notts. The rest of the squad headed up to Worksop, the Peters returned home to clear the mess from dinner and as we had used the Merc to go to Nottingham, Maria was joining us for the evening.
"So Drew, you have a good time this weekend?" Maria asked as we both filled plates from hastily prepared buffet that was replacing tea.
"Yeah, it's been brill riding with Mum again"
"You miss your Mum?"
"You bet" we walked out into the garage where I collapsed down on the old sofa.
"It must be hard with her travelling. Kat is lucky, she can often come with us and we are together at home"
I sighed deeply "I wish Mum was at home more"
We both sat picking at our food for a minute
"Are you looking forward to tomorrow?" Maria started
"Not really, Mum's off again"
"Who's off again?" Mum joined us
"You haven't told him?" Maria accused
"Well a certain 'problem' put me off" she gave me a look.
"What?"
"What your mother hasn't apparently told you is that we are coming to your school in the morning"
"Really? Why?"
"I promised Mr Wood I'd do it but it's sort of escalated somewhat" Mum appeared embarrassed.
"But don't you have to go to ferry?"
"We don't sail till about six from Hull so we're here pretty much all day"
"Great. So what exactly are you doing at school?"
"There's a special assembly first thing then we shall be helping in some of the classes"
"My friends will laugh at me being teacher" Maria chuckled
You can bet that I made sure that I was in the right bed, alone last night.
"You didn't join me last night," Kat whispered as I took a mouthful of corn flakes, which I just about prevented from spraying across the table.
"I, er"
"Sorry Drew" she slapped my back as I started to choke.
"I didn't think you"
"Of course I knew. No one could sleep through the noise you make getting in bed"
"But why didn't you...?"
"Maybe I like the idea of sleeping with you?"
"What are you two whispering about?"
"Nothing much Mum"
"Well get a move on or you'll be late, your sister's already left"
"Aw, can't I come with you"
"No, now get on. Are you packed Kat?"
"Just about Jenny"
I finished my cereal and grabbed my bag still a little taken aback by Kat's revelation.
"I'll see you before we leave" Mum advised me
"Okay" I gave her a hug that I didn't want to end.
"Come on, off you go"
"Bye Drew" Kat added
"Bye"
Well I guess you could say school was a bit weird. Mum took the special assembly, telling us about her life after leaving the school in the spring. Mr Wood had obviously been busy as the new projector system was showing pictures of Mum and the team racing and training; I guess George had supplied some of it. Afterwards there was a Q&A session and I was surprised by some of the questions my fellow pupils asked. Of course there were the expected 'how much do you earn?' sort of things but some of the older students who Mum would have taught asked more thoughtful things like 'do you miss your family?'.
I've no idea what all the riders got up to but Tina helped out in our Geography class, we were doing volcanoes and she did a good job telling us all about the Eifel area.
"Drew?"
"Hi Tina"
"I thought it was you but all the other girls are wearing the rock?"
"I ah, how come you know all that stuff?"
"I did my degree in Geology, I will do my doctor when I finish racing"
"You coming Drew?" Paul's voice boomed in my ear
"Yeah, in a minute"
"See you soon again" Tina told me
"Yeah oh and good luck at the World's"
"Thanks Drew, tschuss!"
"Wiedersehn"
Mum found me after lunch.
"Not too embarrassing was it?"
"I guess not"
"I've already seen your sister, your turn now"
We hugged for a while.
"Don't go"
"I've got to Drew"
"I don't want you to"
"I know you don't but I have to"
"I guess"
"Look I'll be back in a few weeks, we can go out training together just like before"
"Uh huh"
"And keep out of girls beds!"
"But I told you, it was a mistake!"
"I know, I believe you! Even Maria saw the funny side when I told her"
"You told Maria?"
"Well I had to, Kat is her daughter"
"I suppose"
"And Kat doesn't know does she?"
Well yes she does!
"Er no"
"So we'll put it down to experience eh?"
"Okay" I agreed. "Mum, why did Eric come to the house on Friday?"
Mum seemed a bit unsettled by the question.
"I just thought you'd like to meet him"
There was obviously a lot of stuff she wasn't saying but I decided not to pursue it.
"Best watch the local news tonight" Mum went on
"Why?"
"Well they were filming on Saturday"
"Oh yeah, I'll tape it just in case"
"I have to go Drew, I need to talk to Mr Woods"
"Bye Mum" she gave me another squeeze, "good luck on Saturday"
"Thanks Drew, they've got me down as joint favourite so I've got no chance" she chuckled. The afternoon bell sounded and I joined the scramble to get to registration.
I was a bit maudlin the rest of the day. I couldn't concentrate on the lessons instead my mind was on Mum, the weekend, Kat's comment this morning, Mum's evasion when I asked about Eric. Clive saved me from a detention in old Beech's class and I was just so mixed up that I was really happy when the final bell went.
"You coming to tea Drew?" Rhod asked
"I need to go and set the video first"
"What for, there's never anything on on Mondays"
I explained about Saturday and the TV crews.
"You can do that at mine, mum won't mind"
"Okay then, so what did you and Al get up to this weekend?"
Maddy Bell 04.10.04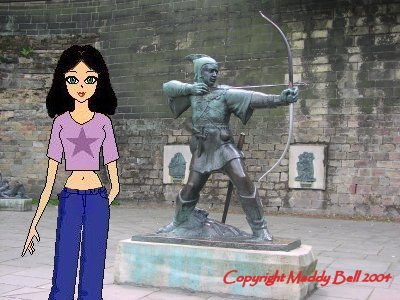 © 2004 Want to Comment? click here

to Email me