Part 1
Morag will be starting at the big school over in Lochgilphead in September. Time to meet new friends, learn new things and ride on Hamish's wee bus twice a day! It's a big change from Tighnabhur Junior and Infants School with its eight junior students, five infants, one classroom, Miss McMillan, Mrs Stewart and two hamsters. Maybe too big a change for Morag for Morag is registered with the school as Michael, well how would they know that the new student from Tighnabhur is now a girl?
Of course that was never a problem in Tighnabhur, everyone knows Morag and her mother, the enigmatic Jennifer Cartwright who live in the tiny croft at the sea end of the Loch, three miles past the Castle. The very remoteness of Tighnabhur ensured that the outside world encroached little on Morag and her friend's lives. Television reception is almost non-existent this side of the peninsula, its best part of forty miles to Lochgilphead with the shops, thirty more to Oban and Glasgow is over a hundred miles away. So they make their own entertainment, helping out on the crofts, with the boats, exploring the rocky shore and the equally rocky hillsides. And of course playing at the stanes, the ancient stanes that draw the occasional visitor to this remote corner of mainland Britain, the Circle of Tighnabhurgan.
In the summer visitors would chuckle at the antics of the local children playing amongst the rune carved sentinels. Like her friends, Morag would run about playing tag in the obligatory Wellingtons, her skirts making an incongruous counter point to the footwear! But more often than not those visitors would leave mesmerised as much by Morag's piercing blue eyes and waist length hair as by the ancient stones.
"Morag!" Jenni Cartwright sighed, what trouble was that girl in now? "Morag! Its time to go."
She scanned the shoreline towards the Stanes but failed to spot the girl at her favourite play site. She'll come when she hears the car her mother concluded, the house was already locked so she walked down to their car, their biggest 'luxury' if you can call an essential like that luxury. Jessie, so called due to a registration mark of JES510Y, no longer in the first flush of youth but new enough to have all mod cons, chirped a greeting as Jenni unlocked the door. The unmade road up to the Castle meant that a four-wheel drive was essential for the Cartwright's and Jessie; the RAV 4 had proven herself over two winters as reliable and comfortable. She turned the key to provide the spark of Jessie's life and within moments her hellion of a daughter was clambering in beside her.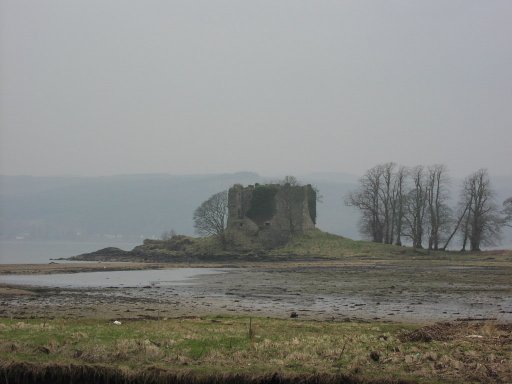 "And where were you?"
"Watching the lambs in the top field" Morag offered.
"Och, Morag, just look at your shoes and socks!"
The miscreant checked her feet.
"Its no but a little dirt mother."
Jenni sighed what can you do? She engaged gear and they started the ride out to the tarmac road and what amounted to civilisation in these parts. Glancing over at a Morag engrossed in the gulls on Creagh Point her mind wandered.
"It'll be good Jenni, the kids will be safe, I can work from home, it'll be great." Marcus Cartwright enthused.
And indeed it was. For four years, well nearly five, the Cartwright's – Marcus, Jenni, Michael and Sarah lived an idyllic life in their remote croft by the Stanes. Then their life was shattered. Marcus had to go to Glasgow for a meeting and volunteered to take eight-year-old Sarah along for the ride. He dropped his wife and son at Tighnabhur so they could visit with the neighbours, which was the last she saw of them. There was an accident as they headed along the A82 by the shore of Loch Lomond, half her family wiped out in a single moment of madness. A motorbike overtaking a lorry on a left hand bend, the Cartwright's never stood a chance as the bike catapulted through the windscreen of the family Golf.
"Slow down Mum!"
Morag's voice broke through her thoughts.
"Sorry."
She turned her thoughts to the track again but thoughts of the events of five years ago soon returned.
Everyone was very supportive, the parents wanted her and young Michael to go back to Yorkshire, it was tempting but in the end Tighnabhur won out. She had no regrets at that decision, she'd taken on Marcus's work and although it was tough for a while they got by.
"Mother!" the eleven-year-old next to her admonished as they bounced over a large rock.
The Castle hove into view and they stopped briefly for Morag to catch the gate and for Jenni to slip the car into two-wheel drive. The pair of them were off to Oban shopping, shopping for Morag's new school uniform.
Through the scatter of buildings that make up Tighnabhur and north on the single-track road that follows the loch side to the Tayvallich road. No motorways round hereabouts! It might boast a B classification but it's barely better than the Tighnabhur road. It was a few miles further, after the canal and the Add Bridge before the road improved much.
Morag was always fascinated by the stones and cairns around Kilmartin and as usual she eagerly watched for the Largie Cairns after they joined the main A816 Oban road. That was one reason she had decided to stay up here after the accident, the cultural heritage. Forget the woollen mills, tartan and bagpipes; no this is the real Scotland, rugged scenery, and the remains of ancient, and not so ancient cultures. She doubted if many of the passengers on those huge tour buses even noticed the millennia old monuments around them let alone knew what they represented.
Then on over the Pass of Kintraw and Loch Craignish before joining the coast to Kilmelford. The road was quite busy, the drawback to summer up here, all the grockles! The last few miles into Oban didn't take too long and Jenni used her 'local' knowledge to find a parking place for Jessie by the Macbrane office.
Of course a Saturday in July is always going to be busy round here and lets face it just about anywhere is busier than Tighnabhur! The only good thing is that you don't get the tour buses so much on a weekend as they are taking their charges back to England and points south but there are still plenty of families taking their annual holidays in a glen near you. I suppose Jenni would admit that access to decent shops is the one thing she misses, no M&S or Debenhams out here! That doesn't mean that there aren't good shops, just a lot less of them.
Today though, their destination was pre ordained, McTaggert's Clothing Store overlooking the harbour. Jenni hesitated slightly as they pushed the door open, setting a bell clanging. Morag suddenly came over shy as they joined the other customers in the brightly lit but dark interior. I don't suppose there are many places like McTaggert's left, no self service here, all the goods contained in glass fronted cabinets and wooden drawers. No muzak, just an almost church like whispering and the occasional chirp from the till.
Was this really the right thing to do? Jenni looked at her daughter. She looked just like any other eleven-year-old girl, a bit gangly and awkward, prone to giggles and always fidgeting. In tiny Tighnabhur it never really mattered that Michael had taken to wearing his elder sisters dresses and skirts in the months after the accident. Other parents made a few comments but Miss McMillan wasn't concerned what her students wore only that they learnt something while in her charge.
It wasn't a huge step for either of them when Michael told her that everyone called him Morag at school to start buying him – her, her own clothes. Apart from this little 'quirk' Morag was apparently a model student, getting good grades and a loyal band of friends. Only Amy was moving up with Morag so at least he wouldn't be alone.
In the back of her mind Jenni knew it was wrong, knew there would be repercussions but looking at the pretty girl inspecting a display of Wellington boots she knew there was only one course to take. It would be Morag Cartwright who will join the other students on Hamish's wee bus for the trip to Lochgilphead High School in September.
"Helloo Mrs Cartwright, we haven't seen you for a while."
How does he do that? Jenni was sure it was over a year since she'd last been in the shop.
"Aye" she agreed. When did I start sounding so um local?
"Soo how can we help today?"
"Morag's moving up in September" there she'd done it!
"Wee Morag? She canna be old enough."
"'Fraid so Mr McTaggert, twelve in November."
"Lets see you hen."
I eased my offspring up to the counter.
"Well aren't ye the canny lass." he stated, "so you'll be needing knew uniform then?"
"Yes please Mr McTaggert" she lisped slightly.
Yes, definitely the right decision!
They left best part of an hour later laden with several bags containing pretty much everything on the uniform list, from the regulation length skirts to the extremely modest one-piece swimming costume. Only the footwear was missing and a visit to McSween's supplied Morag with what the girl assured Jenni were the current 'in' school shoes and a pair of trainers, not footwear Morag had owned previously.
After depositing their purchases, the Cartwright's went on to check out the other shops, Menzies (Minghies) detained them for a while, Jenni stocking up on magazines, Morag on stationary. Jenni surprised her 'daughter' by offering to get her ears pierced, an offer quickly taken up! Stewarts Jewellers did the deed and supplied some school regulation sleepers alongside a pair of pretty CZ studs.
After a stop in a café for some lunch they took Jessie round to the supermarket. When you are making a 100-mile plus round trip you need to make it pay!
Jenni felt as though a weight had been lifted, the Michael / Morag question had been preying on her mind for months. The ride home seemed much quicker than the hour and a half it took to complete. Morag fell asleep early on leaving Jenni to enjoy her Clannad CD.

Maddy Bell 25.08.06 © 2006
Want to Comment? click here

to Email me