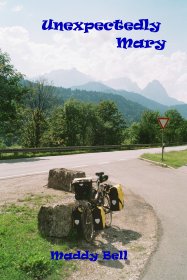 Unexpectedly Mary 03
Day three, or is it four, depends how you count I suppose, duly arrived and started much the same as the previous one. After the usual morning routine he dressed in his cycling togs before going to once again partake of breakfast. By the time the tent was down and the bags packed and installed on the bike it was heading on towards nine and strangely the intrepid explorer was feeling both excitement and trepidation at the prospect of leaving Detwang. It may have only been two nights but he was already feeling some attachment to the place. Well he'd get a last look at the place on the way out, the computer clicked on as he moved off and the next step of the adventure was underway.
He rode up the road into Rothenburg and picked up the Romantische Straße signs and headed south around the town. The bike route was soon utilizing a network of local cycle lanes and disused railway beds. The urban gave way to rural and the route returned to the roads, quiet roads at least. The sun wasn't showing many signs of breaking through the clouds any time soon; in fact to the contrary, it was actually starting to look like rain.
In the distance Schillingsfürst Castle loomed on the horizon, the first halt of the day was less than ten kilometres away. A few drops of liquid sunshine pattered down and away to the left a determined squall was making its way towards him. No point in getting wet unduly, he stopped and donned the Gore-Tex®. The last kilo or so up into Schillingsfürst was up hill and the rain hit part way up, a slash and burn hit which soaked quickly but by the time he stopped at the tourist office in the town, only a few lingering spots continued to descend.
The tourist office provided a source of postcards, he was going to make a scrapbook of the trip and at least in postcards it's always unny! To be honest, there wasn't much in the town, other than a cobbled main street and his first sighting of what would become a regular companion on the journey - a Swiss mini bus supporting a group of elderly Swiss cyclists. Not for them carrying all the kit and camping! As he trundled out of the town under rapidly clearing skies and now once again jacketless he mused on the Swiss soft option. Well it had its good points but it would lack the flexibility that going solo offered. Still, it would be good when it rained!
The rest of the ride south to Dinkelsbühl was through a mostly flat plateau, with, it has to be said some ambiguous signage. I was never lost though and the weather continued to improve so that by the time I reached the cobbled streets of the town, the temperature was into the high twenties.
I jounced over the huge cobbles of the old town and after a slight detour found my way to the " Campingplatz Romantische Straße ". My pleasure was tempered however by discovering that at twelve the gatehouse cum office shut until three. Damn. My hopes of an early shower dashed, I headed the kilometre or so back into the town. With best part of two hours to kill I found a bit of parkland with a bench by the river, and proceeded to put together a picnic lunch from the leftover supplies from last night.
It was very pleasant sat there, if a little warm and I dozed a bit while watching the ducks, swans and Japanese tourists! A warm and thoroughly toasted rider returned to the camping ground for the opening time and by three thirty I was installed on a sun drenched pitch and heading for the "solar powered" or so the site blurb claimed, shower block.
The couple of hours in the sun had resulted in a certain amount of, shall we say, skin irritation. I was quite brightly pink! After a drink and securing Foxy to a tree, I started out to explore the town properly and get some supplies for breakfast, I'd already noted the site restaurant would supply a good evening meal.
Ever been to Lincoln? Well Dinkelsbühl is in many ways similar, although much smaller. The main similarities are the historic walls and buildings and a comparative lack of tourists. Rothenburg is like York; Dinkelsbühl is definitely on a smaller tourist scale! I don't know why but I've got a fascination with town walls, if the place is walled I feel compelled to walk the walls. Unlike Rothenburg, the Dinkelsbühl town wall is one that you follow rather than walk on top.
I took my time, taking time out for first an ice cream then to squint into the 'Museum 3 Dimension'. There was only time for a half hour visit before it was due to shut so I decided to save my Euros and instead headed into the town centre. I was just in time to see the northbound Romantic Road bus deposit a few tourists before it departed for whence I came. I mooched around the few shops, took some pictures and it was actually the fact that the shops were starting to close that brought the late hour to my attention.
I spotted one of those 'Aldi' places earlier so that's where I headed, they are usually open later. After the heat of the afternoon, the shops interior was almost cold and instead of a grab and run, I took my time to savour the cool air. I literally only needed something for breakfast as I've got a hotel for tomorrow nights accommodation. The in store bakery supplied a couple of rolls and a treat of a cherry
Danish, the main store gave me a single serving of butter and a pack of, if I translated it right, breakfast cheese. At least the cheese names are the same! On impulse I grabbed a card of hair elastics, although
it's not that long, my hair was starting to bug me with the heat.
Back at the campsite, the restaurant was already busy and I was hot again after the walk from the town so I claimed a table rather than come back later.
"Güten abend"
"Er hi, ine grocer beer bitter"
"Sie mochte essen?"
"Um sorry?"
"English?"
"Yes"
"You like to eat?"
"Oh, yes please"
"I will bring you a list"
With that she was gone - I really could do with learning a bit more German, I'm not too bad but I have trouble working out what the natives are saying! As I waited for my drink I decided to tie my hair back, I dragged my locks back and used an elastic to put it into an albeit shortish, pony tail. Phew! That's a bit better, I could actually feel a bit of breeze on my neck but I was feeling decidedly sticky again.
"Eine bier" the waitress announced depositing a tall glass of
beverage in front of me, "und die menu."
"Thanks"
She left once again and I took a long draft of the crystal clearbrew - ah, luvverly! I picked up the menu, there were the usual suspects but I settled on what I think is vegetable soup with noodles.
"You wish to order Fraulein?"
"Please, the taygees soup" I pointed to the page.
"Tages suppe, that is all?"
"Yes thanks"
"Okay" she collected the menu and disappeared again.
My brain finally caught up, did she say frowline? Nah must be my imagination. I settled back and pulled my camera out to review the days photos. I was lost in my thoughts when my food arrived.
"Fraulein?"
"Uh? Oh right" I cleared some table space and a large bowl and a small breadbasket were placed before me.
"Güten essen!"
It wasn't quite what I thought but it smelt okay. Forget what you get in a can, this is a clear-ish concoction, a bit like minestrone but instead of pasta floating in it there are several what look like mini dumplings. Ah well. I started to eat and I was several spoons in before it dawned on me - she definitely called me frowline this time! Must be because my hair's tied back after all I'm wearing my own togs today thank gawd.
The soup and dumplings were remarkably good, I wouldn't say that it was cordon bleu but so far the food has been better than I'd expect. Half an hour later and having been called 'fraulein' three more times, I left to return to my tent. I was still feeling in need of another shower so I stowed my kit and once more headed to the shower block. It's amazing what a shower can do; I was so much more comfortable when I emerged! I was just about to depart when I caught my reflection, I don't really look like a girl do I? I stopped and looked in the mirror, nah nothing like. By way of experiment I pulled my hair back, well maybe in a dark corner but surely no one could mistake my fizzog for a girl.
Back at the tent I was surprised to realise that it was nine o'clock turned already so I made a brew and settled in to catch up on my diary. The heat finally departed to a more comfortable level and by ten it was dark, I must have made an odd sight, the pale glow from the Pda screen being my only illumination.
It must have turned cold during the night, I woke up desperately wanting a wee, boy was I surprised when I poked my head out into a morning enveloped in a fine drizzle. Damn. Well maybe, hopefully, it will dry up. There seemed little point in hanging about so after the usual morning routine I started the big pack up. There was no escape, the tent was wet, am I glad I've got a proper roof tonight!
It was still nearly nine when I was ready to set off, despite the wet it was still quite warm so I remained in shorts but donned the Gortex®. The rain proved to be more of an annoyance than anything, spray from other traffic and a continuous trickle off my nose did not improve matters as I headed south for the next stop at Nordlingen. It was at least not too far, a scant forty km so a somewhat bedraggled rider arrived at the town gate shortly before twelve.
Expecting a lengthy search for my digs I was amazed to find the 'Goldener Rose' just inside the Tor. It was a bit early but I decided to try my luck and headed inside. Whether it was my bedraggled state or hapless German I don't know but by one I was installed in a fairly spacious room on the first floor and drying myself off from yet another shower. On a practical level I pulled my tent out and draped the thin but saturated material over the bathroom door and wardrobe, hopefully it will dry out at least a bit before I need it tomorrow.
Essentially I had a full half-day in the town so I started to get ready. One look at my shorts and it was clear they needed to join the tent and even worse my shoes were drenched too. Bum, well first things first, I set about arranging the offending articles to dry some but with the best will in the world it would be hours before either would be wearable. And I didn't really fancy sitting around wearing a towel all afternoon either.
Of course there is the other option, the one I was trying hard to ignore. There is just no way I'm walking around Nordlingen inn a short skirt tho, just no way! If nothing else I could have dry underwear so with some reluctance once more opened the case. I dug around and soon located the knickers I 'borrowed' at Rothenburg, I was quickly attired in same and feeling less exposed. For the first time I noticed a tan coloured garment, my heart raced as it looked like my saviour , a pair of keks! No such luck though, when I shook them out it turned out to be a skirt, admittedly a long one but a skirt never the less. Hmm maybe, I know I said I wasn't going out in a short skirt but at least I'd be less exposed in this. I decided to give it a try, it apparently zipped off to make a shorter skirt but intact it was about calf length. It didn't feel too bad, perhaps a little restrictive but I'm hardly running a marathon! Biggest problem was that my shirt clashed with it something rotten. A bit more of a root around the case came up with a solution, an admittedly girly t-shirt and a thin fleece. I didn't look too bad, not overtly female or particularly male for that matter, neutral! I'd do but I still needed footwear. The case contained just two pairs of shoes, a pair of very girly flat things and a pair of obviously ladies but walking sandals. Well they fitted, the sandals that is, and who looks at feet anyway?
It was still raining, not heavily but persistently nevertheless, when I departed my digs and walked the twenty metres to the steps up onto the town walls. According to my guide the walkway goes 360° and is covered for over 90% of the three km or so distance – I hope so with this weather! After just a few minutes of walking I'd pretty much forgotten what I was wearing, the long skirt only made its presence felt on the few occasions that I needed to go up or down steps. I guess the weather may have had some impact but I met very few other 'wall walkers', a couple with a baby buggy and a group of oldies walking purposely around the fortifications.
The buggy woman returned my smile with a cheery flurry of German that I hope didn't require a reply as I grinned like a loon when they passed. With picture taking and a short stop at a snack bar, my circuit took just over an hour whence I returned to street level to resume my sightseeing. Thankfully the wet had just about ceased by this stage so I was able to follow the town walk in relative comfort. I was reminded of my attire in the tourist office when the girl taking my postcard payment referred to me in the female - well I was at least dressed that way this time.
The last stop on the tourist walk is the bell tower attached to one end of the main town church. The Danielturm is apparently ninety metres high with lots of steps! You apparently pay the small fee up near the top so I set off and by the first landing I realized that the climb in this skirt was not going to be easy. Well no one is gonna see me in here are they. I unzipped the bottom of the skirt and although I initially felt a bit exposed, it was certainly easier climbing the Escher-like staircase up to the 'exhibition'. Apparently the caretaker lives up here for weeks at a time, sooner him than me although after climbing up I can see why!
I paid my pittance of a fee which gave me access to the last thirty or so steps which let me out onto the narrow walkway just a few feet below the very top. With the rain clouds scudding away northwards the views around the town were spectacular. The town sits in a meteor crater, the Ries, according to my guide and I spent a good twenty minutes taking in the scenes below and further afield. I started my descent and was actually about halfway down when I became aware of some other intrepid visitors heading up. I wondered why the two lads were waiting so intently for me to
descend, they were grinning away and I must admit I thought they were just being friendly. That is until I turned around as they started up. Those little buggers were looking up my skirt! The little perverts! Before I went further that skirt reverted to ankle length, sod the inconvenience.
The damp roadways were starting to steam under an increasingly warm sun when I emerged back onto the street. I decided to grab an ice cream and I found myself sat on the low wall surrounding a small water feature.
I sat there daydreaming for a while, a daft grin on my face. A few, I presume locals, smiled as they passed, some offering a cheery 'arbent', I'd actually been sat there for nearly twenty minutes when I realised that I was sat grinning like a loon wearing, lets face it, an entirely female outfit. Well at least no one seems to have picked up on me not being female - whether that is good or bad I'm not sure. With a sigh I stood up and started back to the hotel, I'm staying on a B&B basis so I need to feed myself tonight. What to do though? The hotel has a restaurant or there are plenty of eating establishments around the town. I decided to hold off on a decision until I'd checked out the dry clothing situation.
Back at the 'Goldener Rose' there was good news and bad. The good was that most of my kit was just about dry, the bad was a double blast my shorts were still damp and the hotel restaurant was booked for a private party. So if I want to eat I have to go out – and wear a skirt! Nuts! To be honest the stuff I've been wearing has been pretty comfortable and after wandering around most of the day in a skirt, what's another couple of hours? I decided to totally wimp out though, I spotted a MacDonald's on the way in, just outside the walls so I decided on a junk food fill up, just this once! I was back in my room by eight so I indulged in some German telly, all strange satire and cop shows. After three nights of basically sleeping on the ground, the bed was sheer bliss and I dropped off easily.
To Be Continued
Maddy Bell 08.09.04© 2004
Want to Comment? click here
to Email me