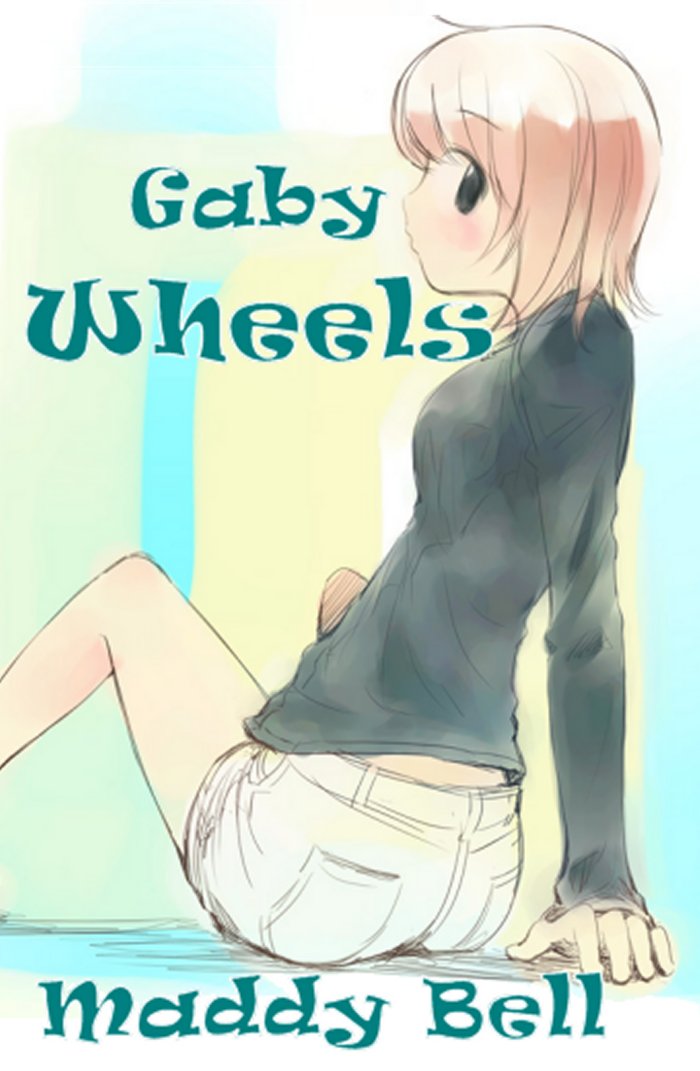 Chapter *10.40*
Salcey
Whilst we'd been gone Darren had arrived and with Caroline's assistance had set up the BC camp. Being in a league one team back home I'm used to seeing and having some of this stuff at my disposal, rollers / turbo, work stand for mechanic-ing and a canvas lid of some sort. The BC set up, Darren our mechanics baby stretched to a stand to park the bikes in and a dedicated van with all manner of spares from whole wheels to simple cables.
"Well timed," Caro noted, "you've all met Darren?"
Indeed we had, he's been providing the spanner work up in Droylsden the last couple of weeks and those that rode last week benefited from his services.
"Mornin' everyone." He greeted us.
"Hi."
"Morning."
"Shall we get this show on tha road? Park them irons up and we'll get these testing bikes set up for yez."
I was already with Jamie scoping out the speed machines, a row of aerodynamic monsters, all carbon and top end kit.
"Don't worry you's two, there's enough fer everyone," Darren chuckled.
"Okay, once you're fitted, get changed, you'll find skinsuits and road kit marked for each of you hanging in the bus. Quicker you're ready the longer you get warming up on the bikes."
The next thirty minutes or so saw each of us fitted to our respective mounts, I've no idea exactly what brand or model they are, they kinda look like the Giant Trinity's I've seen but finished in a swirly red, white and blue scheme, the only lettering reads 'British Cycling'. My only problem is that they are running Shimano and I use Campag, which in turn means that the gearshift system is different.
By the time I got back to BC central Caro and Darren were running a relay to the bike check, both of our steeds need checking.
"Here you go Drew, go get signed on." Caroline passed me a raffle ticket for each mount, a standard method of handling this side of things in blighty – no bike check, no ticket, no ride.
"Wait for me," Mand called as she took delivery of her own ticket.
She quickly caught up to me, "These skinsuits only fit where they touch!" she exclaimed .
I couldn't argue that, they don't call 'em skinsuits for nothing!
"Yeah, they don't exactly hide anything do they?"
Signing on was in the 'committee room', a cosy side room just inside the hall's main entrance, a queue of other teens already stretched outside.
"Geth and Jamie's look different to ours," Mand observed.
"They are both bigger than us," I pointed out.
She wouldn't give up, the other lads were stood a few places ahead of us, they look the same to me.
"That's it," she announced, "ours are cut differently, see on the side seam." She showed me on her own.
I looked at mine, the same.
"They've given you a girl's suit!"
"Keep it down will you, it fits doesn't it?"
"Maybe too well Gaby ."
"Give over," I angrily retorted.
We shuffled forward and eventually it was our turn.
"Name?" The twenty something woman manning the tables enquired.
"Bond, Drew Bond."
"Bond, Bond," she mumbled to herself checking her sheet, "BC Development?"
"Er yeah." I agreed passing her my licence and endorsement to allow me to ride in junior events and the tickets.
"Not seen a licence like this before."
"It's an international one." I offered.
"I just need to check with Derek, won't be a tick."
Taking my licence she disappeared out of the room.
"What's up?" Mand enquired.
"Not seen an international licence before I guess," I replied with a shrug. I don't get this problem in Germany as I use a German Federation licence for domestic races, whilst we've occasionally strayed into another country the races have been under Federation rules.
Derek it turns out is the Chief Commissar today and he followed licence woman back in a couple of minutes later.
"Ah, Ms Bond, we don't see many of these around here," he observed.
"I live in Germany," hey, did he just say miss?
"Any relation to the venerable Jenny?"
"My Mum."
"Well have a good ride today."
"Er thanks."
"Best get her to sign Paula," Derek suggested.
We weren't in any particular order number wise, as is usual the field is numbered by club/team name alphabetically then the same for names, which is how I found myself clutching a bundle of number ones, a bike plate*, armband and double width bum number. I hope the number is prophetic.
The low profile took a bit of getting used to; those gear shifters confuse the hell out of me, brake lever sideways for down shift? Where's the up shift button? Still I was faring better than Laura who was distinctly shaky on the tri bars, I hope she doesn't come a cropper.
"One?"
That'll be me, no one to chase, as pure a time trial as you can get. Caroline wheeled me up to the 'pusher' who in turn grabbed my seatpost and straddled the back wheel to hold me upright. I've taken you through this before right, 30 seconds, check I'm clipped in, fifteen to go deep breaths, concentrate.
"Go."
I was out of the saddle and away, the small crowd of supporters giving a few words of encouragement as I started my first official BC ride. The computer was showing 25mph before I sat down and moved my arms onto the tri bars, wobbling a little in the process. Today can be won or lost by the next twenty minutes, no time for random thoughts, concentrate Drewbie, concentrate.
As the road changed from up to down I clicked up a couple of sprockets and the rumbling of the rear disc wheel changed in tone. Around the first slight left-hander I leant more than steered my steed then I concentrated on the straightest line through the following changes in road direction. I hit the first turn, onto the main road with under six minutes on the clock, so far so good.
Down the dip and off the tri-bars and out of the saddle up the other side, back into the tuck then into the next dip, I managed to keep on the bars out of the shallower climb. However it was back wide to cover the brakes through the final turn, eight minutes on the clock, now its hell for leather to the finish. Whilst the road clearly climbed away from me the gradient was minimal and I stayed on the tri-bars all the way.
Then, rather than up the road was going down, ker chunk, top gear engaged. Past the motor racing stadium, come on Drew you can do it. Twelve minutes gone and the finish in sight down the hill on the edge of the village. The road surface wasn't the greatest on this stretch; I used a fair bit of road to avoid some of the worst patches.
The comp jiggled just over 30mph as the slope steepened, thirteen minutes, push Drew. At the 200m banner I transferred to the wide bars and stood for a final sprint to the line. I banged the computer stopping it at 13.45, hmm not bad, not bad at all.
I rolled around to the HQ, savouring my ride on the speed machine, who knows when next I'll get to pilot one of these things?
"Good ride?" Darren asked as I eased my steed to a halt.
"Think so," I allowed taking the towel he offered, "bit under fourteen."
"I'd expect the seniors to go under twelve on here so that's pretty smart riding young un."
"Thanks."
"Best go get yourself changed, we'll feed you lot in about half an hour."
I was already heading towards my kit in the hall when Jamie, Laura and Geth arrived together.
I should point out that as is usual in the UK the field today is restricted to sixty riders, itself an increase of twenty over most fish and chippers. My previous on road racing here in Blighty has been in time trials where open events can have as many as two hundred competitors!
By the time we were all chomping on 'lunch', sandwiches and fruit, the first half results were on the result board. My actual 13.37 put me in third albeit less than ten seconds behind the leader, Geth at 14.02 was 5 seconds up on Jamie, Manda in turn twenty one seconds faster than Laura's 16.01. She was by no means last on the final board, which dropped me a place although my deficit to the stage one winner remained nine seconds.
Part one down, fifty-four miles to go. The overall winner will have the lowest combined time for the two stages, there's a points award too which in theory at least could throw up a different rider.
Of course our little camp had been getting some attention from the locals, I suppose it's a bit like dropping a WRC team into Sainsbury's car park, everyone wants a look. Heck I would have been doing the grockle bit in the same position, it's not like we were the only ones with fancy tt bikes but we were certainly the only ones with a mechanic, tent and two team vans!
"Come on Drew, we need to form up," Laura called to me.
"'Kay."
Caro's pep talk, sat in the bus to avoid prying ears, was, compared to Dad's, not very specific. There hadn't been time for us to go around the circuit so a pink OS** map had to suffice. It's rolling countryside, a four-kilometre climb on the backside of the course providing the biggest challenge. As I read it we could see a good sized bunch contest the finish or a much smaller group of the stronger riders.
CRACK!
The starter's gun set us on our way – well into the neutral zone at least. Compared to back home it's been a very low key affair, we get the mayor or some such to start these things, here it's just the Chief Commissar Derek. Out onto the main road the bunch nervously set out for a couple of hour's less than gentle exercise.
There'd been a bit of a shower over lunchtime, which meant the road was a bit damp still where the traffic and sun had yet to dry things out. I checked to see where the others were, good, Geth and Jamie are tight on me, the girls a few bike lengths adrift. It's an audacious plan, can it work? Well I guess it might. Ahead the lead car sped away, a figure roadside waved the white flag to allow battle to commence.
This isn't motor sport, there's not the same expectation of an immediate commencement of hostilities so my rocket attack with a pair of sidewinders caught the majority of the field on the hop. The three of us broke clear and quickly gained a couple of hundred metres over a slow to react bunch. We were gambling on them not organising a cohesive chase, the girls having the important job of harrying any counter attack.
We've spent two weeks training for this and with new found discipline, Geth and Jamie started a rotation and we were soon riding piano at a sprightly 35kph. (I'm on my own bike now so the comp is set up for kilometres if you recall.) There's over fifty miles to the finish, I've certainly raced much further but for my teamies this is about as far as they've ever done.
A tight turn took us off the B road and onto a single-track lane, which in places had grass growing up the middle . Fortunately not for far but even so the speed dropped as we started the long drag of a climb down the back of the circuit. Our trio had the advantage on the single track of course but for how long ? We finally emerged onto a wider road although we had a bit of car dodging through the village, Quidditch or something like that.
When the road bucked upwards over a disused railway a glance behind revealed not an organised chase but an already destroyed bunch spread over the Northamptonshire countryside. The trees that give today's race its name appeared ahead, a sign proudly declaring 'Salcey Forest' not that's it's a forest by German standards, least not these days, I bet it's not much more than five square kilometres. We crested the climb with maybe four hundred metres gap, not a lot but it's a start.
We turned left at the next junction and for the first time allowed ourselves a short breather.
"It's fekkin' working!" Jamie got out.
"So far," I allowed before taking a tug of my bidon's contents.
A resumption of effort soon had us scooting up towards the HQ in Horton to complete the first of our four laps. There was a bit of very restrained cheering when we passed the HQ, you get used to the general apathy when you race in the UK.
The second lap saw our lead grow; we were out of sight on even the longest straights. Of course our luck couldn't continue, we'd barely reached the single track for the third time when my front tyre decided to deflate rapidly. This being blighty the only service on the race stays behind the main bunch, wherever that now happens to be.
"Sugar!"
"Here Drew, have mine, I'm pretty smashed anyhow," Geth offered.
By the time we'd transferred the wheel and Jamie and I set off again a big chunk of our hard earned lead was gone. So much so that from being out of sight, the chasers were, by the forest, less than fifty metres behind.
"Time for plan B," I told Jamie.
"Caroline didn't give us plan B," he gasped *.
"True but I've had this happen before."
Plan B, for what its worth, was to sit up and let the pursuers catch us, the gamble is whether they'll just sit up at that point or keep going.
When contact was finally made you could almost hear a collective sigh of relief, well I'll let them have a minute or two but if we are to stay clear of the next group they'll have to start grafting again…and soon. There were six of them, two riding for their local division the others for their respective clubs.
Luckily they were all of a mind to contest the finish, we'd get an easier ride even if our odds of a win are somewhat diminished.
Some wag rang a bell at the end of the lap, another half an hour or so to go. The eight of us were running a reasonable rotation and looking around I felt pretty confident that I could take this lot in a sprint. I got to almost the same spot as the last lap's deflation when BANG! My rear replicated last time's front.
"Take mine," Jamie suggested.
"No time, go." If he loses the group he'll struggle to get back. I could tell he was unsure so I waved him on more vigorously.
My race effectively over I used my can of 'instafix' to get me moving again, a string of ones and twos passing me as I worked. The girls went through quite early in the stream I was just moving again when Geth came through. The pair of us got our heads down and by the finish the girls were only about fifty metres in front.
The good news was that Jamie had scraped third place, mostly because the others spent the last couple of miles watching each other. Jamie tried his luck but it was too far and he was swept up metres from the line to take third on the stage. It took some time to sort out the combined classification but it was worth it as Jamie claimed second place.
"You still want to go to the air museum Drew?" Caro asked after we left Watford Gap services.
"Sure," I could do with some down time after today.
"I'll talk to Steve when we get back then," Caro proposed .
Today has been pretty tiring what with one thing and another, not least getting up at silly o'clock. The atmosphere in the bus has gone from elation to snores since we started the return journey and I'm not far from nodding off myself.
"I think it's fair to say that you've secured your ticket to Denmark today," Caroline noted a little later.
"Chickens and all that," I observed.
"A little bird tells me you do some sort of dance classes?"
"Kind of." Now who's told her that?
"You enjoy that?"
"'S'okay I guess, keeps me limber Dad says."
"Don't want to get too bike bound, I used to run."
"I hate running."
"Your Mum sent me the pics."
"She never! That was like soo embarrassing, I was on TV too dressed in that stupid outfit."
"I could see how you weren't enjoying it," she grinned.
Back at Lilleshall Steve was waiting in the reception area when we trooped in from the bus.
"Good day?" he enquired, he looked like he'd had anything but.
"Podium," Caro grinned back.
"Well at least something's gone right today, we've had something of an incident here. Off and sort yourselves out for dinner everyone, I want to see everyone in the training room afterwards."
* Frame numbers/ plates whilst not essential are used in addition to body numbers in most events these days.
** Ordnance Survey – the primary mapping source for the UK, originally tasked with producing maps for the military hence the name.
to be continued....
© Maddy Bell 20.10.12