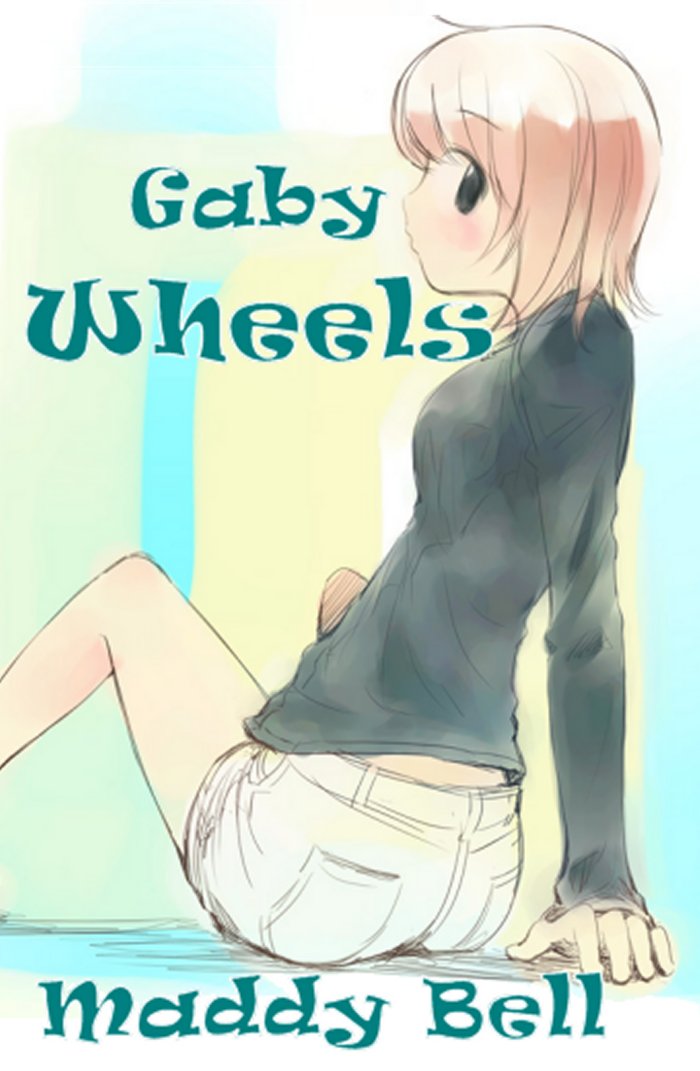 Chapter *10.9*
Time Trialled
I followed the crowd of babbling girls inside feeling like that bit that's always left over when you make any sort of kit.
"Heya Gab, didn't know you were coming."
"Morning Al, neither did I." I advised.
Rather than the main hall of the complex Miss Cowlishaw led the way to a much smaller side room that I remember being used for stuff like gymnastics and circuit. When I say small, well it was easily the size of a couple of average classrooms although the ceiling was a bit higher.
"Ally, can you close the door behind you, everyone find a perch."
All the girls found themselves places to sit; I hopped onto a table by the door.
"Good to see everyone here, yes I know Justine is in France Sam. The observant amongst you may have spotted that we have a guest this morning, do you want to come over Gaby."
No I don't but I've been rumbled. I picked my way to the front now with a dozen pairs of eyes watching me and not a little bit of whispering.
"Er hi Miss C."
"Hello yourself." She replied before putting an arm around me and addressing the hoard.
"I'd like to introduce you to Gaby Bond, one of the original Foresters, you've all seen the footage from the States, Gaby was part of that team. She gave up cheering to concentrate on her cycling career which a little birdie tells me was a good move as she's now the German champion but I've also heard reports that she still does some dance, that right Gaby?"
Talk about on the spot.
"Er yes, I do some Garde which is sort of like German cheer."
"Maybe you could help us a little this morning?"
How can I say no?
"I'm not really dressed for doing much." I pointed out.
"I've got extra stuff." My cousin offered.
So that's how I ended up in a skirt for a third day, railroaded by my old coach with my cousin providing back up to prevent my escape. Okay so it's not like parading around Nottingham yesterday but a leotard and cheer skirt are not exactly demure either. My 'job' was to help some of the newer recruits get to grips with some of the basic moves, anyone can shake a pom but to do it properly takes practice.
Don't tell anyone; especially Mad, but I actually enjoyed myself. Not only that but when the 'A' squad ran through the old school cheer I stood in for the missing Justine and never missed a step. I know, it surprised me too but I guess there are some things that you don't forget.
"Okay girls, same time and place Thursday." Miss C reminded her charges before dismissing them.
"Thanks Drew or is it Gaby now?" Miss Cowlishaw guided me to a chair, intent on a chat.
"It's complicated." I offered.
"That doesn't surprise me, when I saw you with your cousin outside I thought maybe you'd decided to cross to the dark side."
"I'd prefer to be Drew Miss but my body seems to like the idea of Gaby better, the doc's reckon I've got some weird chromosomes and I seem to have like all the girl gear inside, you can't exactly miss the outside bits."
"Oh Drew, you poor luv and there's me making bad jokes."
"It's okay Miss."
"Fran Drew, I'm not your teacher anymore."
"'Kay, well anyway this summer is like Drew's last fling, I'm scheduled for 'corrective' surgery when I go back home."
Fran pulled me into a hug, not unwelcome just a little weird from a former teacher.
"Mad tells me you are on some sort of cycling scholarship over in Manchester."
"Yeah, I go Sunday, I'm on the junior development squad."
"As Drew or Gaby?"
"Drew, for now at least, they know about my er stuff so I guess that could change." I told her with a sigh.
"If you need someone to talk to, you know I'm here."
"Thanks, so how come you aren't using the small hall in school?"
"Money, its cheaper for the school to sponsor this room for a few hours a week than open up the main school."
"But I thought teachers went in over the summer, to do planning and stuff."
"Only for the week before the New Year starts, we're the only school team with summer competitions otherwise I wouldn't be doing this either."
"And there's me thinking you were really dedicated." I giggled.
"So you do this guard thing then?"
"Well not seriously, I've filled in a couple of times and I often go to practice to keep flexible."
"You need that on a bike?"
"Well it doesn't hurt and the club is starting a proper cheer squad in the autumn which they want me to coach."
"Coach Bond, has a good ring to it." Fran mentioned with a grin.
"They say Bont, it doesn't sound so good like that." I mused.
"You gonna come for a last stretch on Thursday?"
"Mad and Al will be I guess so unless anything else comes up I suppose I could."
"You're more than welcome, you know that."
"Thanks Miss, er Fran."
Our chat was interrupted by a familiar voice coming through the open doorway.
"Where is she?"
"I thought she was changing." Al noted.
"I'd best go."
"It's been good seeing you again Drew."
"And you."
Fran pulled me into a quick hug, "Thursday."
"Okay." I agreed.
We ended up buying some healthy English food, chips and sausage, on the way around to Ally's place where we spent most of the afternoon doing friend stuff. Mad and I headed home just after four so that I could get ready for tonight's race. Not that there's much preparation to do, polish the bike, pump up the tyres, get some snap down my gullet and get my skinsuit on.
Even if she wasn't really into the racing Mad was still a member of the Notts Velo, which meant she had a fixture list so at least I was able to confirm the start time, seven thirty.
"I'm off." I called out to anyone who was interested.
"Already Drew? Its only six." Uncle John noted.
"I need to get a warm-up in before."
"Okay then, we'll see you up there, be careful ."
"I will, bye."
It felt a bit weird riding to an event; the last time I did it was that race down in Stuttgart, you remember, after the wedding, that was hardly the same as this though. I rode out to the A60 and turned up the hill, the steepening climb stretching away before me. I stuck it in a medium gear and let myself relax as I made the ascent.
Over the bridge and into the trees, I clicked up a couple of sprockets as the road tilted downwards towards Cuckney. You can't waste a good descent so I started winding it up a bit, flashing past the start then into the long sweeping right hander. Memories of being taken out by a car at the top junction had me easing off on the approach before hitting the last stretch of downhill.
I let the up gradient scrub my speed as I rolled up to the finish cum HQ area and was surprised to see a car already there, and I thought I was keen! One thing I have learnt over the last couple of years is that a good warm up is every bit as important as being mentally ready. I continued on towards Holbeck at a steady, but well below race pace.
Not having the option of a dedicated testing bike, I experimented with various positions, down on the drops, crouched over the hoods, I'm gonna be at a serious disadvantage tonight. I rode up to the Hodthorpe crossroads before turning around, there's no point in going right up to the turn, I'm assured it hasn't changed its weird priority set up. A ninety percent effort on the return ride, confirmed that an old school crouch like I've seen in old time trial pictures would be the most effective if not comfortable position.
The time was heading towards six forty-five by the time I reached the finish area and the verge was now quite busy with cars, bikes and people. I dug my wallet out after parking my steed out of the way and joined the short queue waiting to sign on. I didn't really recognise any of the riders, a couple looked familiar but there tends to be quite a turn over of riders at club level.
"Name?"
"Drew Bond."
"Club?"
"Apollinaris Mercedes."
"Like the German pro team?"
"The same."
"Okay, age?"
"Fifteen."
"You got a consent form?"
Bummer, there had to be something I forgot.
"Er, not exactly, I've got my race permit." I pulled my licence out and gave him.
"John? You got a minute?"
"What's up Si?"
"Youngster here wants to ride, she's got some sort of foreign permit?"
"Lets have a look, hi lass." John took my licence and whilst he hadn't recognised me straight off, a look at my permit had his face break into a wide grin. "Drew Bond, what the heck are you doing here?"
"Er hi John, I'm over to join the junior squad, I thought I'd blow out a few cobwebs but I forgot you need a consent form.*"
"Hmm."
"My aunt and uncle are coming out." I offered.
I gave him what I thought was a pleading look.
"Si, I think we'll let the lass ride, she is the German junior champion and on the National squad so I reckon we're covered, we'll get a sig off her uncle later."
"Good for me John, okay lass, I'll put you at twenty, its two pounds for non members."
"Thanks." I fumbled in my wallet for the unfamiliar coins.
"She is a member, her and her Mum are both second claim.**" John told his colleague.
"In that case it's a pound."
I swapped the coin for a number and signed on the sheet next to my name.
"Thanks John."
"Just don't make a habit of it eh?"
"I won't."
"Five minutes!" John hollered.
My skinsuit does little to hide my assets, well they get flattened a bit but there's no hiding them. I'd forgotten what it was like, I rarely use one as for road events it's generally bib shorts and jersey. Although this is just a club chipper some of my fellow competitors were riding some pretty fancy machines, my battered team issue machine looks positively second rate by comparison. But as Dad says, it's not the bike but the rider.
I ran through the gears again, settling on the seventeen to use for the start. I was getting a few funny looks, well not funny exactly but inquisitive, not sure if it was me, my seeding *** or my 'exotic' team strip – maybe its all three.
"Twenty!"
"Here." I confirmed edging my way down to the start line.
"Have a good one Drew, careful at the crossroads and the turn."
"Thanks John."
"Thirty."
The pusher grabbed my bike and I clipped in. deep breaths.
"Fifteen……ten……five," I was pulled backward, "four…three…two…one…GO!"
*All riders under 18 must have a parental consent form to ride for insurance purposes.
** Members but not competing for them, some riders are in more than one club but only first claim to the one they compete for.
*** Riders are generally seeded to prevent group riding, a zero or five number generally denotes the faster riders, each successive spot getting slower to 4/9 before repeating. In full competition this is further refined so that the faster riders start later in the field, the scratch man going last.
to be continued....
© Maddy Bell 17.05.12