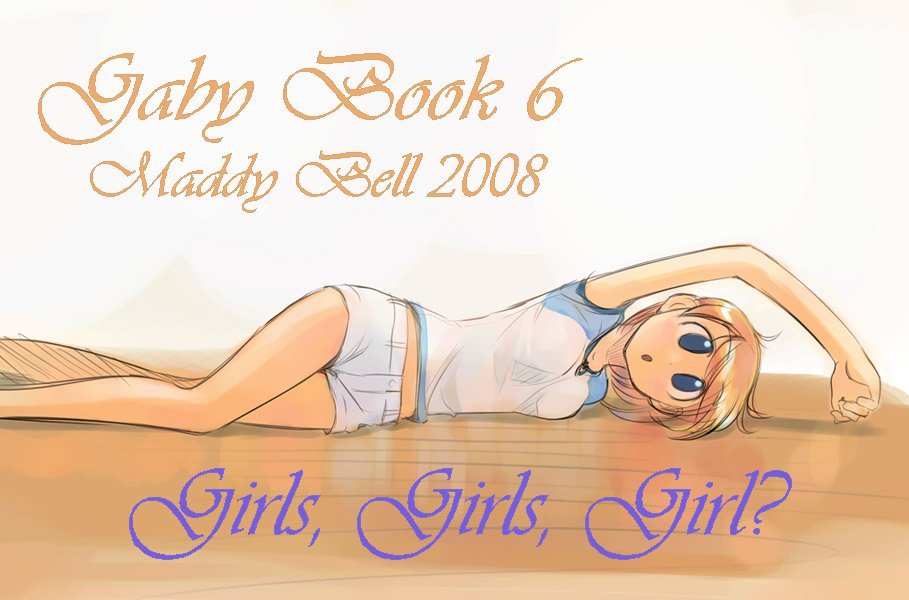 Chapter *6.36*
Race Time
It was nearly five thirty by the time we left the Grönberg's and started our trip east. Frau Grönberg had done us a kind of pasta salad thing with fresh brötchen and some cold cuts, we weren't going to starve but I was still looking forward to a good nosh up at our hotel in a couple of hours. The motorway was quite busy around Wuppertal but by the Dortmund ring things were much quieter.
It took us a couple of hours to reach Kassel, soon after we hung a right off the E45 onto the new 38 towards Nordhausen. Several stretches were still under construction so it was eight forty five before we arrived at the Gästhaus am Zorge in downtown Nordhausen. Frau Luchow's Sharan was already in the car park so it was no surprise to find Gret and Tali watching the TV in the residents lounge opposite reception.
"Hi guys."
"Good of you to come." Gret mentioned.
"Yeah yeah and I bet you've been here hours." Roni answered back.
"Fifteen minutes." Gret's mother advised joining us. "We picked Tali up just after six."
Dad had been booking the rest of us in but soon joined us.
"Right lets get unloaded, the bike's go in the lock up around back, they'll have dinner ready for us in thirty minutes."
My stomach growled in agreement.
The meal was homely rather than gourmet, steak, onions, Rotkohl and mashed taters. What with everyone catching up and a heated Shimano / Campag / Sram discussion it was ten thirty before Dad got everyone's attention.
"Right, we've got a bit of a ride to the HQ at Braunlage in the morning, we won't have time to go round the full circuit so while I set up the bikes Frau Luchow will take you to the top of the first climb. The rest will be sight unseen but you've all seen the profile?" we all nodded, "the final climb is twelve K from the line, you know the drill, any questions?"
The four of us looked at each other. It's not a long race distance wise but the single circuit has two major climbs, the Drei Annen at eight kilometres and Wolfwarte at about sixty. The bit in the middle is a rolling loop from Wernigerode, through Bad Harzburg almost to Goslar where we turn back into the 'mountains' for the return to Braunlage.
"No, well in that case I think we should all hit the sack, breakfast at seven."
It was still quite dark when I slunk into the breakfast bar.
"I hope I look better than that." Tali noted.
"Thanks, my bed was horrendous, I hardly slept."
"Erm Drew, why have you got makeup on?"
"Oh bum! It's a long story, I'll tell you later, be right back."
I shot back up to the room I was sharing with Dad.
"What's up squid?"
"Eyes."
"Eyes?"
"Makeup?"
"Oh right, I'll see you downstairs then."
I tried to catch a few z's on the drive to Braunlage but every time I dropped off I was woken by Dad's driving, well to be fair, the twisty roads.
"How come we had to stay so far off anyway?"
"Money, we couldn't afford anywhere in Braunlage on our budget and anywhere closer was already booked up."
"The weather looks pretty crap."
"Yeah," Dad agreed, "if I didn't know better I'd say it looks like snow."
I hope not, that would not be good.
"Right, see you in an hour." Dad stated as Frau Luchow nosed out of the car park.
"Later!" Roni grinned.
"Get that window up, its freezing Ron." Greta complained.
"Wimp!"
"Give over you lot, you're supposed to be checking out the course. Frau Luchow chided.
We passed one or two riders already out on the circuit but no one any of us recognised. The climb we were going to suss out was approached by a fairly narrow road, which suddenly reared up for half a K before easing off as it joined a railway line. Although it was fairly stiff from there on the grade was pretty even all the way to the top. We stopped in the car park by the summit station.
"This is gonna be like so much fun – not!" Roni stated.
"Did you see the level crossing?" Tali enquired.
"That could be interesting." I noted.
"Yeah, all we need is for a train to come." Greta supplied.
"There are two more crossings on the way to Wernigerode so be careful on the way down." Gret's Mom advised.
"I wish we could've gone right round." Tali sighed.
"Well Herr Bond thought this was the most important for you to see, we'd best get back eh?"
The drive back to where Dad was prepping the bikes only took fifteen minutes.
"Alright you lot, Frau Grönberg will take you to sign on and change, fifteen minutes please, I'll have the bikes on the trainers waiting."
Joy, did I mention I hate using turbo's but sometimes like today they are useful.
"And warm down, good session girls." Dad ended our warm up session.
I glanced nervously at the sky as we made our last pre race preparations. On Dad's advice we were all wearing knickers rather than shorts with the rather unglamorous addition of overshoes! It was cold enough to break out the thermal jackets too and full fingered gloves made me feel more like I was headed out training than starting the Rond Harz race.
"Good luck kids."
"Thanks Frau Grönberg."
"Later mum."
"Take care and watch those rail crossings." Frau Luchow added.
"Okay team, lets go!" Dad encouraged.
"Drei, Zwei, Einer, GO!" the local mayor waved the start flag and about sixty of the best juniors in the country eased away from the line.
To be fair I was feeling a little nervy, not helped when a couple of riders tangled on the first corner and ended up on the deck.
"Amateurs!" Gret hissed.
The start proper was at the town exit sign but no one seemed too keen to do anything about it.
"I'm sure that's snow." Ron noted as the four of us eased our way through the peleton.
"Nah, rain maybe, its too cold for snow." I suggested.
We were hardly pulling up trees, the speedo hadn't reached forty yet but that changed as we approached the first turn of the day. A couple of lads wearing RS Goslar strip took a flier as everyone braked for the corner, gaining several metres straight off.
"Looks like time for business." Tali sighed.
The attack and downhill soon had us up at a more serious pace, the breakaways 'local' knowledge kept them clear as we hit the lower slopes of the Drei Annen climb. It was quickly clear that not everyone was expecting the severity of the lower slopes and over the first kilometre the bunch was shattered into several small groups.
Gret was with me in the lead pack, the others had both stayed with the next group some twenty metres behind us, the two chancers were both swallowed before reaching the safety of a kinder gradient. In the distance a shrill whistle sounded and my 'rain' was quickly becoming Roni's 'snow'. Shitza.
No one seemed very keen to do more than ride the hill despite a hilltop prime, it wasn't in our plan but looking at the opposition I made a decision.
"Gret, at the crossing." I whispered.
She nodded, the climb was taking its toll but I was sure she'd manage the diversion. I tried to remember how far it was to the crossing, but I was surprised when I saw the first countdown marker, three hundred metres! The white stuff was making the road wet but not settling at all, for which I was thankful.
I slipped backwards through the bunch so that by the next marker I had clear road. Meanwhile Gret had moved forward ready for my move. I clicked up a gear and pressed hard on the pedals, accelerating hard past the riders in front.
"Lenks!" the alarm call went up amid a cacophony of gear changes, all the wrong way!
Gret 'fluffed' her change, "shitza!" which held up those behind her.
The couple of riders left clear just didn't have my pace, I quickly overhauled them and reached the rail crossing a few metres clear. Sugar, the crossing looked worse than I remembered so I executed two bunny hops in quick succession, my wheels only running over the last rail. This last move had me well clear of my chasers, the sound of cursing faded as I dug deeper to keep my momentum going.
"Up, up, up, up!"
"Go 'pollinaris!"
I dragged air into my lungs and made a last effort, the prime was mine. My attention was caught by something to the right, geez it's a flippin' steam train! As I watched the loco belched some black smoke and I nearly jumped off the bike when it sounded its whistle again.
There was no denying it now, it was definitely snow coming down and despite its wetness, some was sticking to the road. I sat up after the line, I'm not daft enough to try a solo ride from this far out! The road remained level for about a kilometre over which distance I was joined by about twenty riders including all my teammates.
"Nice one D." Roni gulped.
"Cheers, hope this snow eases off."
"Well we might drop out of it." Gret offered.
The peleton's lethargy was not improved by the white stuff, although it was settling in places the road remained rideable if unpleasant. It had reverted to rain by the time we made our second rail crossing and one or two bodies began to up the pace on the rest of the descent. However we all reached Wernigerode within a couple of seconds, the rain having relented to nothing more than a fine drizzle.
The next leg should be fast, straightish and rolling it should spawn some activity too. Not for us though, well unless pushed, Dad had given his instructions and we would try to deliver.
"You guys ok?" I enquired.
"Yeah, you?" Tali turned the question round.
"Good as."
"There's a couple of useful looking ones here." Roni noted.
"The big blond from Dresden looks handy, I think he won the Cottbus GP last year." Greta informed us.
My team mates weren't the only girls up here, a big lass from Erfurt was apparently happy to join in with the pace making and a girl in 'Zentis' strip was sitting in at the back.
As we moved north the sky cleared and the roads dried off, mind you I was still glad of my gloves and overshoes, it was perishing! Through Ilsenburg we all stayed together but once clear of the town we were subjected to a string of failed attacks. Timing will be everything; these guys had the right idea but couldn't read the road.
It wasn't that far to Bad Harzburg where there's another sprint so I kept an eye on my computer, Dad was very specific, thirty nine K. the others were doing the same, Roni was keeping close to me, the others not far away. Thirty-eight, a quick look round revealed a cold, tired field and we're barely half way!
I nodded to Roni and we both carefully made a gear change so as to avoid detection. Ron nodded back and I launched our move, I took the kerbside and Roni the white line. It had the desired effect, confusion. By the time we made clear air there was some movement at the head of the bunch, not that we checked to see what. I let Roni take my wheel then settled into a time trial crouch low over the hoods. If things went to plan right about now Gret and Tali would make an apparently daft move in chasing after us.
The road dipped and I slipped into the twelve, I could still hear Roni's heavy breathing close behind so I gave it some more welly! Into the town and ahead I could see the team Vito with Dad alongside with Frau Grönberg.
By the time we were level my pace had dropped a bit.
"Well done, ten seconds." Dad shouted to us as we passed.
Roni slipped around me and I took a short breather, there's still a way to go!
Maddy Bell 19.02.09 © 2009