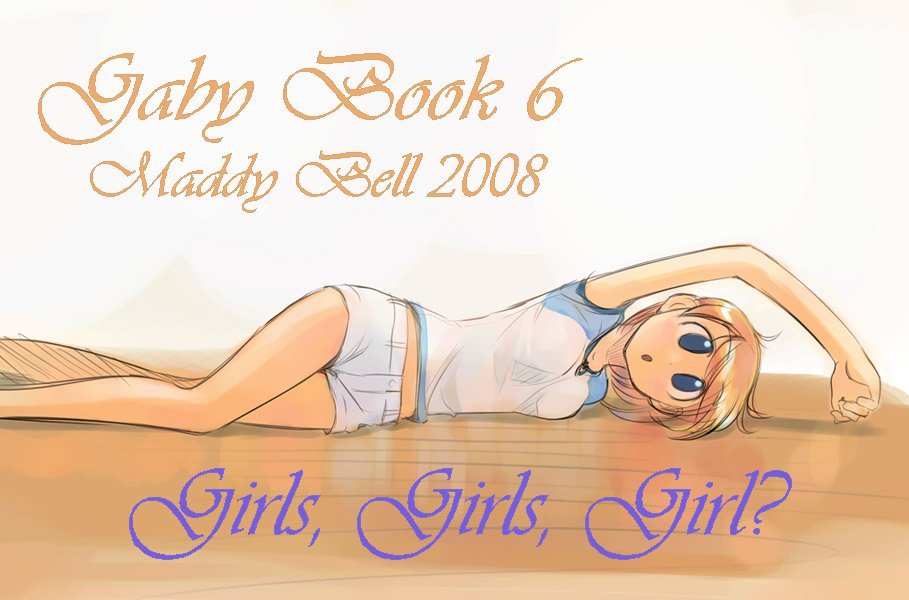 Chapter *6.14*
Sweet Fifteen
I still wasn't sure about this but Mum did manage to convince me that as a solution it would work. On one hand I can actually claim to be dressing up and on the other those expecting 'Gaby' get 'Gaby'. So okay I've had to compromise a bit I admit it does appeal to my sense of the ridiculous!
"You coming, the taxi's here."
"Won't be a mo."
I took one last look in the mirror; yup this should be a gas.
Mind you I nearly changed my mind in the taxi, Mum's world champion skinsuit is not exactly the warmest thing to be wearing on a February night!
"Here's the birthday girl." Frau Thesing announced which of course directed everyone's eyes to where I stood in the restaurant entrance.
"Hi everyone, I couldn't decide what to wear so I decided on something comfortable."
That at least raised a few giggles and broke the ice – not that anyone else seemed to notice the frozen H²o. At any rate no one said anything, I guess the Gaby people really do see Gaby however I'm dressed and the Drew crowd see Drew. As for me, well I'm not wearing my chinos but I'm also not wearing a dress, a skinny is pretty comfortable and the skin tone tights are keeping a bit of chill off!
Given that its my birthday meal I got to choose the menu he he he! Herr Sebenschuh was pretty accommodating so we were soon tucking into beetroot soup; don't turn your noses up, its delish, honest. That's one thing I've noticed since coming to Germany, most people will happily eat anything, no one I know here is even vegetarian!
Everyone made short work of the soup which means I get to inflict my main course on the assembled guests. Hmm, my mouth was watering before I even smelt it – Mum had to help Herr Sebenschuh with the recipe, but he'd agreed to give it a go anyhow! Well it looked right, it smelt right and a few moments later I could confirm it tasted right, bacon and onion pudding – yummy. There were a few bemused expressions around the big table we were sat about but there wasn't much left on anyone's plate – well Goth Girl didn't eat all of hers but the latest beau, Boris, made short work of her leftovers.
The Germans aren't big on desserts but it's my birthday so I say what goes right. This time we'd left nothing to chance, Mum and me made the bread pudding ourselves, some good classic English stodge served with real Birds custard specially imported for the occasion! Whether they were being polite or they liked it everyone sampled this delicacy and a good percentage even finished their serving. Me, well I was getting a bit bloated but if there had been more I would have forced it down.
"Speech, speech."
I glared at Jules.
"Go on kiddo." Dad prompted.
What do you say?
"I um,"
"Thanks for coming." Mum whispered.
"Er yeah, thank you all for coming I er hope you enjoyed the food, thank you Herr Sebenschuh, I know it was a bit weird."
"No problem Gaby."
I blushed a little, "well thanks anyway. Mostly I'd like to thank everyone for coming, I've really had a good time tonight, " I have really, "and well just thanks everyone." Public speaker I'm not!
There was some polite applause and a couple of ribald comments from my 'friends'.
"Happy Birthday to you," Mum started and everyone else took up the age-old Geburtstag song.
"…Happy birthday dear G D a r b e y w, Happy Birthday to you! For she's a jolly good fellow, for he's a jolly good fellow, for she's a jolly good fellow and so say all of us!"
I turned a deep shade of pink.
"Presents!" Steffi announced.
So okay I'm a bit mercenary but lets face it, you do sort of expect a prezzie or two on your birthday. My thoughts strayed back to last year at Aunt Carols.
"Me, me, me!" Bern demanded.
"Oh!" Paul sighed, "I wanted to give him mine next."
Geez! My friends are fighting over who gives me a present now. So far Clive has presented me with a copy of the ' Under Arrest' film on DVD, and Rhod, er Em gave me a German/English dictionary, not one of those little things but a proper big one.
Bern passed me her offering, which after a scrabble with the wrapping turned out to be one of those sort of head warmer fleece things. Paul gave me a gift voucher for the Space Centre, Ally added one of those sports wallets to the Pile and Helen's addition was a box of posh continental chocolates. Mad's present looked a bit disappointing, sorry but you know what I mean, just an envelope, which means vouchers. However rather than shop gift tokens it turned out to be a pair of tickets for the Chili Peppers concert later in the year – well cool. The family prezzies were last up, Jules gave me a book about the Tdf and the olds supplied a new pair of cycling shoes, real cool ones that I've had my eye on for a while.
Then of course there was the second round from the girls in the Foresters,
I retrieved the carefully wrapped packages and started unwrapping. Well apart from the fact I wasn't expecting anything these were in a different class – girl friends class! I'm sorry but I can't get too excited about nail varnish, cheap scent and skimpy knickers, well not in that way anyhow. Not when they are for me.
Pretty much everything I got last year turned out to be useful even the 'girl friend' stuff from the cheerleaders – Gaby has to wear something after all! The disappointment of course was missing the Peppers concert, the tickets didn't go to waste though, Maddy went with Ally instead.
"Come on daydream, its prezzie time." Mum brought me back to the present.
Well the setting may have been different, the people largely too but the present giving pecking order was not greatly dissimilar! What was a surprise was that my school chums each gave me something – I thought the Saturday thing would cover their 'obligation'. So okay there were more tokens than proper prezzies but I got three new cars for my collection, a nice leather wallet thing, a big donger bell for my Schauff and a book of Gothic poetry from Anna. Somehow they managed to avoid any 'Gaby' stuff.
Roni however broke my string of luck presenting me with a nice, but girly – well okay girls cut, t-shirt from the Neanderthal museum. I even got a prezzie from Boris, a selection box of Lübeck marzipan, hmm well yummy! There was a collective present from Apollinaris, a generous H&M voucher, and the Pinger's gave me some nice winter cycling gloves.
As usual the family offerings were last. Goth Girl had already made some hints towards what she was getting me so I wasn't surprised to get more model cars from her. Usually I end up with bike stuff from my 'rents, which is always useful if sometimes a little boring. This year I got a surprise though, a new all singing, all dancing digital camera. My old one, the one I took to America, isn't bad but this one is so much better!
It was Thursday before we got home after what turned out to be a fantastic and a very lootishous evening. Boris was staying over, no not in Jules room, he had drawn the sofa bed in the lounge, he lives in Bonn so he'd go into school with Jules in the morning.
Despite the late hour, nearly one o'clock, I didn't go straight to sleep when I hit the sack. My head was still buzzing from the party and my thoughts strayed to my friends back in the UK again. I know I've missed most of their birthdays since we moved here but them missing mine felt different. They'd sent me cards of course but it's just not the same as having them here with me.
"Drew, come on you'll be late." Dad shouted up to Drew's Nest.
"What time is it?" I mumbled.
"Half seven, your sister's already left."
Sugar!
"Coming."
I couldn't really complain, it was my party last night after all. And I only had two glasses of wine. (As Weinkönigin I have to show my support for the industry!)
"You look how I feel." Anna groaned.
"That was not helpful."
"Hi guys!"
"Steff!" we both complained as Pia, Steff and Bridget came in to Thesing's.
I wasn't the only one running a bit late; we'd have to get a clog on when we set off.
"Sorry, great party Drew."
"Er yeah."
"Did Boris behave himself?" Pia enquired.
"I guess so, they were gone when I got up."
"Tell Jules I'll take him off her hands." Brid sighed.
"Brid!" we all exclaimed.
"Well I think he's cute."
"Like a Veruca!" Connie suggested.
To be fair to Boris – and my sister, he was neither particularly good nor bad looking; just sort of ordinary and he did buy me marzipan.
"He's not that bad." I offered in his defence.
"See, Gabs fancies him too." Brid stated.
"I do not! I was just saying."
I felt myself colour up but was saved further embarrassment by Con's mum.
"Come on girls, time you were off, you don't want to be late."
Late, oh sugar its Herr Viessner's test in English this morning! I so do not want to be late for that, last time someone was late they had to write an essay on Charles Dickens. I really don't want to pull one of those.
"Come on, last one on their bike is a Max lover!"
Well you've never seen six girls move so fast! I was nearly trampled in the rush.
As a school day Thursday turned out to be uneventful – well apart from the English test and the surprise test in German. Languages, love 'em or hate 'em, can't get by without 'em! Its not really as bad as I paint it, I have like a fourteen year advantage in English and my German is improving all the time, like it has to as the only time I speak English is at home or in Herr Viessner's class.
"I'm home!"
"Hi Drew."
"Hi Mum."
"I forgot yesterday kiddo but there're some presents on the side from England."
"Presents? Who from?"
"The girls and your Gran, your Aunt Carol sent them all together to save on postage."
"Kewl." I announced with barely a hint of avarice.
"And remember you have a training session tonight."
"I know."
Sometimes being a sports hero has its drawbacks.
This last collection of birthday swag really brought home to me what I lost when we moved out here. These presents were from people who knew me inside and out, well not Helen but the two of us had sort of clicked. Gran cheated of course, I got fifty Euros wrapped around some Thornton's Special toffee. (My other GP's already sent the usual £20 with their card, as did Dad's siblings, its traditional!) Ally got me a DVD of American Flyer which looks pretty cool, it's about a kid who is really into racing in America but thinks all things European are cool.
Helen must've taken advice cos she got me the latest Kashimashi volume. Mad surprised me with a subscription to the Comic, which was something I missed with a vengeance, reading CW each Thursday, seeing my race results in print. I guess it was kinda from her olds too as I know its not cheap. The last of the pile was from Bern, a big pot mug with like my name embossed on one side in big letters – G A, no just kidding, it has DREW on it and it must've been made special cos like I've never seen anything with Drew on before. Geez, talk about made up!
Training tonight wasn't on the bike but at the Apollinaris gym with the team and a bunch of other local riders. We do circuits to improve overall fitness, you know, step ups, a bit of running, a few weights. After we warm up with a short run around the yard we do two laps then we break for the indoor running before another lap of the circuit stations. The team do it twice a week but mere plebs like me only get to join in on Thursdays.
Its amazing how fit Mum looks now, to think how ill she was just a year ago. In fact I think she looks fitter than I've ever seen her, she makes me look like a pie man and I'm quite skinny but you can see she's all muscle – not that the other girls aren't its just I see more of Mum!
My body was there, I wasn't slacking honest, but my mind was away thinking of all sorts of stuff, my latest prezzie haul, my 'surprise' on Saturday and never far from the front of my mind, Bernie.
"And one last effort!"
Maddy Bell 22.12.08 © 2008
Back to Chapter 6.13 On to Chapter 6.15 Back to The Library