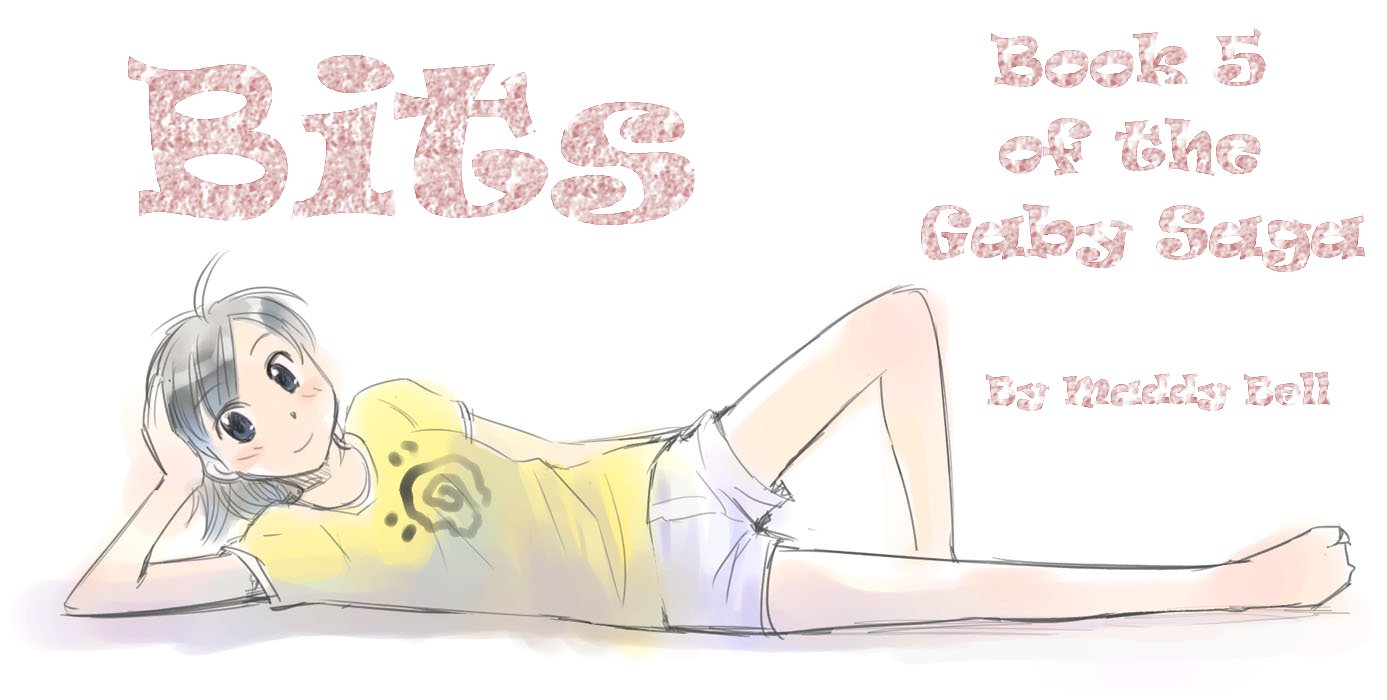 Chapter *39*
RTF
"I wish there were some time trials I could ride, I really miss the evening tens."
"Not much I can do about that I'm afraid." Dad pointed out.
"He could do some RTF's." Mum suggested.
"Some what?"
"RTF - its like a kind of reliability ride, we sometimes do one if there's a gap in the race calendar." Mum explained.
"There's one on this Saturday up near Aachen if you're interested?" Dad offered
"I guess." To be honest it didn't sound that great.
"Maybe Roni'd fancy doing with you."
"Don't we like have to enter or something?"
"You can register on the day kiddo."
The day was showing some promise for the time of year, there was a bit of damp in sheltered spots from the fast disappearing ground fog and the sun was doing its best to break through the grey clouds. It wasn't a long drive, around an hour and with the 100km event starting at nine we had left the house shortly after seven for Düren, the event headquarters.
There were already plenty of bikes about, the blue ribbon 200km event started a few minutes before we arrived, at eight, the 150km event would start at eight thirty then at nine the 100km. Roni spotted us coming into the car park and directed us to where her mother had managed to 'reserve' a parking slot for our Saab.
"Morgen, Drew, Herr Bond."
"Morgen Roni, ready for this?" Dad enquired.
"Sure, I'm all recovered, pity the others live so far away."
"Well they'll be coming over for the track championships next month so I hope they're training hard!"
"Do we have to register or something?" I put in.
"Mama is doing that for us, ah here she comes." Roni started waving at Frau Grönberg who was strolling back across the car park.
"Morning Frau Grönberg," Dad mentioned, "thanks for that."
"No problem Herr Bond, morning Drew."
"Morgen."
"I checked at the registration, it's not all marshaled so look out for yellow arrows which are for your event, it shows you the way on the map also."
She handed Roni and I each a pile of stuff which on closer inspection included a number, map and stamp card. It looked quite straightforward, four checkpoints roughly equidistant; the longer events were based on the same circuit but with various extra loops tacked on to make the distance up.
Whilst I was perusing the paperwork and putting my number on Dad was readying my bike, my race bike now sported a seat pack, we needed to be fairly much self sufficient – no service car today! The time seemed to fly by and in short measure we were lined up with about a hundred others at the start line in the main town square. There were all sorts of bikes and riders of just about all ages although we were about the youngest as far as I could tell.
"Remember Drew, its not a race, there's no prize for finishing first." Dad gave me a wink. "Stay out of trouble both of you, I'll see you at the second control."
"Okay." I agreed.
"Come on Drew, we should get towards the front to start." Roni instructed.
The waiting riders were much more relaxed than at the start of a race although there was still an air of expectant tension. We joined in the watching of the Rathaus clock and precisely as it chimed nine we set off, a colourful mass of riders complete with police motorbike escort! The pair of us were soon slotted in about twenty riders from the front as we 'paraded' through the town, the escorts peeling off as we reached the edge of the town. The pace was a healthy 35kph and we were soon lined out two abreast and purring along.
To me it seemed odd that there wasn't any jockeying for position but there again what was the need? The terrain was a bit like back home in around the north Midlands and we swept along, barely slowing for the inclines although there were a few nervous corners. We took our turn at the front, both Roni and I comfortable with the pace, even if I at least felt dwarfed by some of the other riders! A marshal pointed us into the first Kontroll and we came to a halt at the Stempelpunkt.
"Morning girls."
Grrr!
"Morgen." Roni replied for us.
"There's food and drink over at the left there."
"Thanks." I allowed as my card received its first 'Stempel' of the day.
"You want some food or shall we get on?" Roni enquired.
"I'm good if you are."
"Lets set too then, we can tag onto others as they come up to us on the road."
"Sounds like a plan."
The sun was bright even if it was offering little in the way of heat, we weren't the only ones foregoing the catering however as we were soon in a small bunch of six riders heading out on the second leg. The others were obviously quite serious riders and the pace went up a notch as the others were clearly testing our mettle. It felt much more like a race now as we made the most of our companions to provide shelter, our time at the front was mercifully short, but we seemed to pass muster as we were permitted to sit in as long as we took at least a brief turn at the front.
Roni was starting to show some signs of fatigue as we completed the first forty kilometres and approached the second Kontroll.
"You okay Ron?"
"Sure, the pace is fairly high I guess."
"We can drop back." I offered.
"Neh, it's good training."
We spotted Dad and Frau Grönberg as we approached the control point, Dad grinned and gave us the thumbs up.
"Keep it up kids, only 55 kilometres to go!"
Cheers Dad!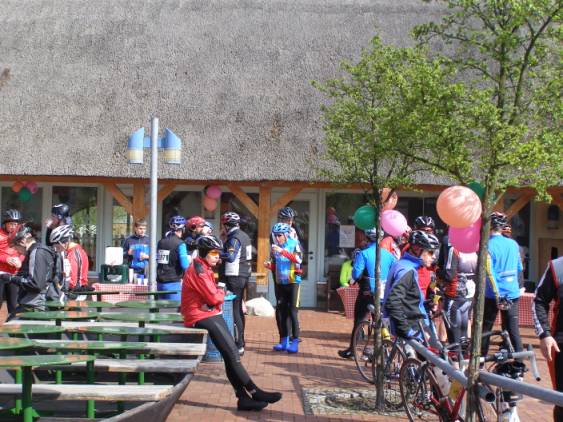 This time we took advantage of the catering facilities, grabbing soft drinks and some fruit. Riders were arriving in a steady stream, the Kontroll was quite busy by the time we were ready to set off, this time on our own, the other members of our 'break' having already departed. We set ourselves a comfortable 30kph pace and were soon eating up the miles.
"Up, up, up!"
I recognised Dad's encouragement and managed a forced grin as we once again passed our 'rents.
We rode the entire third leg on our own; the weather seemed to be taking a turn for the worse such that by Kontroll Punkt 3 it was pretty overcast and distinctly cooler. That was offset by the hot coffee and crepes on offer, which we both partook of with some gusto! Both of the longer events rejoined our circuit at this point so there were already quite a few 'rolleurs' already there. We didn't hang about unduly, joining about a dozen riders from the other events on the shared route to checkpoint four.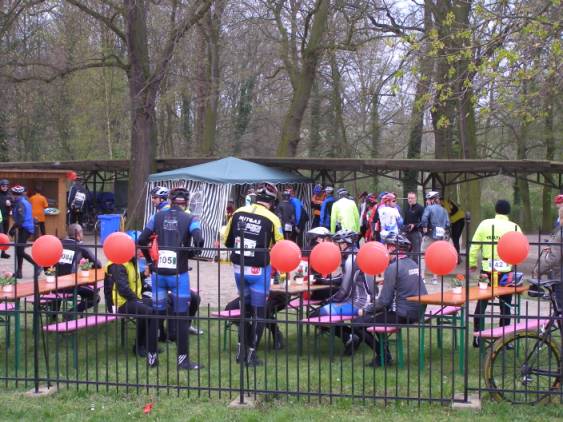 "This is better." Roni stated as we were swept along in the midst of the pack.
"Yeah, bout another hours riding to go."
"The front group for the 100 only departed a couple of minutes before us."
"Hmm we might make some road on them in this big bunch."
"My thoughts exactly." Roni agreed.
No it wasn't a race but that doesn't mean we can't be competitive!
No one seemed to mind as we sat behind the rotating leaders of the group – we were far from the only 'sitters' there.
"Rechts!"
We all swung towards the middle of the road as we swallowed the 100km lead group, we were only doing about 35kph but we seemed to pass them standing. In reality the four of them slotted in a few bikes behind us, joining us in taking advantage of the bigger group.
"You okay to make a run for the finish Ron?"
"Hmm I'll try."
"Just say if you don't want to."
"Okay."
I moved us up into the rotation so we could clear the Kontroll quickly, we'd be on our own for the last fifteen kilometres so any advantage we could get… the only spanner was the lure of free bratwurst! I motioned for Roni to get going and joined the short sausage queue, collecting two portions. I quickly got myself back a-wheel, sausage in hand and set off in pursuit of my teammate. The murky weather seemed to be clearing as our route returned towards Düren.
It took me best part of four kilometres to catch back up to Roni – its not easy riding with a bratwurst in each paw! There was no sign of the other 100k riders, when I escaped the last checkpoint they were still queuing for food so we certainly had the advantage.
"Cheers Drew." Roni managed through a mouthful of wurst.
"No probs, one last effort?"
"Lets do it." She enthused snicking up a sprocket.
We were soon maintaining a ground eating cadence and the finish line was fast approaching, in fact no more than twenty minutes away. The weather was regaining its earlier promise and we rode turn about, keeping the speed above 30kph all the way to the finish. We were greeted by a noisy crowd and had the honour of getting our ride medals from the town Mayor! The next riders in seemed somewhat surprised to find us already finished – even if it was by just a few minutes.
"So how'd you enjoy it then Drew?" Roni enquired between mouthfuls of torte.
"Different."
"So you'll be up to ride a few more then?" Dad suggested.
"Yeah!"
Maddy Bell 19.05.08 © 2008
Back to Chapter 5.38 On to Chapter 5.40 Back to The Library