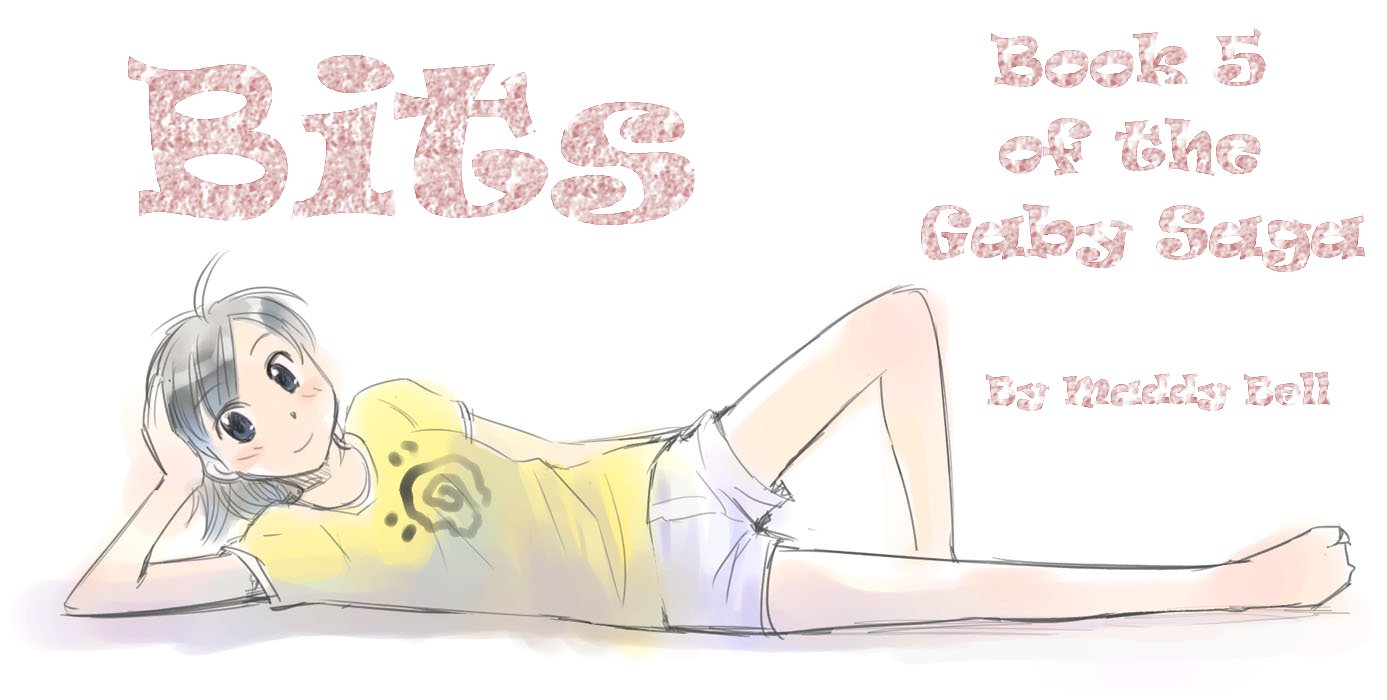 Chapter *32*
Hübsches Gesicht – part 2
Do you know what's weird? It feels really strange intentionally dressing as a girl, especially when I had a choice. I know what you are thinking, he's always dressing in skirts an' stuff, how can it be strange now all of a sudden? Well okay I do end up being Gaby quite a bit but truth be told I usually manage to wear jeans and stuff and I'm usually with the guys. Somehow this morning, walking to the station on my own in a stupidly short skirt I feel I dunno ' exposed I guess.
I pulled Jules coat a bit tighter around me, the pink duffel sorta goes with the costume and there is no way I'd be warm enough without it, it is November after all!
"There she is!" Connie told half the village.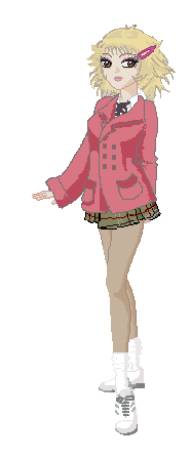 "Hi guys."

"Heya Gabs, bit chilly huh?"
"I had to put some tights on." I admitted.
"Me too." Steff advised.
"Looks like the Express is on time at least." Anna mentioned seconds before it tooted for the crossing.
We clambered on board and it didn't take many seconds to locate the others.
"You look perished Gabs" Pia stated as I gave an involuntary shiver.
"Well my skirt is well short."
"And ours aren't?" Connie pointed out.
"I was just saying."
"Where are you lot off to at this time?" Myleen enquired.
"A sort of costume party at Phantasialand." Anna supplied.
"I wondered why there were so many short skirts, its nice to see you in a skirt too Drew."
"Um thanks." I allowed, Myleen can go on a bit and she runs a tight train.
"Well I'd best go and sort out the other car, have a good day."
"Thanks Myleen."
"Yeah thanks."
We probably looked like a right load of weirdo's. There we were sat on the train in short skirts, coats and various weird hairdos! And its only 8.30 in the morning.
Unlike the Cons back home today's event was modelled on the real Japanese events, just one day but set in a theme park where we'd have the run of the place pretty much. I hope it warms up a bit!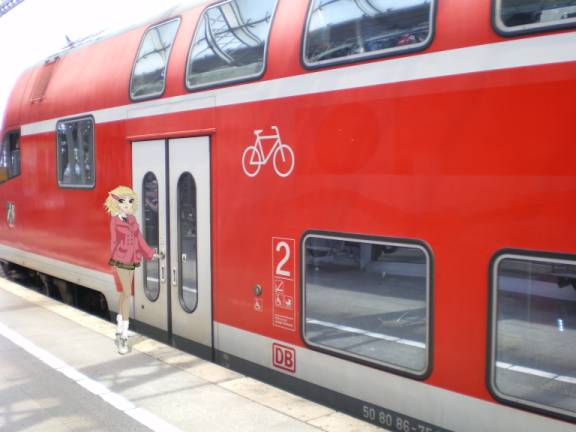 The Rhine Express was already waiting when we arrived in Remagen so we hotfooted - as much as we could, across to Gleis Zwei and joined the already packed train. We had to walk half the length of the train before we found seats, ironically in the bike carriage where we started.
At least they heat German trains, even just the short station transfer had made my legs cold. Note to self - 10 denier tights do not keep you warm, well okay it's better than bare legs but warm - nah! I was just about thawed out again by the time we pulled into Bonn Hbf where a good percentage of the train passengers departed to be replaced by an equal number joining. There were obviously a few heading to the con - or if they weren't they dress strangely!
The next stop, Brühl was ours and all too soon we were back out into the cold.
"Brrrr"
"Stop complaining Steff, there's a bus waiting." Connie pointed out.
"What are we waiting for?" Anna started towards our onward transport.
There were maybe another twenty or so Cosplayers heading the same way and for the first time today I didn't feel too out of place. The bus ride wasn't long; maybe ten minutes saw us deposited outside the gates of the amusement park. We joined the queue for pre booked tickets, I'm glad we had pre-booked as the other gate had a long queue and it was cold enough as it was!
"So what do we do first?" Pia asked.
"Lets hit the hall first, get warm and see what's on offer." I suggested.
"Yeah, no one told me how cold this outfit was - Gaby!" Steff gave me a half Paddington.
"It's never been this cold when I've been to one before." I offered in defense. I was actually sort of regretting my own choice, I could 'a been in trousers or a long skirt but no I had to choose a stupidly short skirt. Idiot!
By contrast, inside the hall was quite warm and I quickly found myself taking off my coat.
"Should we enter the costume parade?" Steff enquired.
"Well I'm not wearing this for nothing." Anna pointed out.
"It might not look like it but I did go to some effort too." I agreed.
"Well it looks like we need to register over there then." Connie pointed to a table with a banner stating 'Karneval!'
"Come on then." Pia enthused.
Our group flocked in the general direction although Nena was being a bit tardy.
"Wos up Nen?"
"Er nothing Gab."
"Oh come on, you look terrified."
"Well promise you won't laugh?"
"Sure."
"Well it's a bit embarrassing but I've never done this sort of fancy dress thing before."
I realised she was still clutching her coat around her. I wasn't quite sure what to say.
"The first time I did this, proper like, was at school, now that was embarrassing. At least you get to start without everyone knowing who you are and anyway, feeling like an idiot is all part of it." It wasn't the complete truth but I hardly felt like trying to explain things in full just now – she wouldn't believe the half of it anyhow!
"So what did you wear?"
"You saw my scrapbook right?"
"Uh huh."
"Well I went as Chi, you know, from Chobits? There was a picture at the front of the scrapbook."
"With like a Minikleide und Strumpf?"
"That's the one, and I had to wear it at school."
"Geez!"
"Now that was embarrassing. So who have you come as?"
"Card Captor Sakura."
"That explains the pixie boots."
"Come on you two." Connie encouraged.
"Yeah."
We caught up to the others and joined the short queue.
It didn't take long; we had to register who we were playing and all that, the girls were quite efficient considering their novice status compared to the old hand in the group.
"Well what now?" Pia asked.
I checked the programme and my watch, "there's a showing of Princess Momoke in about ten minutes." I offered.
"As long as we get to do some rides after." Anna agreed.
I shrugged my shoulders, "its not compulsory."
"I'll watch it with you Gab." Nena volunteered.
"Why don't we split up and meet for lunch then?" Pia suggested.
In the end it was just me and Nena who stayed inside, the others couldn't resist free rides in the theme park so we agreed to meet up at the cafeteria place at one.
-----------------
"Well it was certainly different." Nena mentioned as we left the small theatre. "Had you seen it before?"
"Only like a preview clip, Mad has it on DVD I think, she's really into the Studio Ghibli stuff."
"Studio Ghibli?"
"You know the film makers?"
She looked at me blankly.
"Well anyway they've made a whole load of really good animated films."
Mention of Mad brought back all sorts of memories, I know I saw her just a couple of weeks ago but I do miss her loads.
"Gab?"
"Hmmm?"
"You spaced out there."
"Sorry, lets check out the sales stalls."
-----------------
Well to cut a long story short – I bought too much stuff! I got a complete set of Chobits figures which I've been after for ages, a couple of new Manga releases in English and a few other bits and pieces. I seemed to have about twenty separate carrier bags, which was getting to be a pain.
"Aha!"
"What?"
"Look they've got like real Japanese school bags." I started to home in on the stall in question.
"Gab-ee" Nena sighed trailing behind.
"Lets see, schoolgirl, tartan skirt – that'll be Pretty Face right?" the guy on the stall enthused,
I nodded.
"So I'm guessing your doing Masashi Rando?"
"Yuna Kurimi actually."
"Hmm not bad, so what can I help you with?"
"How much are the school bags?"
"I get them direct from Japan now lets see, for Yuna you need this one I think," he reached up to retrieve a bag, "which is forty five."
I drooped; my cash wouldn't run to that much.
"How much short are you Gab?" Nena asked.
"I've only got thirty left."
"I'll loan it you."
"You sure?"
"I wouldn't offer would I and anyway I know where you live!"
"Thanks Nen." I gave her a hug.
"Here before I change my mind." She waved a fifty note at the vendor who didn't need a second invite.
-----------------
The bag really did finish my outfit off, I soon had all my other purchases stowed inside and I felt really in character walking round.
"You guys shoulda come." Anna enthused.
"We had loads of pictures taken." Connie added.
"The rides were a bit kiddy though." Steff put in.
"Nice bag" Pia half mocked.
"Its what all the girls in Tokyo have." I sniffed.
"We eating or what?" Steff suggested.
-----------------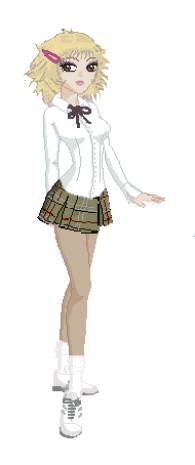 The Karneval was a sort of fashion show really. First off we took our turns on the stage, the MC introduced our characters, we got to walk across the stage then we had to wait for the parade. I'd seen this sort of thing on the web, the Japanese are pretty keen on it, essentially we all got to walk around the main complex area all together before returning to the theatre. Then everyone got to vote for their favourites – I wasn't gonna be in the running with my pretty basic costume but Anna had my Tenshi maid outfit on and Steff's Sailor Mars was really very good. Not that the others weren't good but some of the opposition was really and I mean really good.
In the end my prediction was quite accurate, Anna placed top five, which got her a hundred Euros – maybe I shoulda worn the outfit, that's two prizes in two outings! Mad will be well chuffed. Of course everyone got their picture taken afterwards, I was a bit concerned with some of the camera angles though. It was the first time since this morning that I really gave any thought to what I was wearing.
It was already dark when we headed out to the shuttle bus and my feet were killing! Note to self number two – plimmys are not comfortable to wear all day! I pulled my socks up, it was already getting cold, well colder! Everyone seemed to have enjoyed themselves, it's a pity it was only a one-day event really. The journey home seemed to go quite quickly, I reached Schloss Bond just before eight after stopping off for some pizza at the bakery.
"I'm back."
"Drew? Don't forget we're out early in the morning." Dad called back.
How could I forget going to the Radrennbahn in Köln before going to work at the bakery?
Maddy Bell 14.03.08 © 2008
Back to Chapter 5.31 On to Chapter 5.33 Back to The Library