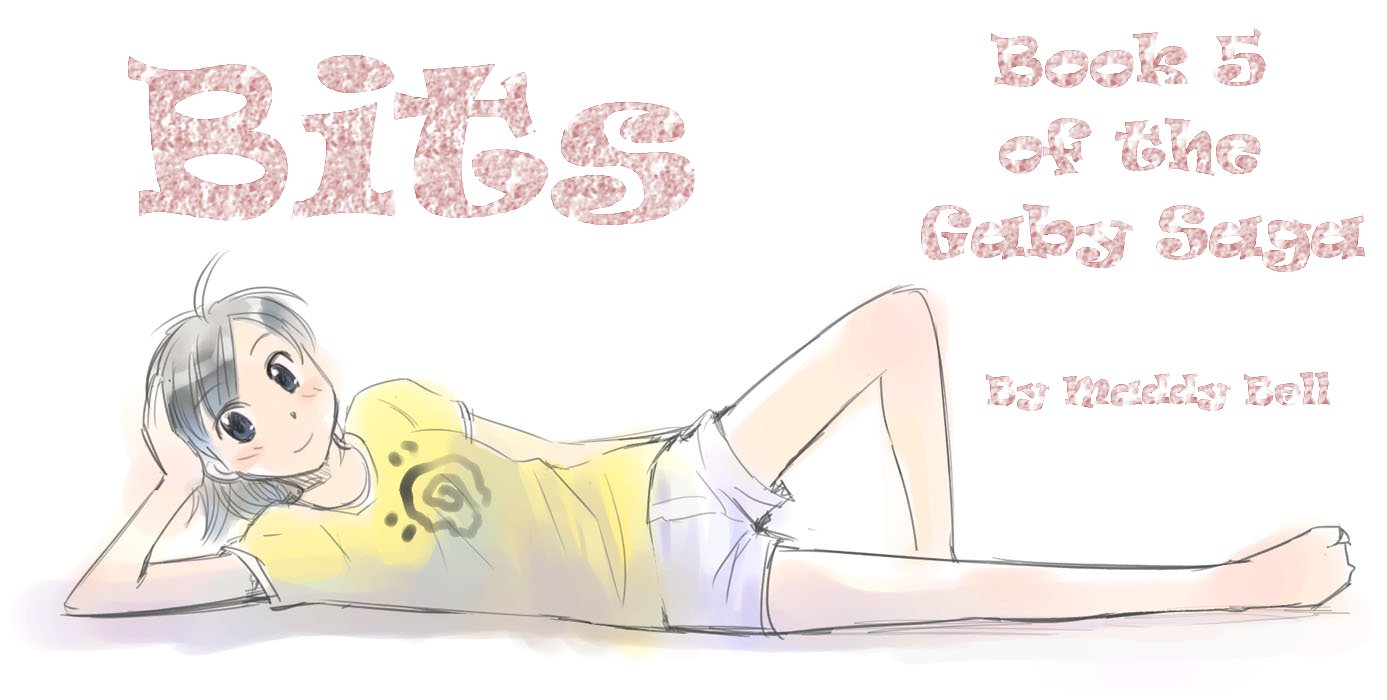 Chapter *28*
Boaring
"Ah here she is, our new Königin, Drew Bond!" the Emcee announced as Pia pushed me forward.
Despite my earlier resolve to come clean never really had a chance from there. Against my better judgement but at the girl's insistence I was already dressed in one of those German dress things, I think it's called a durndall or something like that. So before I realised what was happening I was crowned Dernau Wein Königin 2005!
But it didn't finish there, oh no. Connie was voted as one of the 'Wein Prinzessin', the other spot was taken by Analise, a girl in the year above us at school. And then, deep joy, we had a ride around the village on a horse drawn wagon thing decorated with barrels and grapes an' stuff. Boy, that was uncomfortable; it had solid wheels that transmitted every bump up to our perch's. That was bad enough but we were trying to balance in heels on a rocking, uneven floor – it's a wonder none of us fell over!
Then it was back to the restaurant for a reception thingy – by this time word had reached Bond acres and my heart sank when I saw Goth Gurl and Dad with the organisers. Maybe I can still escape from this nightmare.
"Dad!"
"What mess have you got yourself into now Gabs?"
"I um."
"It's cool eh Mr Bond, Gaby is the Weinkönigin!" Pia exclaimed joining us.
My sister wasn't being much help, laughing every time she looked at me.
"Pia come and help!" her mother called across.
"So exactly why did you enter for this?" Dad enquired steering us into a quiet corner.
"You don't enter you get nominated."
"Okay, so you didn't enter but why are you dressed like that?"
"Erm, well."
"The Germ has no idea Dad." Jules helpfully put in.
"How do I get out of this Dad?"
"Looks to me like you've precisely two options."
"Yes?"
"Well you can go and tell the organisers that you are in fact a boy which given how you look at the minute I doubt they'll believe. Of course that will cause a scandal, everyone for miles around will know that you are, er prone to dressing as a girl, you'll get picked on at school, the papers will spread it about and even if you never wore another stitch of female clothing again it would follow you about for years."
That didn't sound too good.
"And the second?" I asked hopefully.
"The other option to be blunt is to serve your term as wine queen."
Well blunt was right. Cause a rumpus and scandal or just go with it. What an option, I couldn't see any realistic alternatives to Dad's.
"So Gaby " Jules emphasised, "what's it gonna be?"
"Looks like I'm the Weinkönigin I guess." I sighed in resignation.
"Okay, now that's settled, you will put as much effort into this as you do your racing, no half-hearted dressing, I'm sure there aren't many appearances but we'll deal with event clashes as they come up. As soon as possible young lady you will get all the dates. You're mother is gonna go loopy when I tell her."
"Sorry Dad."
"Come on Gab's, its not that bad." Jules pointed out.
"GABY!" Connie's voice rang out.
"Coming." I sighed.
"They want some pictures."
We had an exciting ride up through the vines on one of those monorail things they use to move the grapes around. It would've been more fun if I hadn't been trying to keep my skirt from flapping about but it was still sort of cool.
First the photographer took some group pictures –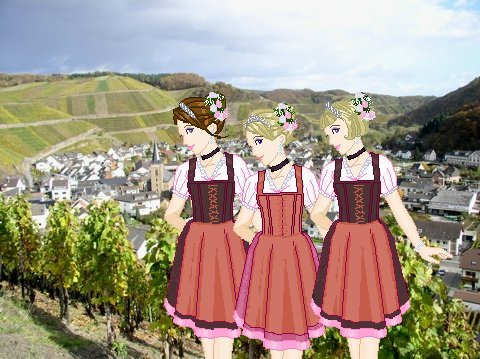 And then some individual ones – I hope I don't look as small as I feel next to Analise and Connie! Analise is the tall blonde on my left.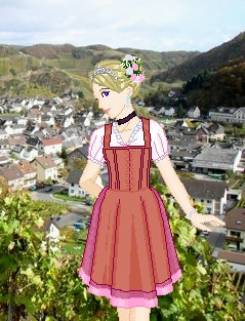 Oh yeah, in case you didn't realise that's Dernau behind us, our house is off to my left and Connie's place is sort of hidden behind my right shoulder.
--------------
I forced myself to concentrate on the job in hand, Fridays goings on were still weighing on my mind – I guess I'm stuck with being Gaby for the next year now. Hmm, concentrate Drew.
"…Unt gut fahre!" the bloke doing the starting finished his pep talk and we all readied ourselves to move off.
"GO!"
I pushed off and was clipped in before I'd done a full pedal stroke. All around me riders were doing the same – it's a good job we've got a kilometre before the 'proper' start – some of this lot are making a right hash of setting off! I checked that everyone (that is our team) was with us then we started jockeying for position. I checked to make sure everything was working (again), today's race looks like its gonna be quite fast, there're only a couple of small climbs as the circuit goes around this big reservoir called Möhnersee near a town called Soest east of Dortmund.
We've got four laps to do to make the 100km distance and I'm rather hoping the trees will give us some shelter as the sun is beating down hotly on the Möhne Grand Prix.
The waving red, yellow and black of the German flag signalled the start proper and we were off.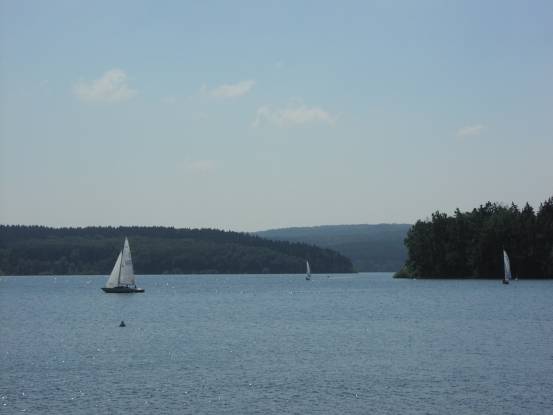 Off to our left the waters of the lake glinted under the almost cloudless blue sky, I'm glad Dad made us all carry two bottles – I've a feeling we're gonna need it. Today's race boasts over 100 starters and thankfully Team Apollinaris are up at the head of things. No time for sightseeing though, the dam hove into view all too soon and I started preparing for the turn. Yup we get to ride across the dam, the back side of the course is mostly on some private roads starting with the dam.
The left hander is a bit tight, its only like three metres wide across the dam and being near the front increases your chances of getting round without miss hap. Dad warned us that someone might try something at this point so all four of us were primed and ready.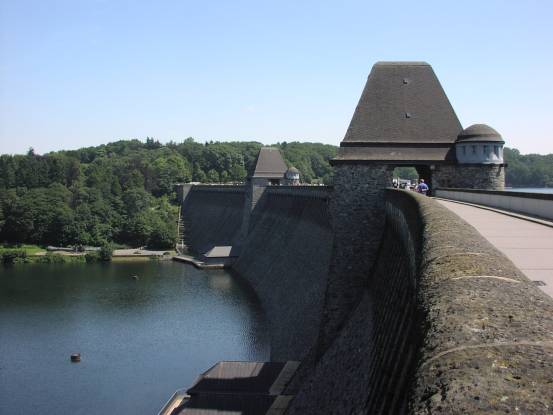 "Links!" Greta shouted the warning.
With only half a dozen riders in front of me I was easily able to chase the move down, by the time we were across the dam it was over and I let myself slide back into the front of the bunch. Since the Black Forest trip the other week Dad has had me concentrate on my endurance so I'm more confident of going the distance this time. I checked where the girls were – our team will usually be at a disadvantage having three girls on the four-rider roster but what we lack in strength we hopefully make up for with tactics. Thalia and Veronike were both nicely placed in the front echelon; Greta was a couple of places behind me.
Things settled down and except for a couple of half hearted breakaways we bowled along comfortable through the edge of the forest. Most of the field seemed to be in contact when we made an almost hairpin turn over a beck and a quick check on the computer showed a comfortable 30kmh pace – more like a club run! We soon rejoined the public roads and without the trees the full heat of the sun hit us. Geez!
The pace picked up when we returned to the lakeside but no one seemed willing to make a move so we were riding piano as we approached the start finish area for the first time. Lap two won't be anywhere near as laid back; there are some good riders in this field and besides which I'm under team orders!
We crossed back over the water and we had barely cleared the bridge when the first attack was made. About seven or eight riders reacted, Veronike was there for us and I suddenly found myself at the front of the peleton keeping a watching brief. Others were less patient – or didn't have riders up there, so I made use of the chasers to get up to the leaders.
The increase in pace thinned the field a little – not that I was too bothered up at the front. A big lad in 'Wupper RT' strip took a flyer as we approached the dam for the second time but it came to an abrupt end as he clipped the curb on the way in and did a spectacular flip into the bales. Hmm, been there, done that. Still, Dad does say take your chances where you find them.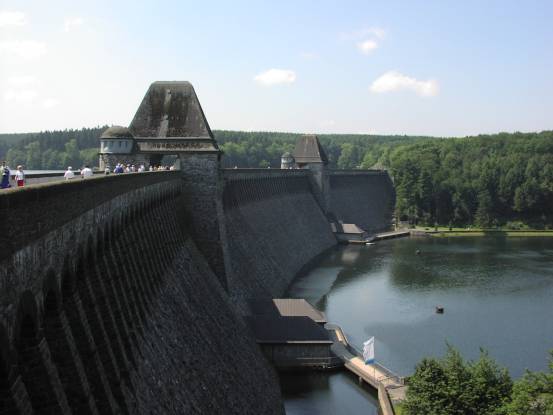 I made my intentions known to Greta who was alongside me then launched my own attack. The sound of gears changing behind me informed me that I was being chased but I stuck with it across the dam, up the slope beyond and into the woods. Time to check for damage, a quick glance behind revealed a heavy-duty response not more than fifty metres behind so I sat up – no point in wasting energy on a lost cause.
However our team wasn't finished with the move, as they started to swallow me and eased up a little Thalia went for one. We never expected her to succeed but it threw the bunch and she dangled in front until we rejoined the public roads. Right on cue Greta streaked off and I could see a few 'not again' expressions around me. So okay, we aren't the strongest squad around but we leave a lasting impression!
The rest of us did our best to block for her but it only delayed the inevitable. We couldn't do another repeat when things came together as Veronike managed to get herself boxed. Ah well, plan B.
Through the finish area the bunch was still about sixty strong with half the distance covered. Worryingly my first bottle was already empty, a quick glimpse about showed similar levels for most of those around me, time for a bit of rationing. The view across the water was starting to get a bit hazy as we started lap three, I bet its up in the 30's. I moved my braid off my neck, I really ought to get my hair cut short, hmm then I'd have to wear a wig to be Gaby. Which would be a bugger as I'm stuck with the Wine Queen thing.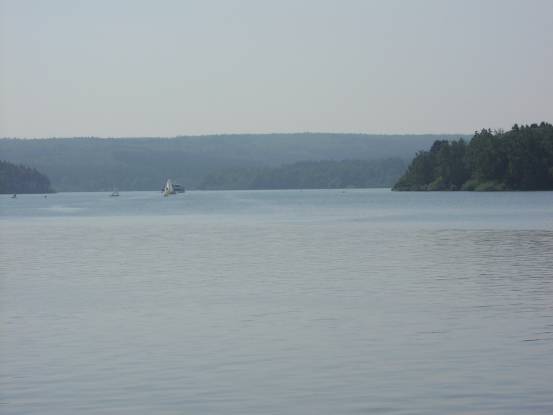 We safely made the turn onto the dam and probably as everyone was expecting a move there wasn't one. However the pace did pick up when we turned into the woods, some of the older riders finally deciding to do something. The speedo was hovering between 45 and 50kmh as we descended slightly when several of us realised we weren't alone in the woods. Something quite big was moving in the undergrowth toward the lakeside.
There was a lot of noise then the cause was revealed – some sort of big hairy animal that by its actions was probably half scared to death. It was joined in short order by several more.
"Wild Eber!" Thalia panted.
Well I dunno what an Eber is, what I do know is that 'they' and me weren't happy with the situation. What do you do? Make a run for it? Stop? The 'Eber' were keeping pace with our slowing bunch – sugar! Riders were shouting at the animals to scare them off but they weren't taking the hint. I think someone's tyre blew, or maybe it was a gunshot, whatever, the animals pretty much as one moved – directly through the bunch.
I'm sure you've seen those clips from the Tdf an' that where a dog or something runs into the bunch? Well multiply that by about ten. I didn't remember crashing but my world was suddenly made up of yelling, snorting, screaming and that was only the riders! A couple of the animals had gotten themselves caught up in the tangle of bikes and were kicking up a right racket.
Geez that hurts.
"You okay Drew?" Thalia asked from nearby.
"My back hurts, you?" I replied trying to locate what was causing the pain in my lower back.
"Yeah but my handlebars are snapped."
By now the following caravan was stopped and more bodies joined the mêlée. I located the problem, I was lying on a rock, and a quick manoeuvre soon had me more comfortable. All around me bikes and riders littered the road – none of the front group had escaped the pandemonium and none of the back markers could get past.
"Where are the others?"
"Greta looks okay, I can't see Roni though."
I got myself up and checked over my own steed.
"Bum my front wheel's had it."
"Take mine." Tali was already removing her good wheel from her wrecked machine.
By the looks of things most people were okay, a few were still down though amongst them Roni.
"Roni!"
"You get on Drew, I'll stay with her." Thalia instructed.
"I'll be okay guys," Roni grimaced.
"Go on Drew, we'll be okay, the Notfall are here."
Should I go? Roni was bleeding quite heavily but what could I do if I stay? Well nothing I guess. That decided I carried my bike to the clear road where several others were readying to rejoin the fray.
"Come on Drew," Greta encouraged, "they'll be okay."
To be truthful I half expected the officials to abandon but the lead car was merely waiting for someone to lead and soon a much-depleted field set off once more under a neutral flag.
As you can imagine everyone was a mite nervy until we cleared the woodland then we got the green flag and hostilities could continue. I hope Roni isn't too badly hurt, lets try and win it for her!
About thirty riders were still in the running although a good percentage of that number had been amongst the back markers before the incident. The lead car loudspeaker crackled into life.
"We shall cut the race length by fifteen kilometres with a short last lap. We will turn left at the roundabout after the finish line."
So there won't be another trip through the woods – good. Now I need a strategy.
" Gret, " I whispered to my teammate, "at the roundabout ."
"Ok."
I reached for my bottle and found an empty cage; oh bum it must've come out in the crash.
"Here, you need it more than me." Greta passed me her bidon.
"Thanks," I took a swig, "this ones for Roni." I tried to pass the bottle back.
"Hang on to it, I'll do what I can."
For a third time we crossed back over the water and approached the finish zone. The rest all looked content to leave things to a sprint, hmm there's Dad.
"Roni's down."
"You two okay?"
"Yep Tal's with her." And we were past.
I took a last drag at my purloined water and played my move through my head. I let Greta ease her way forward sticking to her wheel like glue so that when the roundabout came into view I was lying about fifth and yes I can do plan A! Riders started dropping gears in preparation for the turn, which provided cover for my up change, and as they started to go round the island I dived left to take the short route! The rest were committed to going the long way and combined with an out of the saddle effort I gained about a hundred metres by the time the leaders exited the island.
It was an all or nothing attack so I got my head down and went for it, by the time I reached the opposite side of the reservoir my surprise attack had made me nearly two hundred metres. I kept the pressure on up the short climb away from the water finally allowing myself a few easy revs on the little dip to the left-hander that would take us back to the finish.
This stretch is a bit twisty and I was just far enough ahead to be lost from view of the peleton. Greta was hopefully confusing matters too, just by being there. The bridge to the finish came into sight and I realised that I'd be back in sight on its straight length, best try for more lead! My time trialling background let me concentrate my effort and despite my tiredness I got an extra bit of speed, which at least let me get onto the bridge with most of my lead intact.
I hadn't noticed before as I'd been sheltered by others but there was a stiff breeze blowing across the bridge, at last something to be thankful for being small – I crouched low over the bike and dug in – can I hang in? I didn't dare look back but I allowed myself a quick glance as I left the bridge – they were closer, was that Greta at the front? It felt like forever but I finally passed the kilometre board, not long now.
The lead car sped away leaving me alone on a wide and empty road, I must do this for Roni, must win, come on Drew, dig in. 500m, 400m, 300m, 200m – one last do or die effort! The crowd were yelling loudly and I started into the red mist zone as I stood for a final sprint effort.
"Come on Drew!" I could hear Dad shouting at me.
The sound of bikes behind me alerted me to impending failure, somewhere I found that bit more that kept me in front at the line to be engulfed barely a metre further on by the cream of German junior racers. Yes!
------------------
Greta was shelled out of the lead group as they left the last bridge crossing but still managed a creditable fourteenth place. Roni ended up in hospital – one of the animals, Dad told me they were Wild Boar, had managed to gore her with its tusks in the melee, an injury requiring a bit of home ec. It looked worse than it really was but they decided to keep her in over night. Talia had used Roni's bike to get back to the HQ, her own broken machine getting a ride back with George in the team van a little later.
Despite the apparent carnage caused by the animals Roni was the worst injured, there were a lot of bent wheels and broken bikes though – I don't think anyone will forget the 2005 Möhne Grand Prix in a hurry!
Maddy Bell 17.02.08 © 2008
Back to Chapter 5.27 On to Chapter 5.29 Back to The Library