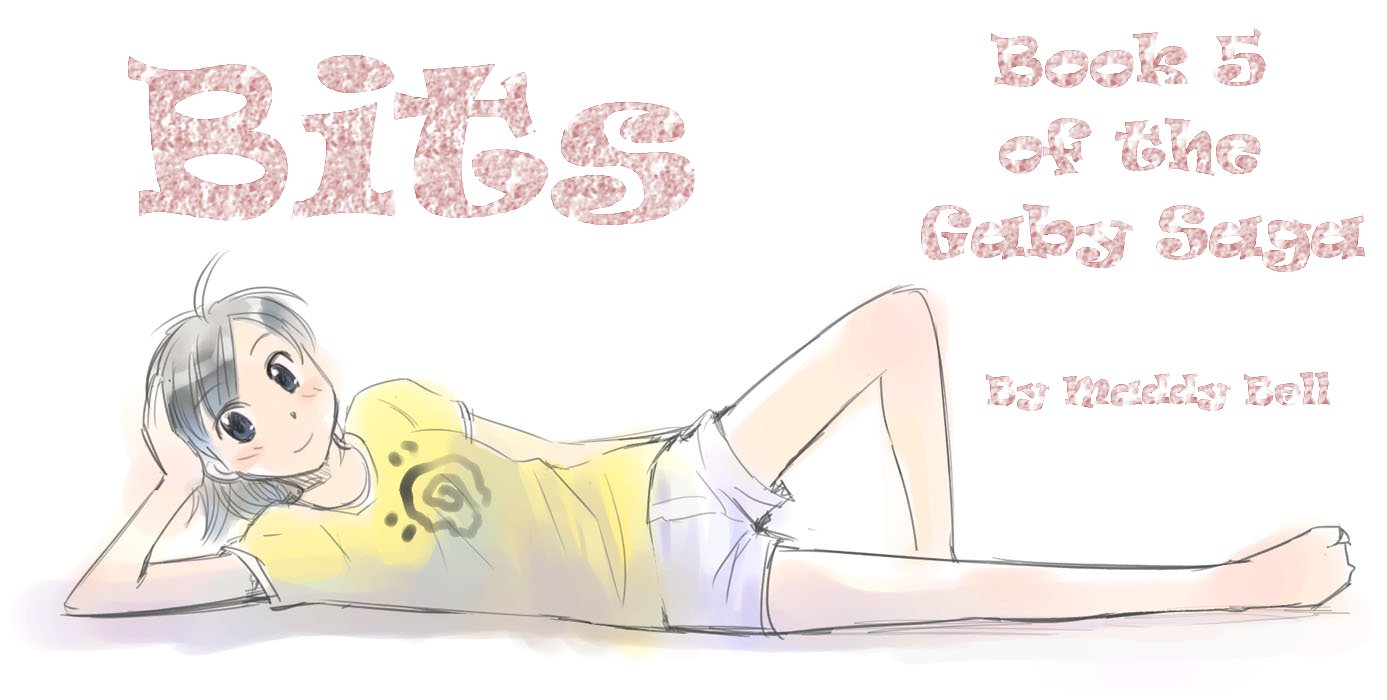 Chapter *26*
Baden?
I cracked an eye, woken by a different engine tone or something like that.
"Hmm where are we?"
"Just south of Stuttgart. Good sleep?" Dad replied.
"I guess, how much further?"
"Maybe another hour or so on the motorway then we use the back roads to get to Freudenstadt."
"Oh" I sighed, "I didn't think it was this far."
"Now you know why the pros fly so much."
"Yeah."
I settled back into my seat.
This weekend is really important in more ways than one. Firstly it's an Elite category race so I get to race on real roads again but it's also the first time that the Apollinaris youth development squad has been entered as a team since I moved to Germany. The other team members have of course raced together several times this year but I've only actually met one of the others before which means that tomorrow I'm the 'newbie'. There's a thought.
The other thing is that Dad thought it would be nice to spend some extra time down here so whilst George has come in the team bus and is collecting the others from the airport the two of us have come down in the Saab.
-----------
We weren't actually staying in Freudenstadt so after leaving the autobahn at Horb we made our way to Baiersbronn where to my surprise we found George and his charges waiting for us at the Hotel Sonne.
"George! Good trip down?"
"Sure, how about you?"
"A bit of traffic at Heidelberg but not bad really."
"Gut, and Drew, you are okay?"
"Tired." I admitted to our mechanic – wow this is like the big time!
"Well lets get checked in kiddo you can have a lie down for an hour before dinner if you want, we can do the introductions when we eat. I'll come and find you George."
"Okay boss."
Now don't run away with the idea that being on the Apollinaris roster gets you 5 star accommodation – it doesn't. Not that I'm complaining, the Hotel Sonne was a typical family run place who by the décor rely on the winter ski trade for a good bit of their income. In the summer its walkers and weekenders so I guess we sort of fit right in. We'll be here two nights although the others will head straight home after tomorrows race.
We were quickly allocated a room, normally or I should say up to now Dad and George have shared but this weekend at least he gets a room on his own. We climbed the grandiose staircase and worked out where our room was. The sounds of animated teens could clearly be heard from an open door that Dad stuck his head into.
"Abend Herr Bond!"
"Hi madchen, gut fahre?"
"Ja danke."
"Greta, ihre mutter ist hier?"
"Ja am die café."
"Gut, essen am halb sechts ok?"
"Ok. Drew Ist hier?"
I stood back, a bit nervous about meeting my new teammates.
"Ja we'll do the introductions at dinner. Don't get too rowdy now."
Once installed in our room I collapsed on the bed and Dad went to find George.
-----------
I looked along the line nervously, by their attitude it was clear that a lot of these riders know each other. Our team has drawn a front row start so at least we should get a clean getaway! This really will be a test of my abilities, the course is pretty hilly and a lot of these riders are big. And I do mean big! I feel like a dwarf amongst this lot - even the girls are bigger than me. I noticed several riders eyeing us, well I think it was me up, maybe they were wondering what the red, white and blue sleeves on my jersey were about. I was a bit surprised when I got my strip but apparently whilst I can't wear my champions jersey in Elite races I am forever more entitled to wear the national stripes as trim (the same thing applies to Mum and her World Champs jersey.). I mean apart from that my strip was the same as the girls, which means it's a sky blue version of the pro team strip – officially we are sponsored by 'Apollinaris Lite' while the pros use the company house colours .
The Marktplatz already had a good number of people making use of the animated fountains and the blue sky above us held the promise of a warm day. I was only half listening, well that's a lie really as I was having trouble understanding the officials accent, as we were given the usual pre race talk through. I cast about the start area in the hope of seeing Dad but I failed to spot him. Come on lets get started!
My thoughts wandered back to last night and my introduction to the rest of the team…
"So Drew, we have Greta and her mother Sonja, you know Veronike already and that's Thalia next to George." Dad did the introductions when we arrived at our table, "team this is Drew."
"Glad you could make it!" Veronike ( say Ver-on-ee-ka ).
Although we'd only met briefly when we went to see Mum ride at Düsseldorf, Roni, as she insisted I call her, seemed a good sort and back in June had won the NRW Elite girls title.
"Erm hi guys."
"Nice to meet you at last." Thalia ( say tal-y-a ) grinned.
Dad had told me about Thalia and Greta on the way down. Thalia is from the east someplace and Dad was really chuffed to sign her as several other teams were trying to recruit her. Apparently her mum used to race internationally for the old East Germany so she's a bit like me in that. Greta on the other hand comes from up north near to Hamburg, she's quite big – well a lot bigger than me and although she doesn't have any titles she did come second in the German nationals last year. Her mum, that's Sonja, is along as chaperone and will help out George in the service van tomorrow.
"She's very small." I heard Greta whisper to her Mum.
"You can get to know each other after we've eaten, dunno about you all but I'm starving!" I was seeing a new side to Dad, the friendly boss man.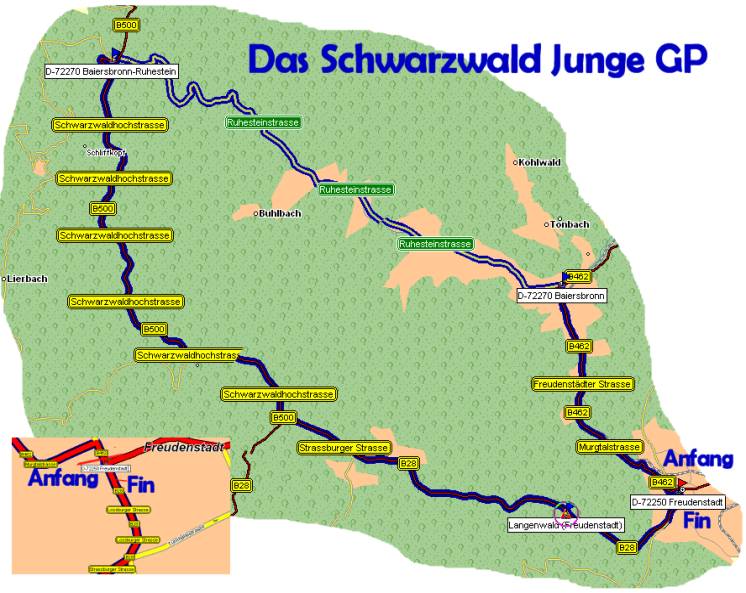 After eating we actually all got in the team bus and George drove us around tomorrow's circuit, a 48km loop which tomorrow we cover twice. Our hotel is actually on the circuit, which is quite convenient! I have to say that the hour we took to go round didn't actually instill any confidence in me – I mean there is a lot of climbing although of course what goes up must come down! Once we got back to Baiersbronn we stopped off at the Bahnhof for ice cream – hmm that hit the mark.
I was brought back to the present by the starter.
"Funf...vier...drei...zwei...eins...go!"
It was a rolling start to get us safely out of the town square; the start proper was at the town limits that took us straight into a fast descent that I would've hated to ride up! Being a category one race the field was about a hundred strong, Dad said there were teams from Austria, France and Switzerland besides the 'home' squads. Although we had strung out on the first descent we regrouped by Baiersbronn where we swung left to start the main climb, 15km up the Ruhesteinstrasse. We of course had discussed tactics last night on our drive round so the four of us held a close formation about twenty riders back as we made our way through Mitteltal and on to Obertal.
Although it was still early the day was already heating up, I could feel the sun warming my back quite warmly. Through Obertal a couple of lads tried their luck and succeeded in making about fifty metres on the rest of us but it was too early to get away with it, the bunch was too fresh and they were both swallowed up on the hairpins a couple of k's later. The climb, although quite steep was mostly a case of attrition and when I risked a glance back before we climbed into the trees revealed riders already spread over a considerable distance.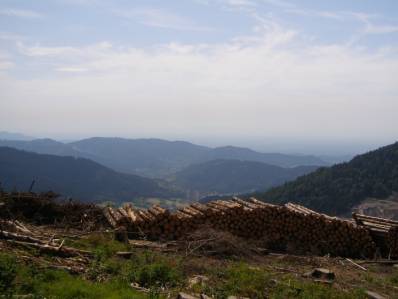 We lost Greta from our little group on the steepest part of the climb – hopefully things would come back together after we make the 1000m plus summit on the famous Schwarzwaldhochstrasse. I was able to slot into the 'bus' and benefited from the sheer size of my opponents, lets face it I'm small, great for climbing and sprinting but the big guys tend to have the power needed for a breakaway and some of these lads were bigger than Dad!
Being the new guy I was being more than usually attentive to my teammates and the opposition so I was ready when the break came. Well it was less of a breakaway than a run for the Schliffkopf prime (say preem ). Although we were only a quarter way through the race I had to make my move so I dropped a sprocket and shot off in pursuit, Veronike and Thalia both sitting tight at the front of the shattered bunch.
They'd gone from quite a way out which at home I wouldn't be bothered about but these lads were all big, like huge! I think I mentioned that before. I managed to hook onto the back which gave me a chance to get my breath but by the time I realised we were at the top it was too late and I crossed the line in about twelfth position. The next twenty k's are a mostly undulating descent which as no one at the front seemed interested in making a move, allowed much of the field to come together again. Team Apollinaris regrouped and shortly before the short climb into Freudenstadt even Greta was back.
The town centre was now awash with crowds although the half way prime was barely contested. Things would get serious now. Unsurprisingly there weren't many girls in the event and even less surprising was the lack of them at the front – except for my teammates. Everyone seemed quite comfortable, Dad has had me doing at least two two hour plus rides a week in preparation so I felt confident of my ability although I'm not looking forward to doing that big climb again.
We swooshed out of the town and on the flat leg to Baiersbronn everyone took the opportunity to eat and hydrate. There was a sort of truce for a couple of kilometres but as soon as we made the turn onto the Ruhesteinstrasse again the attacks came thick and fast. Our squad isn't exactly strong, indeed Roni was starting to struggle a bit, so we just gritted teeth and clung on to each chase! The result was that by Obertal the field was decimated but by some miracle all four of us were still in the front group.
Of course the worst of the climb was still to come and we had already planned to take the bull by the horns this time round. A silent nod sent Roni away as we left the village swiftly followed by Tali and Greta – I got the job of playing interference. Of course the other players could hardly let the girls or me get our own way so despite my delaying tactics I found myself dragged up to my team mates, Greta lasted longest this time around but with nearly seventy k's on the clock something had to snap.
I found myself chasing wheels all the way to the top of the Schliffkopf; my first chance to assess things came as we started the long descent. Jeez-us! There were just ten of us left at the front including a determined looking Greta – even if she was dangling at the back. There were a couple of attempts at a getaway over the next few undulating kilometres but I was gonna be hard put to get to the finish at this rate, let alone attack!
Fate as usual had a hand in the final outcome. I only managed to make the front of the bus a couple of times, I just don't have the strength and my prime consideration was getting to the finish. What didn't help was that I dropped back to encourage Greta a couple of times, she was starting to struggle with the pace but my visits seemed to have a positive result. At about three to go, as we started the last climb the elastic finally broke and I could see any chance of winning climbing away from me. Greta for her part was a further ten metres adrift after an impressive ride.
Things might've turned out different but for the dog and my weariness. The dog succeeded in breaking free of its owner and then ran into the leaders which brought them all down twenty metres in front of me. Unfortunately my chance to take advantage was almost lost as I nearly blindly continued on, my weariness finally taking its toll.
"Drew! In front!" Greta shouted, which caused me to slam my brakes on. Sugar! I quickly surveyed the carnage in front and found myself following Greta, who had gotten a second wind, past the mess. They were already picking themselves up, no one looked seriously injured but their preparation for the sprint was thrown completely. My legs were jelly though so I was barely able to get the wheel of the hulk who was first up, a big blonde lad with RT Bayern on his shorts. The impossible looked possible, Greta was gonna win!
The crowd was enthusiastically cheering but with about fifty to go my teammate seemed to engage reverse at about the point my legs gave out too, between us we effectively gifted the big lad the race. Greta tried to chase his wheel, which meant that I just failed to claim second place from her but I did make the podium!
Dad was ecstatic. Well everyone was really; I know our success had a lot of luck involved but that's the way it goes. At least I didn't end up on the floor today, I seem to do that a lot! Second and third was more than good, it was brilliant. Tali and Roni both arrived in the next group two minutes down and there were only two other girls finish.
I wasn't really paying much attention when they did the presentation but they seemed to make a lot of fuss about Greta and the PA seemed to be saying a lot before I was called to the podium too. As I couldn't understand half of what he'd said I just grinned and waved the bouquet I'd been handed which seemed to be the expected response.
---------------
"So I'll see you on Tuesday George."
"Okay Boss man!" George agreed, "Good ride Drew, enjoy your trip."
"Thanks George."
"Bye Drew!" Roni shouted from the bus.
"Bye guys." We really seem to be gelling as a team already.
We watched the bus pull away, waving until it was out of sight.
"Ready for something to eat?" Dad enquired.
"Not many, my legs are still like jelly."
"Come on then, I think you deserve something nice."
---------------
I must admit that I was well knackered; the combination of a hard course and thirty-degree plus heat had left me exhausted. After the others left Dad drove us back into Freudenstadt to eat. I never really took the main square in earlier, if this used to be the market it must've been huge! It was still hot and there were still kids playing in the water as we made our way around the pleasant colonnades in search of a restaurant.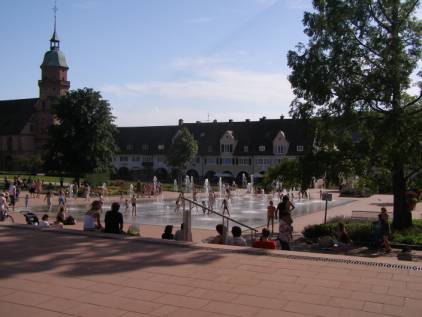 "This looks good."
At least there seemed to be a couple of empty tables.
"Fine by me." I allowed.
We claimed a table and waited for the waitress to find us.
"You wish to eat?"
"Please" Dad told her.
She gave us both a menu before continuing,
"Drinks?"
"Beer for me."
"And the young lady?"
"Erm radbier please."
She departed with our order, hey what did she call me?
"So what do you fancy?"
I surveyed the me an u, all the usual stuff was there, schnitzel, steak, sausage but I felt like something different. Leberspätzelsuppe sounded interesting and Rahmschnitzel I've not come across before either.
"Dad?"
"What Champ?"
"Do I really, I mean really look like a girl?"
"Whoa! Where did that come from?"
"Well the waitress did just call me young lady." I pointed out.
"She was stood behind you and your hair is still in a braid so I don't think it was more than an assumption."
"I er guess so."
"As if on cue" Dad mentioned.
"Ready to order?" she asked placing our drinks on the table.
"My son will have the Leberspätzelsuppe followed by Rahmschnitzel and I'll have the Tagessuppe and the Röstii Hawaiian."
"Danke." And she was off again.
"Thanks dad."
"No problem kiddo."
---------------
We left the hotel about nine the next morning and we had a whistle stop ride through the Schwarzwald, heading south to Hausach first before crossing the Hornberg on the way to cuckoo clock central, Triberg. We had to stop for a picture at the huge cuckoo clock then pressed on to Villingen to pick up the motorway towards Konstanz. It was an interesting drive, we crossed high over a fledgling River Danube, and there were a couple of hilltop castles before driving down the side of some big lake. We had a short stop in Konstanz to see the Rhein; its difficult to believe it's the same river that's at the bottom of our valley.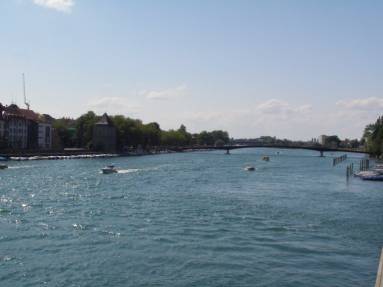 "Right, I've got a surprise for you now." Dad mentioned as we returned to the car, "you fancy a boat ride?"
Maddy Bell 01.02.08 © 2008
Back to Chapter 5.25 On to Chapter 5.27 Back to The Library